---
PIC Newspaper
Serious, long-form journalism from unparalleled authors, interviewers, and raconteurs, defined by their skill, style, and sophistication.
See more
---
There's something for everybody in this week's edition of the PIC Newspaper, including Glen Lentil's culinary Everest, blowout deals at Morty's Asbestos Emporium (sponsored), and Scott Scranton's introduction to the world of business.
The News, Quickly!
A young poodle named Fuzzy was convicted of armed robbery after stealing the show at Westminster this week! Sadly, he will be put down.
At the G7 Summit, Boris Johnson spoke of a new "Atlantic Charter" before tripping over tied-together shoelaces and splitting his pants.
Asbestos is carcinogenic? It's not quite that simple! (Sponsored by Morty's Asbestos Emporium)
---
The Kitchen's Bounty with Glen Lentil
This Dangerous Pasta Salad Lives Life on the Edge
Salut and bon appétit. I am Glendover Lentil III (yes, that Lentil), a three-time winner of the prestigious Subway Sandwiches Culinary Award, and the in-house food connoisseur at the PIC Newspaper. This summer, I'll be introducing you to a few of the many many friends I've made in the kitchen, or, as you might call them, "recipes."
You'll be learning how to make dishes that really come to life—dishes that are not passively eaten but really force your guests to get to know them. The types of dishes that less sophisticated diners might say "taste bad," or "make their mouths hurt." But they don't know food like I do. Or like you will. This summer, I'll help you get to know a whole cast of characters: some bold, some silly, some even a little bashful.
We'll be starting with a dish that makes a striking first impression. Reader be warned: this pasta salad is not gentle, and it does not play nice.
Dangerous Pasta Salad
Time: 15 minutes prep, 45 minutes total
Serves: 4
Ingredients:
Fusilli pasta
Mayonnaise
Red wine vinegar
Olives
Cucumber
The most energetic friend I've found in my kitchen this month was one I wasn't expecting to meet. I was planning a meal for the monthly meeting of my wife's book club, despite her insistence that I "don't have to cook" and "certainly don't need to come up with a theme." Though it was sweet of her to try to lighten my workload, I always cook with a theme in mind. That is how you make the most compelling friends.
Three weeks before the meeting, though, I was feeling completely uninspired. It was an unusual creative block. I couldn't think of a single workable theme. Ancient Greece? Tired. Enchanted forest? A little too camp. Under the sea? Already did it for my son's baptism.
I was at my wit's end, when the theme suddenly came to me in a dream. Danger.
I knew immediately that only one food could live up to this theme: Pasta salad. The perfect canvas on which I could create a dangerous, daring painting of flavors. But beware: this pasta salad is not for the fainthearted. When you bite, it will bite back.
To begin, boil your water, and insert the pasta. Leave it in until the texture of the noodle is a bit chewy. In other words, you want pasta that puts up a little bit of a fight in your mouth. A kind of aggressive mouth-feel, if you will.
While your pasta is boiling, prepare your other ingredients. Try to find a red wine vinegar that rejects you, makes you feel unwanted as you taste it. I put six cups in for one cup of pasta, which most chefs would call "irresponsible" because of the acidity (they aren't as bold as I). Burning is what makes the dish fun, and makes it feel like it shouldn't be eaten, which makes it all the more dangerous. Sometimes you want a dish that feels unfit for consumption.
After refrigerating for 20 minutes, the pasta salad is ready to taste. When you put it in your mouth, the dish should take over. You've created a monster, and fighting her is the thrill of a lifetime; she just can't be tamed.
When I served this dish to the book club, it certainly took the guests by surprise. I heard murmurs of incredulity, of fear, and some of dissent. Some of the guests, who claimed that the taste of the pasta salad was "bad," "disgusting," and "horribly offensive," just didn't have the zest for adventure that one needs in order to grapple with particularly eccentric dishes. But for those who can stomach a little bit of treachery, a threatening texture, a perilous acidity, and a violent aftertaste, this pasta salad will make for the perfect new companion.
Until next week, dear readers, adieu,
Glendover
---
Advertisement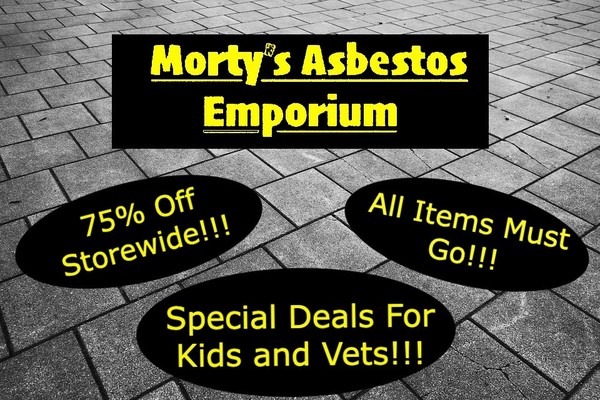 ---
Just Good Business! with Scott Scranton
This Summer's "Buys" and "Sells"
It's getting to be that time of year where all we want to do is kick back and lie in the sun. While relaxation is important, it's vital to remember that when you take the afternoon off, the market doesn't. Below are some safe and easy "buys" and "sells" for newer investors who are looking to get their feet wet and earn a little extra cheddar. I know I wouldn't have what I have today (guest speaking slot at Waltham middle school, a 2018 Toyota Rav-4, regular meals at Benihana, a net worth in the tens of thousands, annual family portraits) if my mentors hadn't shown me the ropes.
Buy
Brinks Home Security (SCTY)
I personally use Brinks security tools to protect my family, and we've only been robbed once (I accidentally invited the robbers inside for lemonade because they gave firm handshakes). Brinks make very good cameras and safes, and the people on their help line are more than capable of calming you down when you're sitting in front of where your TV used to be in a lemonade-soaked suit.
Wells Fargo (WFC)
Wells Fargo is just a few blocks away from my house in Waltham, and Rodney, the young man who works at the front desk, is just the type of solid, no-nonsense, nose-to-the-grindstone person I'd like to entrust with my capital.
The Scott Scranton Newsletter
You can't actually invest your money in the newsletter, but you can invest your heart and mind into the world of business!
Sell
Hasbro (HAS)
I love a good, solid, board game as much as the next Tom, Dick, or Harry, but I'm not sorry to say that the ROI just isn't where it used to be. Kids these days would much rather be playing Tick Tock than Chutes and Ladders. And it's not just the investment itself that might be dangerous—I know I've spilled the occasional boxful of Othello tokens in my house and taken quite the tumble (a tumble that took five full minutes from start to finish).
Smucker's (SJM)
Any man who knows his stocks from his bonds grew up idolizing J.M. Smucker, so it pains me to say that I've sold my SJM investments (well over $65 worth). Mr. Smucker just isn't the titan of industry that he was 15 years ago, and a company is only as strong as its leader. I'd also note a design flaw in their packaging: a grown man's hand can easily fit in the jar but is nearly impossible to get out.
That's all for today. Remember: the most important thing you can buy is a can-do attitude. Stocks don't click on themselves. You have to motivate yourself to get up earlier than other people to guarantee yourself pieces of the highest-yielding companies before they're "out-of-stock." But don't go buying willy-nilly. An unsafe bet, like a big investment in Blockbuster Video (BLIAQ), risks blowing your wife's parents' retirement fund and getting you permanently banned from Thanksgiving dinner.
Related
Resources
---