There are some people in this world I desperately want to gain approval from. If by some miracle I got the chance to talk to Shorty Shorts Man or Fancy Gym Guy, here is exactly what I would say.
Shorty Shorts Man,
Today your left butt cheek winked at me. I didn't flinch though because I expected it and to be honest, I deserved that butt wink. If your left cheek didn't flirt with me every morning in the parking garage, I would feel uneasy from the obvious break in my routine. Your shorts rank among the best of the best, reminiscent of Officer Jim Dangle at the height of his career. Richard Simmons only dreams to be of your shorty shorts caliber. When I see you polishing the license plate of your 1976 Crown Victoria, I feel like together we're keeping a secret form the world. Only you and I really know just how short your shorts are.
I can't help but wonder if your junk is claustrophobic. Hang left or right?! I feel like I need to set up a rally to free your balls. Maybe a 3-day walk for the cure…of squished peen. You've given me such peculiar conditions to consider. So until we discuss your situation at length, I'll have to draw the conclusion that you are an Alien Barbie and you have no junk. Only Alien Barbies would be that confident in nylon hotpants anyway. Logic.
Today for the first time ever I actually looked at your face. It was disappointing because you didn't have a face to match. You had the face of a man that might wear pinstripe dress pants, serious and brooding. It's misleading because I know you've never dreamed of clothing made of anything but yellow or blue swishy material. When you visited me in my dreams, you had a perverted smile slapped on your mug and it made a lot more sense. You're leading a double life and it's hurting the people around you, namely me. I'm confused, but more than anything I'm disappointed in you. I expect more from Alien Barbies.
There's one last thing that I've been meaning to ask you. One time someone put a tweed couch out by the dumpster and when I got back from class, you and your shorts were using a box cutter to rip the upholstery off. At the time I couldn't think of any reason why you did it, but now I'm dying to know. Did you construct a pair of tweed hotpants out of recycled couch material? Right on, you're so organic.
Love,
Carolina
---
Fancy Gym Guy, (vindication for Charles)
That first day I couldn't help but notice your electric blue muscle tee, showing just enough skin to leave me wanting…less. No really, I like the blue; it complements the exceptional white quality of your hair, a refreshing aberration from the Rogain vixens usually hogging the treadmills.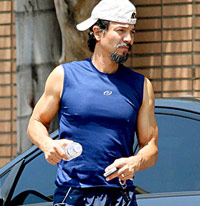 Beyond modeling my looks after yours, I have a lot to learn from you. You are shameless, an animal on the rowing machine, and an attempted homewrecker. Charles revealed some disturbing infractions you committed against his sexuality. He said you both said "hi" once and you proceeded to stroke his arm during conversation. Then you caressed his stomach while he was doing crunches, at a time when his abs were most vulnerable. He has a girlfriend, paws off.
So the other day when I was running, I was ecstatic to see you plop your tight, old man booty on the bike in front of me. However, the contents of your Gatorade bottle left me feeling immediately unsettled. I didn't know they made a Gatorade flavor that looked like a milky substance. Once again, you redeemed yourself by exhibiting your appreciation for classic MTV reality shows like "Two a Days" because sweaty football players amp me up during times of rigorous activity too. Just as the heat began to dissipate, Charles told me that you cornered him in the sauna and initiated awkward two-men-alone-in-a-sauna conversation.
Today I'll ask you to set aside our differences. I don't want your crush on my brother to make it weird between us. Just to clear up some obscurities, maybe bring lemon-lime flavored Gatorade instead. Also, never change the channel to Anderson Cooper when the Bucs are about to face their cross-city rivals or we'll have more issues to sort through.
Love,
Carolina
---
More Like This
Comedy Courses
---
---