« Back to Part III, "What Does He Mean I'm Not Marriage Material?"
Please forgive my absence; I did not think it would be of such a long duration. I was traveling on the continent with my dearest aunt and uncle, who thought seeing some of the sites would take my mind off my current situation.
You might have guessed that I am still without a husband, still without any hope of being comfortably established. While I might have despaired of this only some two months past, my ideas and hopes for future felicity have changed profoundly. I must marry for love.
A dear friend of mine, Mrs. P——, has recently married a man who receives 10,000 a year and can afford her a generous amount of pin-money. He's handsome, to be sure, but in the years I have known him he has proven to be one of the most insufferable men of my acquaintance, always bowing and scraping and seducing. Still, every man in possession of a great fortune seems to be in want of a wife….they just don't want me for a wife.

No longer shall I long for the advances of today's typically unrefined gentleman.
No matter, I told my friend before she accepted him that no fortune could be great enough to make up for ill-breeding, for a distinct lack of manners. But love was not to ever be her aim in marrying, though now I find her extremely unhappy. There is no equality in their marriage. Neither of them respects the other.
Whatever man I choose to marry, he must be my equal in mind and spirit. Much like my dear aunt and uncle's marriage. My aunt did not marry my uncle for his fortune, but because his intelligence matched hers. His actually having a sizable fortune and estate only added to her felicity.
Having no idea how to best go about advertising for a husband and drawing attention to my profile, I conducted a Google search. "My dear niece," my aunt said to me, "do not dwell on being a woman who cannot inherit. Look for a man well-suited to you, not for a man in possession of a great fortune."
So now I look for a man I can love, but it would also be nice if he happened to receive 10,000 a year and have an estate like Mr. P——'s.
The fashion for finding love seems to be through the internet, and so I registered for one of the many available websites for online courtship (I shall not reveal which one). It is rather odd, this internet model of matchmaking.
First, one's personality is determined through a brief questionnaire that helps determine all the men who are well-suited to one's temperament, and then there are more specific fields to fill out, such as height, hair color & eye color.
Having no idea how to best go about advertising for a husband and drawing attention to my profile, I conducted a Google search that provided me with a wealth of information for crafting my online dating profile.
I narrowed it down to the following:
1. The photograph is possibly the most important element to your entire profile, preferably a head-to-toe shot. I feared that having only portraits would prove problematic, but now that I have scanned them on to the computer they look rather lovely.
2. It is also advisable to include several photographs that show one taking part in various activities or with friends.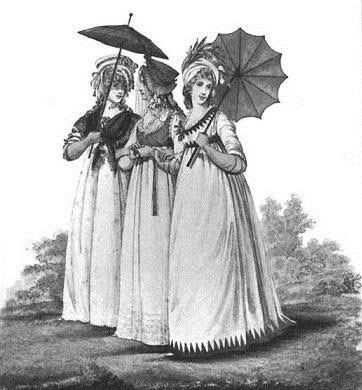 3. One should avoid listing cliché interests such as "walking on the beach" or "drinking wine by a roaring fire." I have no desire to do either of those things. The beach at Brighton is very rocky, and sitting too long near the fire is dangerous when wearing such long skirts. Instead, I listed my love of solitary needlework, playing Loo after supper, and attending country dances.
4. One should "bait" her readers, give them something to ask her. Apparently, it is not enough to state what one likes; she must state it in a way that will induce a man to ask her more about herself. For instance:
I love walking long distances to get where I need to be. Ask me about the time I ended up trekking through mud after a storm and nearly died of influenza. Oh, how unfit to be seen I was!
5. The final tip I used in creating my profile was to write a headline that will arrest the attention of the type of man you are looking for.
A man neither proud nor overtly humble. A man who does not oppose a woman speaking her mind, and who is willing to listen. A man who is reasonable, amiable, and of proper breeding.
---
Related
Resources
---