No seriously, there is. While flicking through the "What's Hot" section of Apple's App Store for something to distract away a few more moments of this life, I came across an iPhone application called "The Royal Wedding," which, as described in the info section, is a "one-of-a-kind news app" and "an engaging way to experience all the news leading to the Royal Wedding and a social tool for the day itself." And I am sure there are no lack of social tools downloading this app.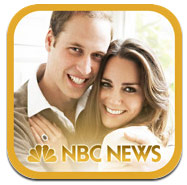 "Who would make a Royal Wedding App?" you may query. I might retort, "A person with an astonishing deficit of character and probably a very real grasp of the mind of the American public." But I would be wrong, because it's not a person but rather an entire organization: The NBC News Division.
Sandwiched between producing Lockdown: Prison Rape Murder Mysteries and desperately trying to make Lawrence O'Donnell less brutal to watch than prison-based rape/murder/mystery programming, MSNBC has somehow found the time to make an iPhone app regarding the Royal Wedding.
Also download: "Angry Birds: The Streets Will Run with Blood – Angry Khadafi Edition"To find it, just search The Apple App Store using the keywords "nbc news." You will need to sort through other NBC Apps, like "NBC News: National Debt Calculator" (which allows you to look at the national debt and see where your money is going), "NBC News: Aid to Japan App" (which allows you to look through a list of humanitarian organizations you can make simple click-to-donate donations to on your iPhone or iPad), and of course, "NBC News: Planet First App" (which shows local eco-friendly businesses in your area selling Earth-friendly products or locally grown produce, or any other business doing their part to reduce their carbon footprint).
Oh wait, just kidding, you won't need to do any of that because NBC News didn't make those apps. Don't worry, the only app that appears when you type "NBC News" is an iPhone application that allows you to explore your voyeurism with photos of the royal family, a royal family tree, ideas for hosting your very own "watch party," and naturally, access to NBC Universal Online Store to purchase your very own, Chinese-made, American-owned, fake royal memorabilia. An app so royal it makes you feel like you're wearing nothing but a gold crown and a robe while hate fucking William the Conqueror in Piccadilly Circus and drinking a cup of Earl Grey. Hot damn, you're coordinated!

Try the new "What Would the Baby Look Like?" Royal Incest Mix-n-Match game!
As long as NBC News is attaching their name to meaningless shit, I figured I would pitch a few apps that may turn a profit.
---
The NBC News Middle Eastern Revolution Starter Kit
Is your dictator a dick? Ashamed of your Shah? Pissed at your president? Wanna set fire to your foreign occupier? Tired of not having an app that enables you to do something about it? Well here it is (finally)! An app for all your disenfranchised middle class needs! Have your Jihad in a jiffy!
Features:
View .jpegs of flags from around the world (USA, UN, Saudi Arabia, Israel, Pakistan, China, etc.) and use the push-to-print feature to print and burn as many copies as you want! The problem with burning real flags is that they are expensive and generally made of flammable, petroleum-based, synthetic blends that burn quickly. With the Middle Eastern Revolution Kit Print, you can burn as many as you'd like! Gold Edition also includes high quality printable photos of George W. Bush, Barack Obama, Shah of Iran, and MANY, MANY, MORE!
GPS tracking for when you are inevitably kidnapped and black-bagged while peacefully protesting the unfair treatment by your tyrannical government. Let family and friends track exactly where you are being beaten and tortured with this helpful and horrifying feature!
Syncs with Twitter and Facebook because, apparently, it's extraordinarily helpful somehow.
BEST OF ALL: NBC's Direct Send Video lets you video record appalling and gruesome human atrocities on your iPhone and send them directly to the NBC News Division, where they will air on MSNBC in between scathing commentary on John Boehner for crying and scathing commentary on Charlie Sheen for being Charlie Sheen. Watch as commentators debate whether your country is worth a military intervention in real-time!
Also download: "Angry Birds: The Streets Will Run with Blood – Angry Khadafi Edition"
---
NBC News Hilarious Celebrity Addicts App
Tired of being told addiction is a horrible and sad disease? Want to condemn Charlie Sheen or Lindsey Lohan in order to validate your banal existence, raising yourself up on a pedestal of self-righteous ecstasy? I bet you do, chubby! This app is for you!
Features:
Scream "SHAME!" as loud as you can at a still picture of your favorite celebrity-to-hate with the Shame-O-Meter feature! Shame-O-Meter will calculate how many decibels you're screaming at a still picture on your iDevice. Record your scores and compete with friends to see who can condemn the loudest!
Look at pictures of these same celebrities in bathing suits, masturbate furiously, and then listen to the prerecorded voice of the celebrity screaming at you, "YOU'RE A DISGUSTING CREATURE, STOP LOOKING AT ME!" to fully realize your bizarre, shame-based, semi-religious, sexual power trip thing with our Shame-On-Me-O-Meter.
Upgrade to "Uh, Winning" package for $2.99 to get the I-Can't-Believe-People-Watch-This-O-Meter that will count the number of times you say, "I can't believe people watch this" while you watch countless hours of Jersey Shore.
---
The NBC News Distractions from the Fact That Our Parent Company GE Paid No Corporate Taxes for the Fiscal Year 2010
Tired of being consumed by the gigantic disparity of wealth in this country? Tired of thinking, "Hey, General Electric gets all the benefits of an American company but doesn't pay a dime!" Well look no further, class warrior, here's a distraction from all that!
Features:
Scan through 1,000's of videos of cats being silly! THESE CATS ARE SO FUCKING SILLY! JUST LOOK, LOUDER, LOOK, DON'T EVER STOP LOOKING, QUICK, DON'T MISS CELEBRITY APPRENTICE, ASK ABOUT THE BIRTH CERTIFICATE, BRONX ZOO SNAKE ESCAPE, TERRORISTS, CHARLIE SHEEN, PLANNED PARENTHOOD, TURN IT UP LOUDER, ABORTION DEBATE NOW, NUCLEAR THINGS, TURN THE BRIGHTNESS UP, YOU NEED KHAKIS, BUY FUCKING KHAKIS, BUY CAT VIDEO KHAKIS, BUY APPS.
Also on the NBC News Distraction App, "Over 300 photos and more than 40 NBC News royal reports," "an interactive royal family tree," "food recipes for the perfect tea party," and of course, "opportunities to purchase exclusive royal wedding products from the NBC Universal store."
The Royal Wedding Application Info, MSNBC News Interactive, Copyright 2011 NBC News. NBC News: The Royal Wedding. There's an app for that.
Related
Resources
---