Between Simonne's article and Justin's and Nate's blogs, the recent content on PIC has been rather saturated with the innings, outs, change-ups, and rundowns of baseball. So, despite the fact that, over the past six months, it has consumed most of my free time, lowered my productivity at work, and given me the opportunity to snatch a few Benjamins from the hands of my fantasy leaguemates, the topic of baseball should be foregone this week in order to give PIC readers a little break. But what's one more steaming turd on the shitpile, right?
As you either know or opt not to care, the regular season has come to a close, the playoffs are well underway, and, for all but four teams and their fan-bases, it's time to take a step back and evaluate the 2005 season, which is just what I intend to do. Of course, any sportswriter worth his weight in coaching criticisms is wont to sift through all the worthy candidates and make known his picks for MVP, Cy Young, Rookie of the Year, etc. in each league. Well, you're not reading an article by anyone of those journalistic credentials, so you'll have to go somewhere else for thoughtful, in-depth analysis. Without further self-deprecation, I give you…
The 2005 BaseBalls to the Wall Awards
Award: MOST AMUSING SUSPENSION
Nominees: Alex Sanchez, Nick Cirillo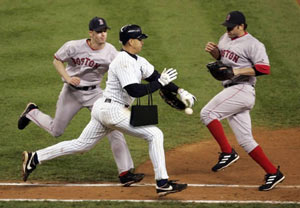 Alex Sanchez earned his nomination by being the first player to receive a suspension for use of banned substances, but that alone does not make his suspension amusing. Counting this year, Sanchez has eked out 6 home runs in over 1500 career at-bats, a statistic which hints that the juice he was on was more likely to be strawberry banana than stanozolol. Then again, he may have simply been caught drinking Dole at Tropicana Field.
Nick Cirillo, in case you're wondering, is a batboy for the Florida Marlins. Dodgers' pitcher, and ex-Marlin, Brad Penny bet Cirillo $500 that he couldn't drink a gallon of milk in under an hour without vomiting. I've tried this myself, for no reason other than a demented sense of pride, and I can assure you that it borders on the edge of impossibility. Also, the milk puke smells pretty damn awful. Short story even shorter, Cirillo predictably hurled and thus failed to earn the money. As if the failure and empty pockets weren't enough, when word got back to Marlins' management, they decided to suspend the kid for 6 games. Brad Penny himself put it best when he said, "It's kind of ridiculous that you get a 10-game suspension for steroids and a 6-game suspension for milk." Considering Cirillo's punishment for attempting the milk challenge, I guess I'm glad that all I got was a rancid curd stuck in my nose that had me searching for hidden vomit for half an hour.
Although possibly intravenous, Alex Sanchez's efforts to garner this award were all in vain. I'm going with the milkman.
Winner: Nick Cirillo
---
Award: EASIEST PLAYER TO HATE
Nominees: Barry Bonds, Rafael Palmeiro, Alex Rodriguez
Barry Bonds is certainly an interesting person: immensely talented in the ways of baseball but staggeringly retarded when it comes to human relations. In a normal year, I would give this award to Barry, skip the explanation, everybody would agree, and we could all go home. However, this year wasn't a normal year.
Back in March, during the much-ballyhooed Congressional steroid hearings, Rafael Palmeiro testified before the nation that he had "never used steroids. Period." It turned out that Palmeiro was a liar and a cheater, and as the old adage goes, cheaters never win, except for Jose Canseco's 1988 AL MVP, Ken Caminiti's 1996 NL MVP, and just about everyone who has ever been elected to public office.
Alex Rodriguez's nomination isn't solely because he's a Yankee and I'm a Red Sox fan. He's here because he told Seattle fans it wasn't all about the money before bolting to the highest bidder. He then bitched his way out of Texas because they couldn't win when it was his bloated salary that prevented the Rangers from being able to afford other high-profile players. Then there was that gay slap he took at Bronson Arroyo's glove in last year's ALCS. To make matters even worse, Rodriguez has blue lips, an infuriating physical trait no doubt.
The reality of the situation is that people hate you if you're good and Barry and A-Rod are two of the best, which you certainly can't fault them for. So, this award goes to Rafael Palmeiro, the hardest player as well as the hardest to like.
Winner: Rafael Palmeiro
---
Award: FUNNIEST NAME
Nominees: Covelli Crisp, Milton Bradley, Chone Figgins
Covelli Crisp, although peculiarly named, would not have been considered for this award had he shunned the nickname that has been bestowed upon him. You see, Covelli here, goes by Coco. Coco Crisp, Cleveland Indians' outfielder and imitation breakfast cereal.
Milton Bradley the board game company was established in 1864. Milton Bradley the baseball player was born in 1978. His parents have absolutely no excuse. The irony of their namesakes is that the board game company was founded on wholesome family fun, while the baseball player may be the least wholesome guy in sports. If the stat were kept, I'm confident Bradley would perennially lead the majors in profanity-laced tirades.
Alright. Black people. I have to be frank about this. The whole "ten different spellings for one name" thing has to stop. I mean it. When Chone Figgins first broke into the bigs, I assumed his name was pronounced phonetically, "Chon". But C-H-O-N-E "Shawn", are you kidding me? That can't be right.
Milton Bradley's name was a completely avoidable coincidence and "Shawn" is a perfectly normal name under every other circumstance, but if Coco Crisp isn't funny, I don't know what is. Besides farts. Farts are always funny.
Winner: Coco Crisp
Related
Resources
---