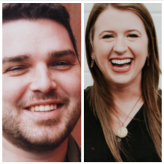 Johnathan Appel and Cara Michelle Smith

Johnathan Appel is a comedian and writer based in New York City. He's often confused with the "Johnathan Apple," which is a fruit based in Woodstock, New York. | Cara Michelle Smith is a comedy writer in Chicago. Her work has been featured on McSweeney's Internet Tendency, The Rumpus and Reductress, among other publications. Follow her on Twitter @cara_smith5.


Comedy Writing
Nothing Yet
Published work will show up here.