Does your cat just sit around the house wasting his potential?
Are you looking for a fun, creative, and provocative way to spend time with your cat?
Do you consider yourself to be a crazy cat lady and/or own more cats than you've had boyfriends?
If you answered YES to any of these questions, then we have an offer for YOU!
Cute and silly cats are the latest craze to sweep the booming cat-tography industry. Just look at the success of those cheeseburger cats and the ones with the LOLZ! Those crazy cats are funny, but I'm planning to take your cat to the next level and go SEXY!
Keep in mind, this is not National Geographic and we don't do any of that hardcore stuff. But everyone knows that sex sells, and what better way to showcase your beloved calico than with a photo memento of him or her posing upon a beautiful silk-covered scratching post, wearing nothing but a studded black leather collar.
Perhaps leather is not your thing. Perhaps you already enjoy dressing up your feline companion. Well, over here at SEXY CAT INDUSTRIESTM, we've got the latest selection in feline lingerie. We've got sequined vests, a selection of sexy holiday-themed hats, and a wide variety of backless panties to ensure ample tail room. These garments come in all shapes and sizes so that your cat will feel sexy whether she's a slender stray or a plus-sized Maine Coon.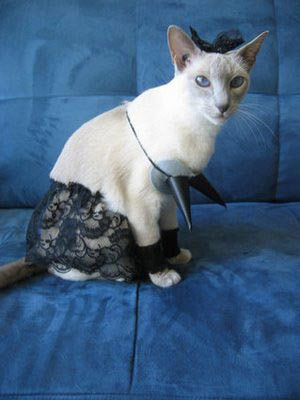 But how will this innovative new idea make my cat a star, you ask?
If you allow us, SEXY CAT INDUSTRIESTM will also post your cat's photo spread on its forthcoming top notch website site where your companion will enjoy worldwide exposure with potential to become famous in the adult cat-tography industry. We also have major expansion plans which include:
Entering the fascinating world of Twitter hashtags,
Creating internationally accessible Facebook groups, and
Marketing our flagship product: the

Print-on-Demand Sexy Cat of the Month Calendar

.
But what about credentials?
I can personally assure you that everyone at SEXY CAT INDUSTRIES is a trained professional. We are currently a two-man operation with past experience in the cat-tography industry. I have personally been a photo contributor to various cat-centric websites since 2007, and also have an online certificate in erotic photography. My business partner is a former pet store floor manager who has been promoted to floor director at SEXY CAT INDUSTRIESTM. He will be responsible for ensuring your cat looks his best by easing him into different poses for our shoot. We will also have plenty of catnip on set in case your cat requires a little something to ease his nerves and get in the mood.
By now I know you must be thinking that such an amazing opportunity must be out of your price range, but I say THINK AGAIN!
For the low price of $29.95, you will receive 12 professionally posed photo mementos of your cat printed right on site. Choose how sexy you'd like your cat to be, and include as many cats as you'd like for only $4.99 per additional cat. With your permission, we will then post your photos online at no additional cost. If one of your photos becomes a fan favorite, we may then offer your cat the chance to become an official Sexy Cat star! If this occurs, your cat will be offered a standard contract with SEXY CAT INDUSTRIESTM to appear in such upcoming projects as our Sexy Cat Calendar and be entitled to 5% of any royalties earned!
Don't miss out on this fantastic offer!
Drop into our convenient downtown location today! We are located at 67 Water Street just past the old train bridge. Look for a brick building with a Ming's Chinese Palace Take Out. Go around to the back and enter through the door beside the dumpster. After you come down the stairs, turn left by the deep freezer and look for a white door with "SEXY CAT INDUSTRIESTM" painted on it in red. Knock seven times and one of us will let you into our beautiful, newly renovated studio.
Doesn't your cat deserve to be famous?
Don't delay, make him a Sexy Cat TODAY!
Related
Resources
---