Entertaining guests at the White House, huge part of being president. I make them feel right at home. I always serve them the nicest bottles of Diet Coke money can buy.
These bottles of Diet Coke, they're classy. White House is so fancy, I'm fancy. I drink Diet Coke from cans or plastic bottles. But only the best for guests. Glass bottles or fountain. The nicest Diet Cokes for the most important guests.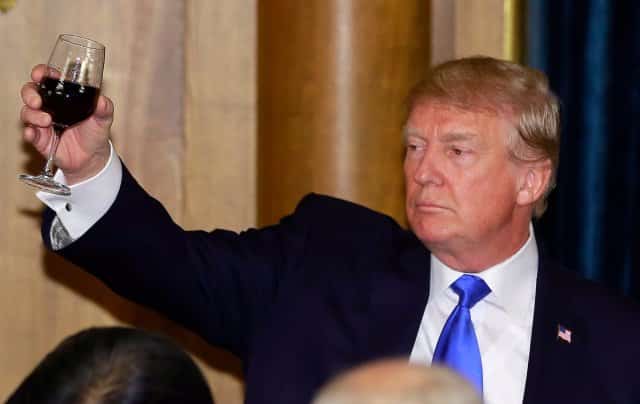 The food and drinks at the White House, you folks wouldn't believe it. So expensive, only for the rich. Only the rich could understand. And I'm rich, so I understand. So the bottles of Diet Coke, so expensive. So good. Never with the Mexican sugar, though. Only American, only the best for my guests.
The guests, the presidents and the prime ministers and the leaders. Other world leaders, famous people, not as famous as me or as good leaders as me, but you understand. Part of the job. But oh man, this Diet Coke. You've had it, you understand. So when these important people visit the White House, I share with them.
Generous, that's really what it is, that's what I am. Limited number of Diet Cokes in the world, and I always share. I give the guests one, I make sure they're not thirsty. "Can I offer you anything?" I ask. I always ask. Good host, I'm the best host. Even though I have so many Diet Cokes, 12, 13, 14 every day, I can share. I'm a giver.
My button on my desk, it brings me Diet Cokes whenever I want. Always make sure I hit the right button, no bomb. I make Jared bring Diet Cokes. He loves it, we josh around. But such a big help in the administration, bringing me and the guests the finest bottles of Diet Coke.
So much terrific, amazing food at the White House. You wouldn't believe. The best McDonald's. We only get the best KFC. Even the taco bowls, well, they're almost as good as the ones in Trump Tower. Not better, you understand. The fast food though, folks, it doesn't get any better than at the White House.
But Diet Coke, so important, the Diet Cokes, so bubbly. The most important. The most bubbly. Yum. 
Related
Resources
---