Normally, us New Yorkers take pride in our reputation for being impatient, loud, obnoxious, fast-paced and arrogant. If any of you out-of-town losers don't like it, that's YOUR problem.
But jeez. This is getting humiliating. After Donald Trump shoved a European prime minister out of his way, we started to worry that our New Yorker president is making New York City's reputation worse than we deserve.
Normally, us New Yorkers are pretty thick-skinned when people get annoyed by our characteristic asshole behavior. We do what we want. We do it when we want. You got a problem with that? We do not give a fuck.
But over the last five months, the presidential assholeness level has risen to the point where we're starting to feel real shitty about the way our homey Donald J.T. is treating the world.
So this summer, New Yorkers invite the world to come to New York City. We need you to help us assuage the guilt our city feels for spawning the Orange Nightmare of Gotham.
If you've ever felt too intimidated to visit the Big Apple in the past, now's the time to come. Because New Yorkers will be bending over backwards to make out-of-towners feel welcome.
We're calling it "The Big Apple Makes Up for Trump Festival."
Below are all the perks we're offering for tourists this summer, to atone for the most powerfully embarrassing New Yorker on the planet.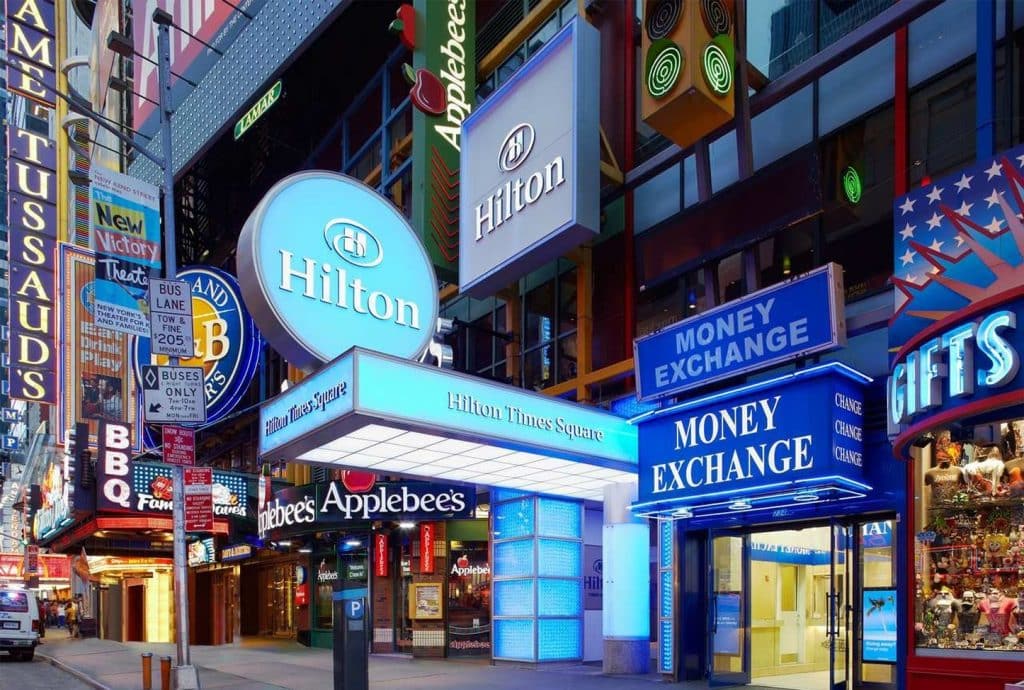 Complimentary Welcome Fashion Package
When you arrive in the airport, choose one of two Welcome Fashion Packages: "Manhattan Haut Couture" or "Brooklyn Hipster." You'll feel comfortably in style all summer because fashion industry people in Manhattan are required to wear overalls and flip-flops. Meanwhile, Brooklyn hipsters must wear matching Green Bay Packer sweatshirts and pants–and wear them non-ironically.
Out-of-Towners Park Free
Times Square Female Entitlement Zone
Out-of-town women can walk Times Square with confidence this summer. NYC men are prohibited from hitting on you, while you are entitled to grab any crotch you want.
Dine with Dignity
Snooty restaurants are required to include easy-to-pronounce dishes from the Red Lobster, Olive Garden and Applebee's.
Waiters at Katz's and Carnegie Deli are required to serve pastrami sandwiches on white bread with mayonnaise, lettuce and tomato–with a smile.
New York pizza parlor owners are required to acknowledge the relative benefits of Chicago-style pizza.
Amateur Song and Dance
The Rockettes invite all girls aged 10 to 14 to dance with them at Radio City Music Hall. All body types welcome!
Carnegie Hall welcomes to the stage out-of-town violinists of any skill level.
Madame Tussauds LIVE
Totally Freebies
Free pizza, hotdogs and bagels!
Free Central Park horse carriage rides!
Free Central Park rap lessons!
Free Broadway shows!
Free museum admission (touch any painting in the MOMA you want!)
Free play "no-lose" Three Card Monte!
Yankee Stadium Promotions
Journalists with disabilities are entitled to sit in the dug-out with the Yanks.
Muslim parents of military personnel who died while serving in our armed forces are entitled to throw the first pitch.
Tame the Wall Street Wolf
Drop by the trading floor and schmooze with market-manipulating Wall Street traders who are required to let you place a $1,000 bet on their books.
Bridge Payback
All New Yorkers MUST hand money over to any out-of-towner who offers to sell them the Brooklyn Bridge.
Please note the following regarding all perks:
Not extended to out-of-town visitors from fucking Boston.
Expire immediately following Trump's impeachment.
Related
Resources
---