There are three industries in which the internet crushes all opposition like a bulldozer on a kitten, and they are:
Oh, yeah, kittens…
Porn
What have I just made..? Yes, a list(s)!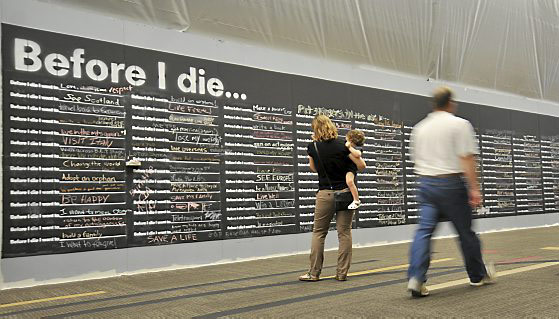 However, while lists may appear to be a panacea for everything, providing, as they do, information in a list, I regret that after extensive research, I must piss acridly on your lovely, juicy strawberries, hosing them in the parts of Stella Artois which my kidneys inexplicably rejected, and souring your otherwise urine-free birthday party.
For I have uncovered seven situations in which it would be, I'm afraid, downright inappropriate to use a list-based presentation format.
1. At a Funeral
We are all gathered here because, well, you know… so, I'd like to really just cut to the chase and say, Salman was:
A good friend.
A guy who did something funny sometime, I'm sure you all remember.
A wonderful husband, except for that one time, but, well, he's dead now so fuck it.
Never actually found guilty!
When does the free bar start?
Boo hoo, blah de blah, it's what he would've wanted.
2. Proposing Marriage
You know, we've been seeing each other a long time now, like, what is it? At least four days, probably more like five, and in that time I've come to feel that:
I don't need my medication anymore.
I would definitely need more medication than before if you left me.
Fate has spoken.
I totally won't do anything unhinged at all as long as you're definitely in a relationship with me.
Signing a legal document would make me feel much more secure.
Time waits for no one.
I really, passionately, deeply, with all my heart want to keep hold of you, but not, if all goes well, to the extent of anything involving dungeons and the like.
3. During Sex
You could really enhance my pleasure right now if you could:
Take your finger out of my asshole.
Put the lid back on the poppers, they're quite overwhelming.
No, I don't want to be injected with crystal meth instead.
Take off the dog muzzle.
Just un-fucking-tie me!
Put on a little James Blake, I'm feeling really put out by this whole thing and I need to relax.
4. Giving an AIDS Diagnosis
You're going to:
Die.
Of AIDS.
5. Horse Whispering
Listen Twinkletoes, you're going to:
Stop horsing around! Haha!
But no, you've got to stop throwing people on the ground and trampling them to death.
Make me look good, they have no idea what I'm saying.
You scratch my back and I'll scratch yours- literally! Haaaaha!
Ehh, yeah, and be a good horsey-worsey and they won't shoot you, there we go.
6. Ransacking a Village
AAARGH, MY FURIOUS, FILTHY, SHIELD-CHEWING, FLESH-RENDING BRIGANDS OF CELESTIAL DOOM! BERSERKERS, MARAUDERS, MERCILESS AND INVINCIBLE HORDES OF THE FROZEN NORTH! LET US WRETCH AND PLUNDER AT ODIN'S WILL!
But, just to be clear, if I could have your attention for a moment longer, that's:
Burn.
Pillage.
Rape.
Kill.
Ransack.
Post-meeting for reflections and suggestions.
7. MCing an Early 90's Illegal Rave
Kick start the beat, everybody is in the house, and this is:
Only for the hardcore UK raver, although, more specifically,
Big up the Romford posse, to which I might add,
Here we go,
Coming on strong, and
Blow your fuckin whistle.
And finally, I'd like to sincerely encourage everybody, if it's not too much trouble, to:
FEEEEL THE FUCKIN RUSH!
Related
Resources
---