---
PIC Newspaper
Serious, long-form journalism from unparalleled authors, interviewers, and raconteurs, defined by their skill, style, and sophistication.
See more
---
Keith Jeep prepares for a major life change. Magdalene Aubergine keeps her eyes open to life as live art. Jean Collins makes her most daring call yet.
A Heartfelt College Packing List
By Keith Jeep
Hey there, Jeepers.
I hope you're doing well. I've been having a bit of a down week, because my little chick (my daughter, Adi Jeep, short for Adirondack Chair Jeep), is spreading her wings and leaving the nest. She will be going off to college in just two short weeks.
I can hear some of my more loyal followers asking me, "Keith, will she be studying W-Shop at U Duluth, like her old man?" No, Jeepers. My Adi is her own person, and she's studying women's and gender's studies at Reed College, named after one of my favorite pond grasses. Now I can't claim to know much about education, but I know I'm damn proud of her.
While I've soaked many a swath of moss with tears thinking about my cub leaving me, I've found that one of the best parts of this process is the packing. I've started getting together a few boxes for her to take on her journey, some college essentials (shovels, rope, and some basic nuts, berries, and tree bark for when she gets sick of that horrible dining hall food), plus a little nostalgic stuff for her to remember her old man by. Well, I've been having such a good time that I figured I'd put out a list for other dads who might be losing their Adi's.
Stick (a stick)
Great for just general reaching around and poking things, but also good for security. Different colleges have different coyote security policies, so I can't be sure how often she'll be running into our hairy friends on her way back from the forest (or the river! College might have changed since I went!), but if it's on the weaker side (a big problem in higher education today), then your guy (or gal!) really might need one of these. We all love coyotes, but they're best kept a stick-length or two away!
Stick (a rock)
Adi's mother gave her Stick for her very first birthday, and Adi didn't put that thing down for years! Now she's all grown up, and she says she's "too old" for Stick, but I know that when it comes down to it, she'll be happy her old friend is there to comfort her. Even a total rockstar like Adi (or your little cub) will still have those classic early-college disappointments where they don't get invited to go dig holes with the cool kids or don't make the moose-riding team, and they'll be glad to have something that reminds them of home. If your child has their own "Stick," be sure to sneak it into their muslin rucksack when they aren't looking. They'll thank you in the end!
A poster that reads: "They tried to bury us. They didn't know we were seeds."
There's nothing like some good decoration. This poster originally caught my eye because it's about a topic I care very passionately about: seeds. But then the lady who owned the shop told me it was actually about women. I was a little confused, but then she explained it to me. You shouldn't bury women, but you SHOULD bury seeds! A year ago, I never would've gotten that. It makes me remember just how much Adi has taught me, like when she showed me how to say "Guys and gals."
Tree sap
For hanging the poster, sticking her toothbrush onto the mirror, putting up pictures, and catching bugs for Randy to eat.
Randy (possum)
A possum is a good going-away present for any young adult, but this is more for Randy than anyone else—he gets separation anxiety and starts to shake.
Bag of topsoil
Just in case your kid's school's grounds are dry or barren. Good for adults too. I always bring bags any time I go to the park.
Moose Skull 
Just good decor. Looks great on top of a bookshelf or on the moss carpet in your dorm room. And doubles as a bowl, if you angle it right.
Well, that's all I've got for you. I hope that this list can help you as much as it's helped me. I'm gonna be signing off for a little while, Jeepers. Gonna do a little thinking down by the river. Hoping to see an egret.
Yours,
Keith Jeep
---
Performance Art
By Magdalene Aubergine
Hello. It's me.
I am art critic Magdalene Aubergine. I witness art, I write about art, and I am a moving, melding brain in a woman's body. And now that you know me, I will begin.
Last week, I encountered one of the most provocative works I've ever had the pleasure of knowing. "Park Scene" rescued me. I had just left New York after the curatorial staff at the Museum of Modern art seemed not to grasp the dynamism of my performance art piece, where I attempted to teach myself to do a handstand in the museum lobby. Law enforcement did not comment on the artistic merits of the piece, but took issue with my "unauthorized presence in the building," and my "yelling."
After the incident, I remind myself of the purity of art that is truly made by and for humans. I just drove—no GPS, no cell phone, no brakes. Because I chose not to purchase the concept known as "gasoline" from one of the many soulless oil conglomerates posted along the road, my journey ended in western Ohio. Soon, I found myself in a small public park, ignorant then, that my whole worldview was about to change.
I sat on a park bench for a moment, waiting to be recognized immediately, as I so often am in public places. But no one asked for my autograph (one horizontal line), nor called me the zeitgeist. In fact, everyone simply ignored me. There was no logical explanation until I realized that I had stumbled, ignorantly, but perfectly, into a performance art piece, the performers intent on maintaining separation between me, the witness, and their work.
An array of scenes unfolded before me, quite obviously critiquing the notions of "play" and "leisure." The people, the artists, could not have disappeared more convincingly into their roles as park-goers.
First, a game of pick-up basketball. The court was their canvas, and they the paint. The performers were adolescents, and I watched with fascination as a fight broke out between them. I dared not intervene when a child fell and requested medical attention, unsure whether I was meant to participate.
To my other side: a ritual of years. The performed children's birthday party, taking place in the picnic area. The realness of the work was astounding—the performers could not have looked more like children. What was most exciting was the interactive aspect. When I wandered over, so that I might better observe the scene, the artists engaged with me directly. They asked me "who I knew there," and "which child was mine." I decided to participate, per their invitation, and interact with their scene, sticking my hand into the cake and eating the portion from my bare hand, freeing myself of all inhibitions as they undoubtedly intended.
"Park Scene" mirrored life most effectively in its uneven rhythms and seeming lack of connection between different events. Not seconds after I ate my portion of cake, a dog sprinted past the party. Pursued by one of the work's most impressive characters, "Steve," the dog shifted the focus of the scene from the party to itself in an instant. Steve shouted for help with a desperation I hadn't seen on stage before, and the other partygoers, conveying genuine surprise, rushed to help pursue the dog.
But "Park Scene" was so much more than just a thrill ride. As night descended, I was the only one there, left to ponder what I had just seen. "Park Scene" restored my faith in performance art, and my faith in the human condition. Renewed, I returned to the city on foot over the next week, ready to begin again.
---
Advertisement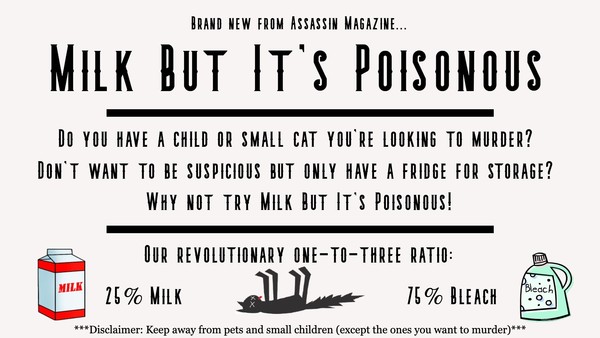 ---
Collins Calls the Country
The Last Dance
By Jean Collins
Readers,
In the time since my latest call with Kat and Screwdriver, I've relearned a few important things about myself. First: I love baseball. Second: I have just as much to say as everyone else. Third, and most importantly: the voices of everyday Americans will always shine through, whether they're being published in a prestigious national publication, projected across the grandstand at Citizens Bank Park, or whispered quietly in the line at the post office.
I've also learned that it's time to bring this series to an end. But I won't leave you without closure. So for my final interview, I've decided to call the most important number of all. The number that will put me in touch with the true soul of America. The most daring number of all. The forbidden fruit for any random-number interviewer.
9-1-1.
Operator: 911, what's your emergency?
Jean: Actually, today, I want to know what your emergency is, sir. Can you tell me your name?
Operator: My name is Eric. What is your reason for calling?
Jean: Thank you for asking, Eric. I'm an interviewer with the PIC Newspaper. That's my job. But my calling is to tend the fire of the American public. And recently, after a little soul searching, I'm lighting my own fire too.
Eric: I'm sorry—did you say you lit something on fire?
Jean: Let's shift the focus from me. Tell me, what's your spark?
Eric: Ma'am, where are you right now? How severe is the fire? Did you light it intentionally?
Jean: That's the question, isn't it? How brightly do each of our individual passions burn? And are we even able to light our own fires? Or can it only happen randomly, miraculously?
Eric: Is there a fire or not? I can send a fire-fighting unit your way if you give me your location.
Jean: Eric, your job must be very stressful. What do you do to make time for yourself, to make sure you still have enough of your own kindling?
Eric: What? No more games. You have to tell me if there's an emergency or not. Have you been burned?
Jean: Of course I've been burned. Burned by ex-lovers, ex-friends–
Eric: I'm gonna stop you right there. This is not a line where you can just call and chat. We don't do that here. So you have to tell me right now: yes or no, is there a fire?
Jean: Of course there's a fire, Eric, a fire burning in the hearts of the American citizens. And it will never stop burning. It will never go out. I just know it. Goodbye Eric. You've been the perfect end to a perfect week.
Eric: If you ever do this kind of thing again there are going to be real consequences.
It was as difficult for me to say goodbye to Eric as it is for me to say goodbye to each of you. You who have joined me each week to meet a new friend. But know that only the printed portion of our relationship is coming to an end. Every now and then, I might just pick up the phone and call a new number. And who knows—maybe it could be yours!
---
That's all from us for the summer. Thanks for reading, and please do try to use what you've learned!
Related
Resources
---