Other than being fodder for rappers with regrettable haircuts, Goodwills the country over have a reputation for being great places to go to buy all kinds of broken electronics, smelly pillows and fashions even the 90's gave up on.
You'll occasionally find something good buried in all of the beaded dresses and cutlery sets that are missing all but one of the forks, but if you ever spend much time in a Goodwill (don't—"thrift dementia" is real and sets in quickly), you'll notice that other than the occasional item in their "silent auction" bin, you'll never see any particularly high quality items for sale.
This is very much by design.
Goodwill is evil. Like, as a corporation they are probably dwarfed in evil only by Walmart, and whoever first decided to put "micro-transactions" in video games.
They get away with paying their employees nothing by claiming to be "non-profit" while raking in more profits then you would expect from a place that charges like fifteen dollars for an entire sectional couch. Even if said couch is clearly made from the same "leather" as the pants in a costume shops "children's rock star" costume. But plenty of people smarter than me have already written very good articles about the general horrible-ness of them as a company. I'm here to talk about the place you can buy animal skulls and used legs.
You see, a huge part of the reason you don't see very many truly good items in Goodwills is that they all get taken and put on an online auction house in the vain of eBay—if eBay was super clunky and designed by the most aggressively average team of web designers the mid-90's had to offer.
The site is called ShopGoodwill and it is exactly what I described: a shittier eBay. Sometimes you can snag good deals on stuff, but more often than not you won't. But more importantly, at least for the purposes of this article, they post some weird shit on there sometimes.
How weird? Well, how about…
1. Dead Shark in a Jar
"This Jar Has A Preserved Dead Shark In It," reads the actual product description on this item.
This raises a lot of questions. First, can I donate animal corpses to any Goodwill location, or does only this one accept them? Do they have to be sea-based creatures? Do they have to be in jars, or are cans also a viable option? Is there a size limit on the sharks? If I were able to somehow find a jar that is inexplicably large enough to hold an entire Goblin Shark, could I in fact donate that if I felt so inclined?
I'll be waiting for answers to all of these questions Goodwill. You know how to reach me.
2. Just a Hunk of Driftwood
Like, I get it, Goodwill, I work in a resale shop, I get that people try and pawn off some real bullshit on you. Like, "this couch that is 80% semen-stain-free, so you'll take it, right?" People try and "donate" their trash all the time. I get it. It's cool.
But do you know what you do when that happens? You either politely inform the twitchy redneck that you have no ability to sell his oddly expansive collection of mildewy, mid-70's erotica magazines, and cannot take them from him, or you take them and throw them away. What you do not do, is accept a hunk of just-wood, and then try and sell me that hunk of just-fucking-wood, and charge money for it like it's a thing that people should be glad to pay money for.
The real kicker is that the website is usually for stuff that's deemed "too good" to sell in a physical Goodwill location, so not only did someone accept a chunk of wood in a donation, but that same person looked at the wood, looked at the shop, and then shook his head, thinking, "not here, Driftwood. Not here. You're too good for this dingy place. You need to be put online for the world to see."
That happened.
3. Sh'Arkrok the Undying Flesh God, Singer of Madness and Herald of Damnation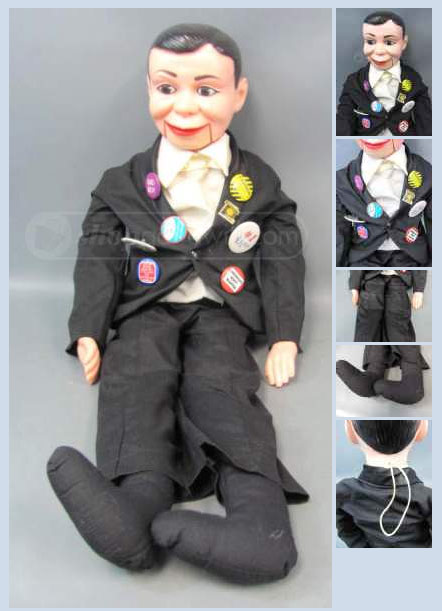 Yeah, technically that's "just" a ventriloquist dummy. But if you scroll down a bit, you'll see that under the "Materials" section (that I've never seen on another item) it just says "Man Made."
Indeed, Sh'Arkrok, nobody is denying that you are made from men. Their screams, their skin, their nightmares, their…
4. Hands Only CPR Dummy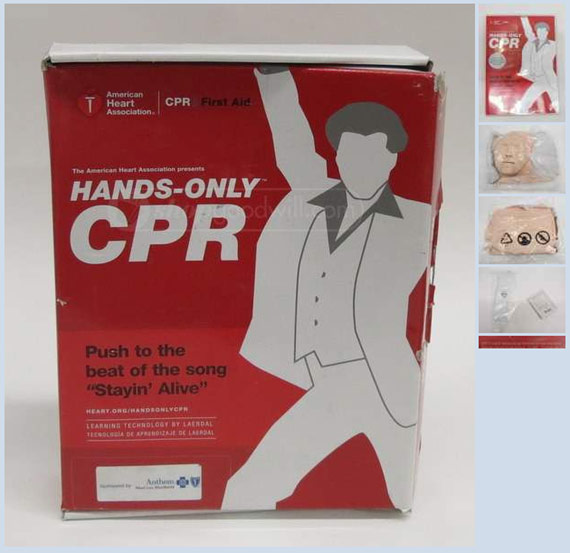 This is a practice CPR dummy and normally there would be very little that would be interesting to say about it, unless it had a great big giant willy, or something. But even that could be excused in the name of being anatomically correct. I've performed CPR on many people. Several of them had great big giant willies. However, when I began the process of administering CPR, precisely zero of them began to terror scream out "Stayin' Alive" by the god damn Bee Gees. Which this thing apparently does.
And this isn't some sort of adorably misguided prank-gift that your "funny" uncle Marv would get you for Christmas and then totally unironically slap his knee in comedic satisfaction upon seeing your confused face after unwrapping it. No, this thing is an official practice dummy from The American Heart Association. So, uh, AHA? I think I speak for all of us when I ask you, "What in the actual fuck?"
5. Censored Mannequin Torso
Unfortunately I ran across this one before I decided to actually write an article about this stuff, so you'll just have to take my word for it, but hopefully I've earned your trust enough to ask for that. We're friends like that, right? Cool. So one time on ShopGoodwill they were selling a lady mannequin torso that had the breasts censored (in the provided photos). Really. The pictures had black bars over where the nipples would be.
I mean, regardless of where you stand on breasts (you shouldn't. They're not made to support that kind of weight) and the relative ability of women to expose them, you probably have to agree, that censoring the chest-al region of a featureless hunk of gray plastic is probably pushing the conservative bar just a little too far. Or maybe they weren't featureless? Maybe they were painted with hyper-realistic nipples and I'm the asshole here? The listing made no mention of the unmentionables, so for now I'm forced to assume that that mannequin had some rockin' tits.
6. Prosthetic Leg
Have you ever just up and donated something to Goodwill, or a place like it? I'll bet you didn't just buy something, and then deliver it new in the package. No, you donate used stuff when you're done with it. And that's perfectly fine. It's a functional system that lets people pass on stuff that they're no longer using, and let other people pick it up at a reduced rate.
Which brings us to this prosthetic leg. There's no way this thing isn't used. And hey, prosthetics can be expensive, so kudos to this person for passing this on. But at the same time there's just something sketchy about picking up a used piece of used-to-be-part-of-a-dude from the same place you pick out discount muumuus and Vanilla Ice cassettes.
7. Jester
You could fault me for making multiple entries in the "creepy-faced demon-seed doll/mask" sort of category, but I'll just turn right around and turn the fault on ShopGoodwill for having so many clearly cursed dolls/masks for sale on their site. Do they get a commission from the Grand Witches Coven for every cursed item they pass on to an unsuspecting populace, or something?
Regardless, what we have here is listed as a "Mardi Gras Jester Wall Hanging" but I think we can all agree is actually an actual human face peeled off of a cast member from Cats dressed up for some reason to look like a particularly flamboyant Santa Claus.
8. Gay Doll Orgy
Yeah, I know that they're collectors' items. I don't care. The fine people at Goodwill threw a bunch of naked man-dolls into a sweaty, muscular heap and took pictures while the doll's clothes lie forgotten at their feet.
And the dude in the middle is clearly jacking it as hard as anyone has ever jacked it, all-the-while giving you a sort of gruff "what are you gonna do about it" look.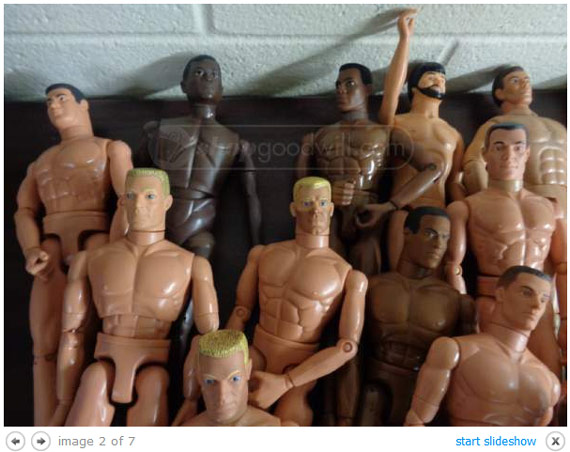 Oh, right. They have the clothes. They're right there. So you have to ask yourself which case is weirder; did the dolls start with their clothes on, and some Goodwill employee took them off for a gay-orgy photo-shoot? Or did they start naked, and the photographer, knowing how weird it would be that he's doing nude-doll pin ups, refuse to put them on?
The mind boggles.
Also, in case you had any doubt about the fetishes at play here, allow me to leave you with this loving close-up of doll-sphincter, courtesy of ShopGoodwill.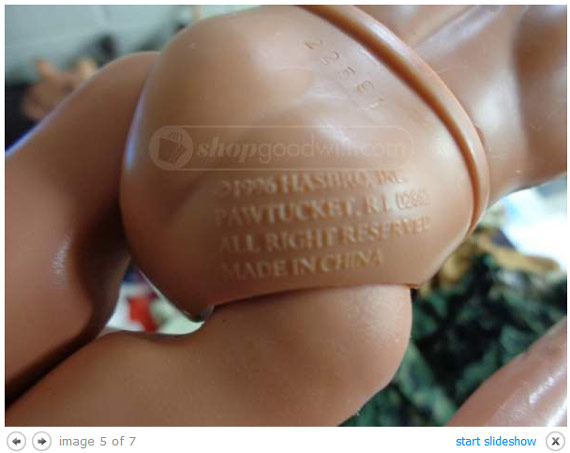 I wrote a book called "Wizards and Hard Drugs" and it's only a dollar! ONE EFFING DOLLAR OUT OF YOUR FAT VIRTUAL WALLET. Buy it now to help feed my fragile ego!
Related
Resources
---