Kevin's Caesar Salad
The classic Caesar served up Kevin style, with your choice of grilled chicken or grilled shrimp. Combine both options for free on Earth Day, or half price no meat on Easter Sunday!
Kev-In Da House Salad
Back by popular demand! Kevin's scrumptious medley of mixed greens, cucumbers, tomatoes, shredded cheese and your choice of dressing is sure to start your evenings off right. If it doesn't, Kevin will DJ your next party guaranteed*!
Grilled Kevin Salad
Don't worry, Kevin's not grilling himself! A boneless, skinless chicken breast gets the grill treatment instead. Served over chopped arugula with freshly cracked pepper, shaved Parmegiano-Reggiano cheese, a squirt of lemon, and a Dijon mustard dressing. Chicken 0. Kevin 1.
French Salad a la Kevin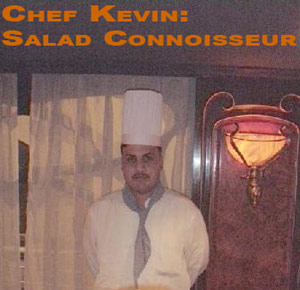 Kevin condenses a Frisée salad with goat cheese and balsamic syrup into a firm brick overnight using his patented SALBRICK® method. It is then cubed and served over Chopped Salad Niçoise. Two French salads for the price of one!
The Kevin
This is the salad that put Kevin on the map! Kevin reboots a centuries-old Mediterranean salad recipe that will have you screaming for more! Served with a complimentary side salad to quell screaming.
Kevin Once Stayed at the Waldorf Salad
You, too, will think you stayed at the historic Waldorf Astoria Hotel when you take a bite of Kevin's rendition of the infamous salad. Kevin pre-washes all ingredients with real New York City water! Choose yogurt or mayonnaise base.
Kevin-Ain't-No-Asian Salad (Summers Only)
Kevin might not be Asian… but he certainly knows how to prepare this oriental staple using only tofu and Japanese Seaweed! You'll be surprised that the tofu mandarin oranges and the tofu almond slivers taste exactly like the real thing! Domo arigato, Kevin!
Grandpa Kevin's Frog's Eye Salad
Kevin returns to his roots with this salad inspired by his grandpa, Kevin Sr. This salad mixes Acini di pepe pasta with a pineapple and mandarin orange sauce with whipped topping and miniature marshmallows. Perfect for those wanting a little dessert before their dinner.
Kev
Kevin balls up a Romaine wedge in his fist and dunks it in his famous olive oil marinade. He then punches an open bag of bacon bits and throws everything against a wall of Himalayan pink salt. Kevin then scoops what he can find with a fistful of chopped red onion and over TWO POUNDS of minced garlic. For an additional fee, Kevin will personally deliver your salad for you to eat out of his bare hands.
Simple Kevin Salad
Kevin knows not everyone craves a complex salad. Maybe they're a little intimidated by too many delicious choices? Who knows? Kevin can only guess during his sleepless nights alone on his lettuce farm. But that's neither here nor there. This salad consists of shredded iceberg lettuce in a plain plastic bowl with your choice of dressing (usually ranch) on the side.
*Menu guarantee dependent on Kevin's availability. House music only.
Related
Resources
---