Here's a question for ya: When is the last time you read a human interest piece about Pete Sampras? Okay, here's a better question for ya: Have you ever read a human interest piece about Pete Sampras? No? That's shocking.
Chest hair. Either you have it, or you don't. Or you have a random smattering of it. But there is no gray area. Only a gray hair-ea.
Pete Sampras might not be the father of the modern game of tennis, but he's got ties to the Royal Family. A family that isn't bound by biology, but by the blood and sweat left on the surface of the grand slam trophies hoisted in the air.
Sampras demonstrated to naysayers that massive tufts of thick, bristly hair could be resilient enough to survive for five sets underneath a neckline. The lineage of "modern" tennis can be summarized by tracing each leg on the relay of the torch. It all goes back to Bobby Riggs, who passed the torch on to Jack Kramer, who gave it to Pancho Gonzalez. The crown went from Gonzalez to Ken Rosewall, who, handed it to Rod Laver. Rod Laver named a few arenas, and then turned the game over briefly to Jimmy Connors, who determined that Björn Borg was a better suitor. Borg gave way to John McEnroe, who gave way to Ivan Lendl. Lendl slowly relinquished the title of heir, the title earned by none other than Pete Sampras.
Before his time, it was common knowledge that a tennis star couldn't perform with a Body Hair Index (square inch of body hair per 100 pounds of body weight) greater than 40 (Connors was once labeled as "pushing the envelope"). Prior to Sampras, it was the norm for a tennis star to look about as masculine as the Dutch Boy. For years it was the baby face that was the face of the sport. After the infusion of Sampras, it became okay to be as hairy as an Italian truck driver.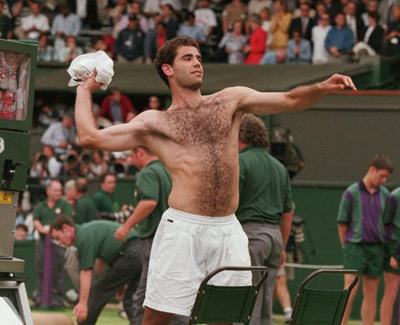 Who would have thought that such a consistently dominant presence lacking flair (basically, the Andy Pettitte of the ATP) could possibly have brought about a watershed moment for all of Tennis?
You're welcome, Roger Federer.
Federer may admit that Sampras is an influence. But he won't go as far to say he's his "hair-apparent." Federer will claim that it was hard work, diligence, and detail-oriented preparation that got him to where he is. What he won't readily realize is that he broke through on a trail blazed by Sampras. A gentleman's game previously offered only to the well-groomed social elite, tennis was once an exclusive club that implicitly denied hairy men. It wasn't until the woolly warrior Sampras created some friction against the institution of tennis that hairy men became commonplace on center court.

We've always known Fed is the complete package. Even if you pressed Federer about how Sampras may have paved the way for him, you probably wouldn't get anywhere. Odds are, he would undoubtedly remain neutral. But that's expected. No matter how hypothetical the inquiry.
We once thought that chest hair couldn't thrive bridled underneath fabric. And tennis was once opposed to the idea of a hyper-masculine poster boy. But Pete proved us otherwise, merging and dissipating the myths. He demonstrated to naysayers that massive tufts of thick, bristly hair could be resilient enough to survive for five sets underneath a neckline, and obedient enough to also oblige. He then blew them away with his play between the baseline and the net.
He ushered in an era of men's tennis as a sport fueled by testosterone that forges gentlemen. Making it the intense version of golf. A sport of integrity and class, sportsmanship and humility. A sport that until he arrived, was not sponsored by Barbasol.
This is a pioneer nobody talks about. An innovator who brought about subtle change. In the spotlight he was winning grand slams, behind the scenes he was breaking down barriers—obstacles nobody knew were there, because nobody knew they were upholding them. Subconsciously denying the hairy man his equal due.
Sampras fought for equality, and gave us 286 dominating reasons to reconsider the constituency of professional men's tennis.
The number 286? That is not the number of budding follicles still hyper-functioning on Sampras' chest. That is the number of weeks he spent as the #1 ranked tennis player in the world. All while playing with his sweater still on. Federer has since passed that mark, but he knows who ultimately gave him the opportunity.
There was no one like Sampras before his time, and someone who was only sort of like him shortly after. But what Sampras did, and what he represented, created a now-noticeable impact. So influential to me in fact, that a non-avid tennis fan such as myself is writing about him years later, in the month of Movember.
---
More Like This
Comedy Courses
---
---