« Back to Part 1, "6 Life Lessons They Won't Teach You in School"
I was yelling at my students one day when the principal of the school beckoned me out into the hallway to speak with me. Apparently, the school had been notified that my alcohol problem had grown worse and that my temper was out of control.
I flew into a psychotic, hysterical rage upon hearing this. Oceans of boiling anger filled my heart with pure insanity and madness while poisonous, acidic hatred emanated from the very essence of my being. Dark clouds of merciless wrath loomed over me as I began pulling my hair out and throwing desks across the room while children ran out screaming and crying in sheer terror. The demonic behemoth of eternal fury that dwells within the twisted cage of my soul was unleashed with a ravenous desire to smash those rotten, pathetic imbeciles into tiny little pieces and then stomp on them repeatedly until the very end of time.
People who are often the best at presenting a positive image have perfected the skill of hiding who they really are…bloodthirsty, horrifying demons. I just couldn't figure out why anybody would say such horrible things about me. And furthermore, my alcohol problem hasn't gotten worse, it's gotten better. I used to wake up hungover and loaded with anxiety every morning because I was really worried about what I had done the previous night. But now that I finally quit drinking beer and switched to whiskey and Everclear, my anxiety problems have completely vanished; now I can't remember anything at all. I'm also not afraid to get into bar fights anymore. I have completely lost all feeling in my body, so it doesn't even hurt when I get punched, kicked, or stabbed. All in all, I'd have to say that I'm very pleased with my condition….no pain, no anxiety, and no memory… it's a win-win.
But needless to say, I have gotten the overall impression that I need to refine my teaching methods even more so that my students come out of class with knowledge they can actually use in the real world. From my own experience, I can say that when teachers face allegations of severe alcohol abuse and temper problems that border on the need for psychological help and medication, it's merely the administration's way of trying to say, "Hey, you need to teach better lessons in class."
With this in mind, I have designed these additional six life lessons to complement my original six lessons.
Life Lesson #1: Knowing how to read is overrated.

Captions: what, did the picture not say it all?Reading becomes less important as you grow older. After you graduate, you're probably going to notice that reading isn't really all it was cracked up to be in the first place. In fact, reading almost doesn't even seem necessary once you get that college degree. When you're young, you need to know how to read in order to pass tests and make your teachers happy. But after you reach the age of 30, you're going to notice that reading not only fails to make you a better person, it also causes headaches. It causes headaches because it fills your mind with lots of troublesome knowledge that you will probably never use anyway. And even if you actually did use that knowledge, you still wouldn't be a better person…so why read in the first place?
Now, don't get me wrong, I'm a big fan of knowledge. Whenever I think about the stimulating academic world of philosophical theories, mathematical formulas, statistical data, historical interpretations, the process of testing a scientific hypothesis, and especially the unique dynamics of English grammar in terms of auxiliary verb conjugations and infinitive parallel structure usage, I just want to pull my pants down and masturbate like an aggravated baboon on PCP. But no matter how sexually stimulating you may find book knowledge to be, just remember that thinking too much is never a good thing…and reading is only going to make you think.
Life Lesson #2: Your own personal accomplishments in life provide temporary pleasure, but they are like leaves that get blown away in a gentle wind: you can't hold on to them. When you look back at your life in old age, the only thing that will give you peace of mind is how you treated other people. Being able to provide friendship and comfort to those in desperate need is the best thing you can possibly do.
Billy: Mr. Jansen, is it okay if I talk to you about something for a moment?
Mr. Jansen: Sure Billy, what's bothering you?
Billy: Well, this is something I can't really talk to my friends about because they just don't seem to understand. So, I thought I could talk to you.
Mr. Jansen: Sure thing Billy, what's on your mind?
Billy: I feel so incredibly heartbroken, Mr. Jansen. I just broke up with my girlfriend because she cheated on me, and I don't know if I'll ever get over it. I'm so depressed.
Mr. Jansen: Oh my goodness, Billy!! That's horrible!! I'm glad you came to talk to me. Don't worry Billy, everything will be okay. I actually have a little story to tell you. I think it might just cheer you up.
Billy: That's great, Mr. Jansen. I would love to hear it. Anything would make me feel better at this moment.
Mr. Jansen: You know, Billy, I used to have a friend named Matthew. And Matthew was really in love with his high school sweetheart. They actually went to the same college together so that they wouldn't be separated. They were like two love birds sent down from Heaven….a truly adorable couple.
Billy: Wow, that's great. What happened next, Mr. Jansen?
Mr. Jansen: Well, the first week they got to college, his girlfriend cheated on him with one of the other college students.
Billy: Oh my God, that's horrible. Why did she do that?
Mr. Jansen: Well, she was pretty much swept off her feet by this other college guy. His parents were rich, and he drove a Corvette. He was also a pretty smooth talker.
Billy: So, what happened to Matthew?
Mr. Jansen: Well, he was absolutely devastated. He couldn't eat or sleep for weeks after it happened. He was so incredibly depressed. He stayed in his dorm room all the time, and he started skipping class. I was really worried that he wasn't going to make it.
Billy: But he eventually got over her and met somebody else, right? Things eventually turned out okay for Matthew, didn't they, Mr. Jansen?
Mr. Jansen: Well, not exactly. You see, he was walking back to his dorm room one night when an escaped Doberman Pinscher with rabies knocked him on the ground and chewed off half of his face. Luckily, the Doberman eventually got distracted and ran off while Matthew lay there on the dirty street heartbroken, twitching, gurgling, and bleeding profusely for several hours.
Billy: ……..???
Mr. Jansen: Matthew eventually mustered up all of his remaining strength and began limping to the nearest hospital, which was five miles away. It must have been a very painful five miles, but he did eventually make it.
Billy: Did he recover?
Mr. Jansen: Well, not exactly. He was right in front of the hospital when he got hit by a Corvette. It was actually the same Corvette driven by the guy who stole his girlfriend. Apparently, they had been making out while driving, and they didn't see Matthew in time to stop. The impact threw his body into the air, and he landed on top of a giant truck that was transporting dangerous medical waste to the other side of the state.
Billy: Mr. Jansen…how is this going to help me?
Mr. Jansen: You see Billy, the point of the story is that sometimes in life…. Oh. Wait a minute. I told the wrong story.
Life Lesson #3: The worst people in the world are self-controlled.
I'm not sure if everyone is aware of this or not, but some of the worst people in the world are actually very disciplined and self-controlled. In fact, many of them are quite skilled at presenting an easy-going, confident, and casual appearance. They are also good at gaining the trust of others. Even more disturbing, many of them are often considered upstanding members of the community. People who are often the best at presenting a positive image have perfected the skill of hiding who they really are…bloodthirsty, gruesome, horrifying, murderous demons from the 7th Layer of Hell.
Now…being the narcissistic, attention-craving, obsessive-compulsive, emotionally disturbed, self-medicating, hyperactive, socially maladjusted, neurotic, angry, balding, hopeless, psychologically unbalanced, self-loathing, hyperventilating, delusional, brooding, alcoholic, chain-smoking megalomaniac that I am…I consider it my job to know things that nobody else wants to think about. For example, people who don't know how to express themselves (or who aren't able to release their daily frustrations) often find much more devious and calculated ways to release pressure…such as kidnapping your relatives and making a really quaint kitchen table out of their bones.
On the other hand, guys who know how to blow off a little steam—whether it's getting drunk on a Friday night or flying to Thailand to take advantage of cheap prostitution—aren't going to feel the need to kidnap somebody on the other side of the country so that they can peel off their skin and fashion it into a really cute-looking rug for their living room floor.
Getting drunk and paying for a prostitute is easy…pulling off a serial murder takes time, self-discipline, and calculated precision. That being said, the next time you see me out on the street extremely drunk and urinating myself as I scream at the moon while wearing a vomit-stained t-shirt that says "Fuck Society"…just relax, I'm only blowing off a little steam. However, if you run across a decent, sober, well-mannered, casual, polite, well-dressed citizen who has it all together…RUN FOR YOUR LIFE!!!
Life Lesson #4: True love does not exist; therefore, it's okay to terrorize young couples who put on public displays of affection.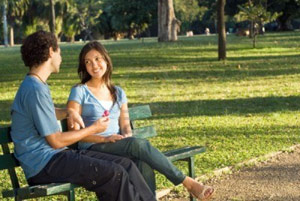 It only gets worse from here. When I lived in Korea, I used to spend lots of time reading books in a certain park down the street from where I lived. One day, I noticed a young Korean couple sitting on a bench about 40 feet opposite me. My very first glance at them told me the entire story. They were holding hands and looking deeply into each other's eyes, completely oblivious to the rest of the world. They just sat there looking at each other as moments went by, lost in each other's gaze. The young woman moved her hand behind the young man's head and began to gently caress his hair as she drew his face closer to hers. They then proceeded to softly rub their noses together like two deer in a mystical forest. Without a care in the world, they rose from their park bench and started dancing slowly, moving their bodies in perfect rhythmic harmony to the music of their own souls. She had her eyes closed, and her cheek was pressed lovingly against the side of his head as she continued to caress his hair and his neck. Every movement they made was in such perfect harmony that I truly wondered if I was witnessing the movement of two bodies occupied by one soul.
All the hidden secrets of the world, from the blue skies above to the depths of the oceans below, did not concern this young man. He would give them all up just to hold her in his arms for but a brief moment. And she as well, would cast away a glorious lifetime of experiences, with every promised moment of individual happiness and indeed the very feeling of soaring through the stars above, just to hold him close and calm the rhythm of his beating heart.
As I was watching this couple, I eventually began to grow very sick. I felt horrendous amounts of vomit begin to rise slowly from my stomach and make its way towards my mouth. And I don't mean ordinary vomit…I'm talking excessive, unstoppable, rage-filled, demonic, Exorcist-type vomit. I began to secretly wish that this couple was being devoured by imaginary, genetically-engineered creatures. And then I came up with the perfect idea for a horror novel about spider-fish monkeys….huge, genetically-engineered creatures from outer space with giant fish heads, powerful monkey torsos, and big, gruesome, hairy spider legs who eat young couples while they make out on park benches. That would sell, I thought to myself…right before a massive load of wretched vomit spewed out relentlessly onto the book I was reading, ricocheted of the book, and splattered all over my face.
THAT WAS IT! With slimy chunks of vomit sliding down my face and my hair, I threw my book on the ground, pointed at the young man…and in a language he did not understand, screamed at him: "YOU FOOLISH YOUNG LOVER!! WILL YOU RETAIN THAT LETHARGIC, TRANQUIL, LOVE-LOST COUNTENANCE WHEN YOU COME FACE TO FACE WITH THE MERCILESS, UNFEELING EYES OF A GENETICALLY-ENGINEERED SPIDER-FISH-MONKEY? …FISH EYES THAT CRAVE NOTHING MORE THAN TO TRAMPLE YOU WITH SPIDER LEGS AND FEAST ON YOU WITH MONKEY HANDS BEFORE SWALLOWING YOUR SOUL DEEP DOWN INTO A COLD, FISHY, DARK, WATERY ABYSS OF INSUBSTANTIALITY?"
With big chunks of vomit still running down my face, I then pointed at the young woman…and in a language she did not understand, screamed at her: "AND YOU!! YOU HOPELESS 'LOVE STRICKEN' YOUNG WOMAN!! WILL YOU STILL HOLD THIS YOUNG MAN CLOSE TO YOU WITH THE DEEPEST, MOST SECRETIVE DEPTHS OF YOUR PASSIONATE LOVE WHEN HE CONFRONTS THAT SPIDERY, FISHY ABOMINATION WITH ALL THE COURAGE AND BRAVERY OF A FOUR-YEAR-OLD GIRL? AND WILL HE STILL RETAIN THAT CHERISHED PLACE AS THE TRUE LOVE OF YOUR ETERNAL HEART WHEN YOU SEE HIM RUN AWAY…SCREAMING WILDLY AND URINATING HIMSELF UNCONTROLLABLY…AS THOSE EIGHT SPIDER LEGS DANCE GLEEFULLY AFTER HIM"?
Needless to say, the young couple took their leave from my presence…and with a very hurried pace. And I thought to myself, "Yes, that's right. You'll both be moving a lot faster than that when the spider-fish monkeys are after you."
Life Lesson #5: After you get arrested and thrown into the looney bin for successfully completing #4, you will probably be allowed at least one phone call. Don't call your parents; they probably won't understand. Call an editor instead and explain your idea for an excellent story.
Life Lesson #6: Men are eventually going to become extinct.
I'm not exactly an expert, but I'm pretty sure everybody knows exactly what would happen if you took a group of women and isolated them on an island somewhere. At first, they would begin conversing with each other. But within a few minutes, conversation would lead to innocent giggling… innocent giggling would turn into shoulder caressing….shoulder caressing would cause a brief moment of confusion…that brief moment of confusion would then give way to deep, passionate tongue kissing…deep, passionate, tongue kissing would encourage dirty talk…dirty talk would require spankings…and spankings would lead directly to oral sex.
Before you know it, all the repressed and forbidden desires that lurk within the "ocean of secrets" that we call a woman's mind would burst through the floodgates, and a massive orgy would take place creating a spectacular collage of unrestrained lust and sinful pleasure so intense that it would accelerate the shifting of the tectonic plates and knock several planets out of their orbital alignment.
What I'm saying is this: Women develop faster than men, they have higher levels of emotional intelligence, they know how to nurture life, they smell better, and they know exactly how to give each-other mind-boggling orgasms. (After all, who better to know a woman's body than another woman.) Men, on the other hand, never fully develop emotionally, we don't know how to nurture life, we smell bad, and we can't even compete with women when it comes to the orgasm department. (That's why women have perfected the art of fake orgasms…so that our feelings don't get hurt.)
I think it goes without saying that once women figure out how to have babies without men, we are completely doomed. Evolution can only support us for so long before science and technology throw in a trump card. In other words, our main excuse for continuing to exist has been that women need us to make babies. But when science and technology allow for babies to be created without male sperm, we may as well kiss our own asses goodbye.
But there's no need to be sad. We, as men, have introduced a few good things into the world, such as beer, prostitution, rape, serial murder, slavery, torture, corrupt governments, warfare, imperialism, pollution, genocide, and video games… unfortunately, we can only refer to these things with a small nostalgic tear as our contributions to human history will soon come to an end. When women can make babies without us…the doors of evolution will close on us forever, and women will rule the entire world.
Maybe if we're lucky, they'll keep a few of us around for amusement….
Related
Resources
---