Dear Pizza Barn – Home of the Barnstormer Pizza, with 10 types of cheese and 14 toppings, guaranteed to be a hit at any party, event or full-class feeding frenzy:
My name is Buddy O'Leary. I'm 16 years old and I've been a pizza delivery boy for your company for three months now. I'm enjoying the job so far. I enjoy driving the Pizza Barn Delivery Tractor Truck. My mom likes discounts on pizza and my dad likes that fact that I have a job. I am learning a lot about business, time management and pizza.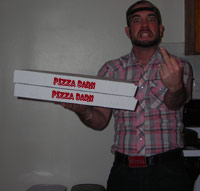 But I have a serious problem with your company.
In the 28 shifts I've worked so far, not once has a girl answered the door in a towel, rummaged through her purse only to find she spent all her cash on lubricants, and then offered sexual favors in exchange for the pizza.
NOT A SINGLE FUCKING TIME!
WHAT'S THE DEAL?
Then there was the time I delivered to a seedy hotel, hoping this was my chance to walk in on two lesbians making out, but it was only a dirty hippie who ordered a sauerkraut pizza. My clothes still smell like pickled cabbage. Yuck.
Good CEO sir, I shave every day for work, my high school's tennis team keeps me in shape, and I wash my uniform weekly. So it has nothing to do with my looks.
I demand we do something in order to draw in the type of blond, naked chicks with 36DD boobs who don't mind sleeping with a pizza boy who may or may not be a virgin — what I mean is, my friend, um, Eddie, who also works with me, has never really seen, er, a naked girl. I'm definitely not a virgin.
If you can't remedy this situation, I will be forced to submit my resignation. I am looking at positions in the cable TV repair business, pool cleaning, and Catholic high school teaching.
Sincerely,
Buddy O'Leary
P.S. Maybe we should cut off the sleeves on our t-shirts and wear denim shorts. That seems to help the pizza boys in the DVD stash my older brother keeps under his bed.
---
Follow PIC on Twitter, Facebook, Instagram, or good ol' fashioned email.
---
Get coaching or feedback on your comedy writing from our editors.