I think my goddamn apartment is haunted. Actually, scratch that, I know it is. The TV randomly switches channels and turns off and on. A sinister knocking sound comes from the kitchen with no discernible source. Tiles pop out of the floor for no reason. And my girlfriend levitates about a foot above the bed at night, spitting up pea soup. Also, she's wearing a hotdog costume.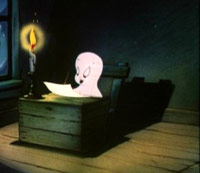 Okay, that last one might have been an amalgamation of some movies and my fantasy life, but the fact remains: a ghostly presence invades my home at night, and like a desperate cougar you bring home against your better judgment, it's worn out its welcome by morning. I don't care if I have to find an exorcist, or lure the non-Bill-Murray cast of Ghostbusters away from their jobs at the car wash, the craziness is going to stop.
I'm usually not one to believe in the paranormal. One time, I thought I could move objects with my mind, but it turns out I was just really drunk, and sitting at a lopsided table. I've tried to debunk supernatural claims like telekinesis, telepathy, and organized religion. I even sat down with a scientologist and tried to convince him that there were no invisible spiritual parasites trying to siphon off his life energy. But now, all bets are off.
The first step in my battle against the spirit world, or as I call it, Operation Sodomize Casper, was to do some research. Thankfully, I had the perfect tool. "How to Hunt Ghosts" by Joshua Warren is 238 pages of useful advice against those translucent white assholes. I'm sort of hoping that the author is to ghosts what Dog the Bounty Hunter is to meth addicts.
I'm not even sure where I acquired this book. It might have been a submission left over from my days in publishing. Or, perhaps, there are mystical forces at work; perhaps the book was left in my care by some entity who wanted…no, needed me to wage this war on behalf of the living.
The first chapter is titled "What is a ghost," and it explains the difference between a true apparition and a guy under a white sheet. PIC's black audience might want to pay attention to this. Apparently, a ghost is some paranormal aspect of the physical form and/or sinister presence that appears to exist apart from the original physical form.  This definition could also apply to fat chicks, so my world just got twice as scary.
Hey Spirit, every time I move my crotch back and forth, I'm probably having sex with your sister. I could see that the book was going to spend a few chapters trying to convince me I'm not a total crackpot. I appreciate that, but my apartment is doing weird things right now, and my tinfoil hat isn't helping, so I decided to skip the philosophical bullshit and jump ahead to the chapter where I learn how to get my exorcism on.
The book featured a list of necessary ghost hunting equipment, which includes things like an infrared meter, a night vision scope, and an audio enhancer. Where are the proton packs? Where are the holy water grenades? This list reads more like "new exhibits at the science museum."
Some of that stuff is pretty high-tech, and I don't know if I can even find, let alone use it. I can barely manage my iPod. So, I'll just have to improvise. Instead of an infrared meter, I'll use a thermometer. Instead of an electrostatic generator, I'll use a thick pair of socks. These damn ghosts have no respect for my budget…
Having assembled a ghost-hunting kit MacGyver would cheerfully endorse, I staked out my position for a long night of observation, and hopefully, ghost-punching. The book didn't say anything specific about drinking tequila during your stakeout, so I presume that's OK. From what I hear, drunk Mexicans often see Jesus, and he's kind of a ghost.
My plan was to just kind of zone out, try to expand my perceptions, and jot down some notes every so often. Lest you be concerned, thanks to my vivid imagination and perfect recall of Jean-Claude Van Damme movies, I'm incapable of experiencing the emotion of boredom.
12:00 – My night of vigilance officially begins. The house is all quiet, except I have a booger that's whistling. That's setting the mood nicely. I'm still trying to figure out a way to blame ghosts.
12:15 – No sign of spiritual activity. But I've barely moved in eight minutes.
12:30 – Still no sign of ghostly activity, but I'm starting to wonder if the tequila was such a good idea. It's a good sipping tequila though, not the kind of thing you want to mix, necessarily. I don't want the world beyond to think I'm a redneck.
12:45 – A breakthrough! My snot is no longer whistling, and I'm not even sure when it stopped. Could this be the work of a benevolent spirit?
1:00 – I'm not kidding, there's a rapid knocking sound coming from the kitchen! I've heard it do this before, but now I have it captured on audio tape. Note: Conduct later analysis to see if the ghosts are trying to communicate in Morse code. Digital photography reveals nothing except my fridge. Secondary note: I'm almost out of ketchup.
1:15 – Pretty quiet over the last half hour. I worry that even if I see a spirit, I won't know how to get rid of it. Hollywood has taught us that all ghosts have some kind of unfinished business on Earth. I don't mind helping Demi Moore make a clay pot or two, but I'm not really interested in stuff like revenge or insurance fraud. I'll need to think about this.
1:30 – It occurs to me that, in the past, I've driven people away just by offending them. So I think my best bet will be to act like an asshole to any spirit I encounter. Sure, this might touch off a religious apocalypse, but it's equally possible the ghost will just leave my place in a huff, like so many women and ethnic minorities before it.
2:45 – Getting kind of sleepy now, but this is no time for a nap! My curtains are billowing ominously, but the air is perfectly still. According to my thermometer, it's a little colder than it was at 12:00. I wander around, trying to find a cold patch, but no luck. I think the ghosts are just screwing with me now.
3:00 – I haven't done anything with some of my equipment yet, so this seems like a good time. According to my book, you can make something called a dowsing rod out of a coat hanger. My approach to laundry is to let it build up in a huge pile, and by the time I have no clothes left, the items at the bottom of the pile will have been squeezed clean by the stuff above it. So, I have plenty of coat hangers to spare.
There's something liberating about standing up to someone you're supposed to be afraid of.3:15 – Dowsing rods are basically two stiff wires bent roughly at a 90-degree angle. You hold them in your hand gently, like a sex offender leading a lost child to a creepy, windowless van . Then you walk around the haunted location. The rods will react, spinning around if they come into contact with strong fields of magnetic or electromagnetic energy.
3:30 – It might be the sleep deprivation, but I think I felt the dowsing rods spin a bit when I walked by my air conditioner. This is it. The moment I've been waiting for. Time to give the jerks disturbing my sleep a supernatural wedgie.
3:45 – "Hey Spirit," I call out. "You're nothing but a collection of easily-explained natural phenomena coupled with an almost Jungian collective consciousness influenced by early society's lack of sophistication and need to believe in the afterlife!"
Nothing.
"My bowel movements are scarier than you. Every time I move my crotch back and forth, I'm probably having sex with your sister. Boo-Berry tastes like shit compared to Count Chocula."
Still nothing.
I continue: "Hamlet's father took it up the ass. Jacob Marley fucks goats! Harry Potter books make you look like a pussy! What else? That Patrick Swayze movie sucked!
I half-expected my windows to start rattling and the walls to start oozing blood. In fact, I was hoping for some kind of sign, even if it meant my immediate future contained a lot of fire and pitchforks. Anything to confirm my suspicions were true. As a matter of fact, my walls probably did hold a bodily fluid or two, but I don't think it was blood.
Well, I don't know if I turned some kind of psychological corner, or if the tequila finally caught up to me, but a sense of calm began to settle over the room, like the atmosphere right after a thunderstorm. Could it be? Were there really spirits inhabiting my space, and if so, did I offend them enough to leave?
There's actually something liberating about standing up to someone you're supposed to be afraid of. It's like telling the loud black guy talking at the movie screen to shut the hell up already. I might spend the rest of my life cleaning up after the poltergeist that follows me around, but that night, I slept like, well, the dead.
(And Court, if you don't receive my next article promptly next week, send someone to avenge my death. Um, maybe someone other than Casey…)
Essential New Word of the Week:
crotchfan  n  ['kra?fæn]
Sometimes, cramming too many people into a car can have unexpected consequences. Whether it's one of those adorably gay Smart Cars, or an SUV that will make you exchange your first-born for carbon credits, two people in the back seat is the limit. To wit, when three people are stuffed into the back seat, the one in the middle has to endure not only the unpleasant friction and questionable odor of the two people surrounding him/her, but also the dreaded crotchfan.
Many car models have built a fan right into the hump that straddles the backseat, like a Berlin Wall of ventilation. When someone sits in the middle, that fan will be aimed directly into, shall we say, the Neutral Zone. Normally, having a healthy breeze about the privates is a good thing. But what of those longer car trips? A 2-hour Freon blast to the testicles is not something you forget so easily.
Related
Resources
---