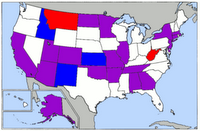 Hear that? It's the sound of your alarm clock in your memory… the one you turned off an hour ago. Time to get up and vote.
Well, only if you live in Alabama, Alaska, Arizona, Arkansas, California, Colorado, Connecticut, Delaware, Georgia, Idaho, Illinois, Kansas, Massachusetts, Minnesota, Missouri, New Jersey, New Mexico, New York, North Dakota, Oklahoma, Tennessee, or Utah.
Otherwise you can go back to sleep; your state doesn't mean much today.
This year's Super Tuesday (that's today for those of you still sleeping) has been called "Tsunami Tuesday" or "Super Duper Tuesday" by a lot of media. I don't see why people give something a new nickname when the previous one conveys the same message. Just because Sunday's Super Bowl drew the largest (mostly expected) TV audience in Super Bowl history doesn't mean we change it to the "Super Duper Bowl." Unless future Super Tuesdays are held on Wednesdays, or voting becomes an activity where more than half of people cry in the process (we're getting there), please don't change the name again, media.
I've done a lot more research on all the candidates this year than previous elections, and wow, to actually get down to the nitty gritty and see past all the rhetoric, media, and hype to make an informed decision is somewhat like blocking pop-ups was 5 years ago to find what you wanted on the internet.
If you have no idea who you want to vote for at this point, but you still want to vote (good idea, I figure a PIC reader's hour or two worth of research will result in a better choice than 50% of the nation's idiocy), here are some quick reference links I've found to very helpful in comparing and assessing each candidate:
Republicans:
Mike Huckabee – summary of positions, by the issues
John McCain – summary of positions, by the issues
Ron Paul – summary of positions, by the issues
Mitt Romney – summary of positions, by the issues
Democrats:
Hillary Clinton – summary of positions, by the issues
Barack Obama – summary of positions, by the issues
Of course, issues aren't everything, but hopefully you've got a good enough look at all the candidates thus far to factor in physical attractiveness as well.
And if you could care less about everything else and just want to play poker online again, vote for Ron Paul—he's the only one opposed to the ban on internet gambling. Oh and stop wasting your money on poker.
So there, I've done my civic duty for February. Look for my personal accord in March, and perhaps a hybrid in April. Then there will be elements of both through September, and I'll choose a candidate fit for presidency in October.
(This post was assembled in America.)
Related
Resources
---