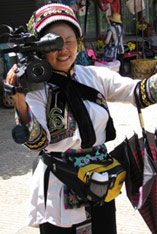 I'm Bringing Fanny Pack (Engrish Remix)

(verse 1)
I'm bringing fanny pack
Them other Asians don't know how to pack
I think you special turn around your back
So make behind and I'll put on my sack.
Take em' to a bridge
(bridge)
Slanty eyes
You see this camera
Baby I surprise
I let you snap me when I misbehave
It's just the guidebook make me feel this way
Take em' to the sidewalk
(sidewalk)
You stand here
Go ahead, be still in it
Don't make move!
Go ahead, be still in it
Now say cheese!
Go ahead, be still in it
Hold that pose!
Go ahead, be still in it
Let me see how much film I bring
Go ahead, be still in it
Look at this pic!
Go ahead, crowd around it
Make everybody smile!
Go ahead, crowd around it
Go ahead child
Go ahead, you're tourist
And get your fanny on
Go ahead, you're tourist
Get your fanny on
Go ahead, you're tourist
(repeat 6 time)
Get your fanny on
(verse 2)
I'm bringing fanny pack
Them other Asians don't know how to pack
Come put the makeup in the things you lack
Cause sexy time is making color match
Take em' to a bridge
(bridge)
(sidewalk)
(verse 3)
I'm bringing fanny pack
Them other Asians don't know how to pack
If you have girl you better watch her sack
Cause man reach in and take her wallet back!
Take em' to the sidewalk
(sidewalk)
See new PIC posts via Twitter or Facebook.

Sign up for satire writing or improv classes at The Second City - 10% off with code PIC.