E

veryone has that one friend who needs a little extra attention when the going gets tough. But what can you do when life gets ahead of you and you're not rolling with the punches? We sat down at the station with your questions and put together all the issues that matter most to you, our readers. After this you'll never need an air purifier for your cat again.

Here are seven reasons to put your cat in the microwave.
1. FUCK CATS
Seriously, I've had it up to here with these assholes. They think they're hot shit with their cute little bowties and their catnip mouse toys, but guess what? I can wear my own bowties and get my own catnip mouse toys, because they're not just for cats. They're not!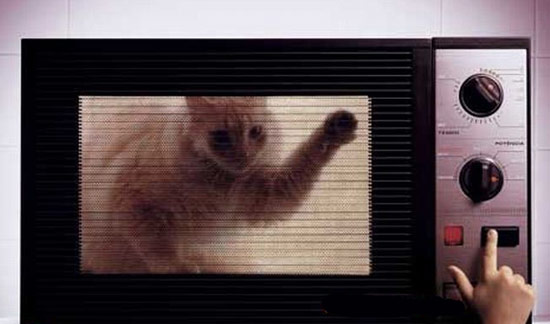 And let me tell you something: if a cat had opposable thumbs and a slightly bigger brain, it wouldn't hesitate to put you right into a microwave right this fucking second. So step up and do what you know needs to get done. Put your cat in the microwave.
2. WHY NOT?
Think about it, why not put your cat in the microwave? Last I heard (and contrary to what our "president" seems to think), this is still a free country. Our soldiers didn't die fighting Osama Bin Laden on September 11th so that Barack Obama could force us to marry gay guys and stop us from microwaving our cats. Let me tell you something, "Mister President": you can have my cat when you pry it from my sizzling, smoke-filled microwave.
3. THE NOBLE ORDER OF THE KNIGHTS OF LABOR
In 1870, Daniel Spahr and his friend Sam Catri, the lead member of the Philadelphia tailors' union, headed by Uriah Smith Stephens, established a secret union under the name "The Noble Order of the Knights of Labor." The collapse of the National Labor Union in 1873 left a vacuum for workers looking for organization. The Knights became better organized with a national vision when they replaced Stephens with Terence V. Powderly. Put your cat in the microwave.
4. DON'T PUT YOUR CAT IN THE MICROWAVE
Oh my God, don't put your cat in the microwave!! What are you, crazy?? You could hurt it! Cats aren't for microwaving, they're for petting and playing fetch! You take that cat out of that microwave, right this instant!
5. CATS BELONG IN THE MICROWAVE
The microwave is a cat's natural habitat. From the Amazon rainforests to the rolling fields of the Serengeti, cats have been making their homes in microwaves across the world since the dawn of civilization. Your cat just wants to go home. Who are you to keep your cat from going home to frolic in the environment to which it is accustomed??
6. PUT YOUR CAT IN THE MICROWAVE
Put your cat in the microwave. Put your cat in the microwave. Stop being a little bitch and do it. Do it. Put your cat in the microwave right now. What are you, chicken? Are you a little bitch chicken cat lover? Put your cat in the microwave. Put your cat in the microwave.
7. BOOM!
AHAHAHAHA!! What's the matter, cat? Microwave got your tongue??? Who's the bowtie wearer now, bitch?
---
More Like This...
---
---