When guys have a night off from work and the opposite sex, they sometimes like to stay in and watch a movie. I sincerely hope you are not one of those guys.
1-Star Night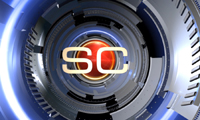 You and two roommates get back from work and force out a couple "Guys' night out!"s as you each crack open not one, but two MGDs. "Time for some fucking SportsCenter!" Fuck yeah. You slowly sip through four beers each and head out to a local bar to play darts and drink pitchers of whatever is on special. You make a dozen semi-clever comments about the attractive women at the bar, and over two dozen comments like, "Let's not talk about chicks—it's guys' night out." You begin analyzing whatever sports season is currently underway. One of you is clueless, the other two have differing opinions about minute details regarding teams that will never make the playoffs anyway. At midnight you each get drowsy and consider calling it a night but push yourself through another hour of bland small talk even though everyone is thinking the same thing. You go home and masturbate. The fridge is still full of beer.
2-Star Night
You and your two roommates get off work and shotgun on the roof to start the night, which is actually pretty fun, but feels forced. You go through six beers each before meeting three other guys from the office at a bar and spend entirely too long talking about how much each other has already drank. You can't decide whether to shake hands like gentlemen, high five like high schoolers, or pound fists like frat bros. You drink instead. You compare the women at the bar to various athletes from whatever sports season is currently underway. Each of you desperately wants to talk to girls, but no one wants to be the first, because it's Guys' Night Out, right? You actually get pretty shit-faced at the bar, but stop before you do anything stupid/fun because you don't want to be too hungover in the morning. You go home just before last call, too drunk to masturbate. The fridge could use some replenishing.
3-Star Night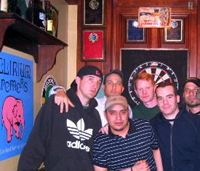 You and some of the guys from the old frat house start the night out at happy hour, and then go back to your place because they didn't have ping pong balls. Also, restaurant management has not heard of the drinking game "Flip Glass." You bump chests as you sink cups and take turns calling each other's ex-girlfriends to give them a piece of your manically drunken mind. Your manically drunken minds make you wear ridiculously toolish clothes out to the bar because "Hey, fuck everyone else, right?" Actually, yes. It is at this 3-star rating that you actually do not "give a fuck." You holler at girls across the bar with no intention of ever meeting them, and legitimately consider fighting an equally-toolish douchebag for looking at you the wrong way. You get completely sloshed, drink 'til you pass out, and punch the fridge for being out of beer. Guys' Night Out has officially turned both Neanderthal and fun. Funny how often those two go together.
4-Star Night
You take the bus home from work so you can start working on your first flask. And your second. You arrive home with plans to coast out your initial drunk with beer all night, but the dozen guys you haven't seen since high school that showed up think otherwise, and four upside-down tequila shots later you feel like you're back in high school: way drunker than you intended to be. You stumble to a new bar with the intent of playing billiards, but resort back to the old one because you got kicked out for either peeing in an empty pitcher, making your own drinks behind the bar, or using the pool cues to duel atop the pool tables—they didn't tell you which reason. You tell girls to their faces which professional ball player they most closely resemble. That one girl does not appreciate being compared to Frank Thomas, but did not know you were obviously comparing his powerful swing to her powerful gaze. You tell her to fuck herself. Her boyfriend punches you. Your boys punch him. You wake up halfway to the 7-11 to get more beer.
5-Star Night
It's 11pm and you're on top of a hotel somewhere in Canada drinking unlabeled bottles and trying to see if you can drop them into the bed of the truck you apparently own. Your roommates have red hair and you can still feel the sting of the tattoo on your ass, especially when the stripper spanks it. You have warrants out for your arrest for the 90-person bar fight you started, and really should be more concerned about the glass protruding from your arm. You have receipts from three different states and a bank account statement with more digits than you previously remember. You make chauvinistic requests to no one in particular and watch them unfold with your highly-dilated pupils. You wake up in your bed with pterodactyl wings duct-taped to your back and a fridge full of high-priced champagne. You have a voicemail from your boss about your recent termination, but this doesn't even bother you because the sports bar you and your boys opened has apparently doubled sales in the last six hours.
Every time I read this I feel like drinking. Who's with me?
Cheers,
A. Waters
Join comedy classes at The Second City: Writing Satire for the Internet, Sketch Writing, and Writing for TV & Film start Feb 29. Use code "PIC" for 10% off by phone.