America is the land of opportunity, and since I took time off from my new home in Korea to visit my home country recently, I had the opportunity to see a ton of family, eat two tons of food, and have enough fun for three tons of human beings. Unfortunately, there was also some stuff I didn't do, and I totally regret it.
The Cool Things I Did
Hung with the Fam in Colorado: My folks retired and then moved to a new ranch house on ten acres. Coming home to a place that isn't really your home is a little unnerving. So is learning where all the new light switches are. But, I chilled with Mom and Dad, and then Lil Bot and Med Bot (but not together because they're fighting). I also did some running through the country roads with my folks' dog Rosie.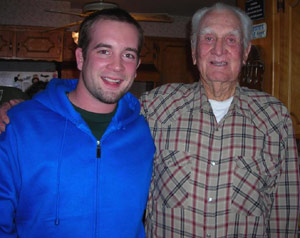 Hangin with my grandpa.Hung with the Fam in California: My grandparents live in the desert of California and their house hasn't changed in the past 60 years. I listened to my grandma tell stories about everything, ate some yummy lasagna, and looked through my grandpa's photos from WWII. He took pictures of everything: his buddies playing cards, some native people in maybe Micronesia, and my grandma.
Mom's Cooking: My mommy made an entire Thanksgiving feast for me, even though it was January. Then she made me all types of other stuff. Then I got fat.
In-N-Out Burger: A few years ago I didn't believe this was a real place; I thought it was made up for The Big Lebowski. Turns out this bastion of fast food goodness exists! And it's delicious. I usually make a point not to eat fast food, but this was worth it.
I did learn if you chew tobacco and don't shave for a few days, nobody will sit next to you on the Amtrak. Jack in the Box: All my life everybody I've ever spoken to says, "Jack in the Box sucks, but their curly fries are pretty good." So my friend and I drank a lot and then ordered $8 worth of food, which in the Jack in the Box world ends up being a burger, two tacos, a large Diet Dr. Pepper, a chicken fajita pita, and very awesome curly fries. I didn't think this place sucked, and best of all, no salmonella!
Sizzler: I couldn't enter and leave the USA without going to a buffet, so I picked one I'd never been to. My best bro Bones and I hit the closest one to his house. His steak was pretty crappy, as was my pork chop. However, the real star of the show was the endless salad bar of tacos, fried chicken, and of course salad. Granted, this stuff mostly sucked, but there was a lot of it, which is cool.
American Chinese Food: We have Chinese food in Korea, but mostly it's black noodles and lamb skewers. True Chinese food is, well, I have no idea, but I don't really care for it. On the other hand, American Chinese food is amazing. My affection is undying for General Tsao's chicken, orange chicken, sweet and sour chicken, egg rolls, hot-and-sour soup, and even an odd crab wonton.

Porn Star Karaoke with the legend himself. Met Some Celebrities: One night I attended an event called "Porn Star Karaoke," which is actually exactly what it sounds like: porn stars singing karaoke. I met Ron Jeremy—who was really nice—and saw some girls who allegedly performed in adult films, although I didn't recognize them. Later in LA I think I saw Iggy Pop driving a cool antique car, but it might have just been a skinny old dude with an old car.
Chipotle: Yes, I know there are better Mexican places, but many a lonely and hungry night in Korea I hungered for a chicken burrito, black beans, lettuce, corn salsa mixed with mild, and just a little sour cream and cheese. Just the thought of it is giving me a stiffy.
Saw a Movie in the Theater: Ghostbusters!!!!! I never saw this in the theater, but now I have, and it's twice as good on the silver screen as it is on your laptop. Finally, I understood a lot of the jokes I didn't get as a 7-year-old.
House Parties: There's no party like a house party because at a house party you don't have to pay for booze or tip.
Jumbo's Clown Room: This is the best bar in LA and the world. Look it up. Writing about this amazing establishment wouldn't do it justice. All I will tell you is that the bartenders aren't clowns.
Experimented with the Pot: One of my best bros is a Rastafarian. A real one, not a college kid with too much money. His religious communion made me cross-eyed and love jelly beans more than I could ever believe.
Got Lost: Driving is so scary, but so is getting lost. I've never known my way around Denver, still don't. Their road signs leave a lot to be desired and their drivers are also dicks.
Rode an Amtrak: The last time I did this I was about five and my mom gave me my first He-Man toy for being a good boy. This time, I didn't get He-Man or Skeletor, but I did learn if you chew tobacco and don't shave for a few days, nobody will sit next to you. Amtrak treated me right, which I wasn't really expecting, and next time I'm in the USA and don't have a car at my disposal, I'll ride it again.
San Diego: A lot of cities claim to be the best city in the world, and I've been a lot of places, but San Diego really is the World's Finest City. The beaches are beautiful, the museums are cool, the food is great, my grandma made B-2 bombers there during WWII, the people are incredibly nice, and the waitresses are happy—even in Chinese food restaurants, which never seems to happen. If you go, go to the Midway—it's a retired aircraft carrier converted into a museum. Being on that makes you proud to be an American, and helps you understand a lot of terminology in Battlestar Galactica.
Broke My Phone: Either my friends or I shattered the screen of my Galaxy SII, which means I only took about 25 photos the entire trip. Some dickheads wanted to take a week and $200 plus labor to fix it, but nobody ever called me back, so the nice people in the Korean Samsung store repaired my phone for about $40 in ten minutes.
American Girl: What can I say, American girls are great.
---
Things I Didn't Do
Mom's Cooking: My mom happens to make the best Eggs Benedict in the world, but only on the weekends. I spent most of my weekends too hungover to move, let alone use a fork and napkin.
Strip Club: I really wanted to go to a strip club, but for some reason, we could never rally the gang to pay a cover, buy overpriced beer, and throw my hard-earned cash to a nice dancer.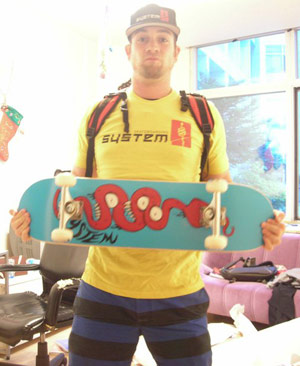 The gear back in Korea.Skateboard: I really wanted to skateboard with my friend and supplier/sponsor, but we could never arrange our schedules to work out. Also, I didn't have a board.
Fake Boobs: With all the boobs I've seen, felt, and tasted, I still have never experienced fake boobs. But, my slogan goes, "All boobs are real when they're in your mouth or hands."
Ride a Greyhound Bus: I looked at this as an option instead of Amtrak, but their website sucks and everybody says Greyhound sucks so I guess I'll have to take their word for it.
Tattoos: Most tattoo artists give you free touchups. I planned on getting some of that done, and some other new ink work, but for the life of me I could not find out how to reach my old artist.
Brazilian Jiu Jitsu: I used to train with some of the best teachers in one of the best schools in the country, and maybe the world. They all kicked my ass. Now I train in Korea and still get my ass kicked. If I'm going to get my ass kicked, I at least want it done in English. But every time I tried to get the nerve to go, my friends weren't there or I was just too hungover. See a pattern forming?
Ashley Garmany: Mother effer. Like most red-blooded males on this site, Facebook, and the world, I wanted to make some adult time with PIC's resident hot chick. I even came to her Starbucks where she gave me free stuff. But, alas, she didn't give herself to me. There's always next time…I hope.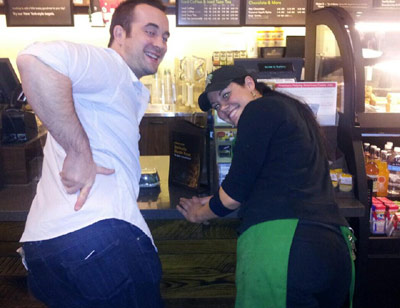 ---
---
---