READY FOR THE FAST-PACED EXCITING WORLD OF FAST FOOD? BURGER KING IS LOOKING FOR NEW TALENT! FILL OUT THIS APPLICATION TO GET STARTED RIGHT AWAY!
Section One: Personal Information
NAME: Copernicus Thunderbird, Homeless Lunatic Wizard
BORN ON: A misty mountain top, in the Age of Dragons
ADDRESS: What part of homeless lunatic wizard do you not understand?
SOCIAL SECURITY NUMBER: Nice try, Special Agent Diego
HOME PHONE: Ham radio
CELL PHONE: Telepathy
Section Two: Background Information
1. ARE YOU A U.S. CITIZEN?
I am neither an underground Satanist nor a universal spaceman. Is that bad? I don't know what you assholes want me to say.
2. DO YOU HAVE ANY MEDICAL CONDITIONS OR DISABILITIES?
I'm allergic to silver and I black out during full moons. Why, is that normal? I've never seen a doctor about it. Are you a doctor? Can you cure my syphilis? Why do I get headaches every time the dog tells me to kill someone? Why does my face itch?
3. HAVE YOU EVER BEEN CONVICTED IN A COURT OF LAW?
Yeah, like, a thousand times.
4. IF YOU ANSWERED YES TO NUMBER 3, WAS IT A FELONY?
Hell yes. And I'm a sex offender and a Nazi war criminal. Top that.
5. WHAT IS YOUR HIGHEST COMPLETED LEVEL OF EDUCATION?
I studied algebraic necromancy and applied alchemy at Harvard. I never received my degree on account of a technicality. They claim I never attended, but just dreamt up the entire semester. Well if it was all a dream, how did I learn how to turn lead paint into crack?
6. HAVE YOU EVER BEEN IN THE MILITARY?
I was in the Salvation Army for three weeks in 1998, during which time I rose to the self-appointed rank of Pentagon Warlord Rocketmaster. I was a hero in the second Vietnam War, even though I was dishonorably discharged, beaten, and arrested for napalming some villages that apparently weren't aware that there was another war going on. Which is bullshit, if you ask me.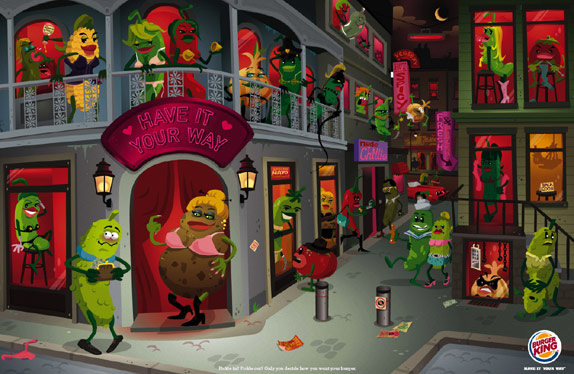 Section Three: Burger King and You
1. WHAT POSITION ARE YOU SEEKING?
I've come to claim the crown.
2. PLEASE LIST ANY RELEVANT JOB SKILLS AND PREVIOUS EXPERIENCE.
This one time I got drunk and punched a lion in the mouth.
3. REASON FOR LEAVING LAST PLACE OF EMPLOYMENT?
Forced to leave Canada over some bullshit with the Ministry of something or another.
4. WHAT ARE YOUR REASONS FOR APPLYING FOR THIS JOB?
I intend to usurp the throne of that plastic-faced king of yours. He's old and weak. He doesn't stand a chance against the clown and his purple beast. You have enemies everywhere, Burger King. Watch your back.

I'm the guy in the tie. I'M EVERYWHERE YOU LOOK.
5. IF HIRED, HOW WOULD YOU STRIVE TO MAKE EVERY DAY FUN, SAFE, EFFICIENT, AND PRODUCTIVE?
First I'd kill off three fry cooks at random. Then I'd dig a moat around the castle and fill it with boiling oil. Got a problem with that?
6. HOW WELL DO YOU GET ALONG WITH OTHERS?
They'll do what I tell them or they'll die in the moat.
7. HOW DO YOU HANDLE STRESS?
I will kill you with dragons.
8. DO YOU TAKE CONSTRUCTIVE CRITICISM PERSONALLY?
Fuck you.
9. WOULD YOU DESCRIBE YOURSELF AS HARD-WORKING?
Gimme a dollar.
10. ARE YOU A FAST LEARNER?
Gimme a dollar.
11. ARE YOU GOOD AT FOLLOWING INSTRUCTIONS?
Gimme a dollar.
12. WHAT'S THE BEST WAY TO TURN A FROWN UPSIDE-DOWN?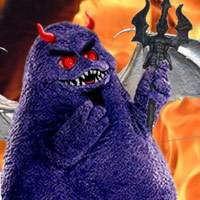 Fuck you, gimme a dollar. In fact, I'm just going to come and rob you. Your kingdom will be in flames by nightfall. I will murder you with your own spatula. You hear me, Burger King?! You think I forgot about the time you stole my bike when we were twelve?! You think I don't know what you did with my girlfriend in the tenth grade?! You think you're better than me because you live in a castle?! Well fuck you, fuck Sally, and fuck everyone at that party that cheered you guys on and took pictures. I will destroy your world with my rage.
I hate you, Burger King. I hate you so much. You ruined my life. I blame you for everything. I eat out of your dumpster. Your trash sucks.
But seriously, gimme a dollar.
Related
Resources
---