INTERIOR: Master bedroom of a nice townhouse. Real classic, you know? With the bay windows we always talked about.
DANIEL MOORE, a 30-something white male with the hair of a 50-something, enters in a construction hat and suspenders. On the bed, GRECHEN KANTER-MOORE, a 30-something white—but one of her grandparents might have been Spanish or something—woman, sits seductively. The mood is erotic, as an IKEA lap shines on the nightstand, the kids are at a sleepover, and "Now That's What I Call Music 51" plays that one song you like.
DANIEL
Excuse me ma'am, do you have a permit for that ass?
GRECHEN
Oh no, I'm sorry Mr. Code Enforcement Man.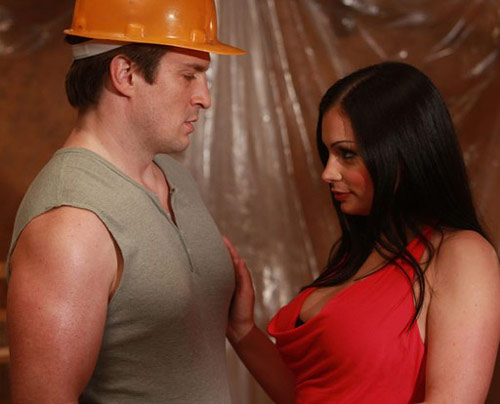 DANIEL
Looks like I'm going to have to bring you down to the courthouse.
GRECHEN
What'll you do to me there?
DANIEL
Well first we'll have to file an official sexy notice of violations, then we'll file out some additional hot paperwork. After that, we'll have to spend all night creating a detailed report of all code violations and hazards, you dirty girl.
GRECHEN
Isn't there any other way we could solve this?
DANIEL
Unfortunately no. This is an issue with the city, not me personally.
GRECHEN lets out a heavy sigh.
DANIEL
Oh what?
GRECHEN
Could you just try being a little sexy?
DANIEL
This is my JOB, Gretchen! That's how this works!
GRECHEN
WORK! That's all you care about! We're just roleplaying, you don't have to be serious.
DANIEL
City code is no joke! It's what makes this a city, and not bunch of concrete dildos!
GRECHEN
Can't you just pretend to have a different job then?
DANIEL
Oh I'm sure you'd love that. If I was some hot shot lawyer or doctor.
GRECHEN
I'm a doctor, can't we work with that?
DANIEL
You're a dentist.
GRECHEN
EXCUSE ME?
DANIEL
Oh great, let's re-open up this argument! You want to be a sexy dentist, fine. Explain to me how flossing is erotic.
GRECHEN
Explain to me how fire codes are sexy!
DANIEL
Fire is hot! There's room to work with that! You can't make innuendos off of tooth enamel!
GRECHEN
I could pretend your dick is a toothbrush.
DANIEL
That sounds extremely unpleasant.
GRECHEN
WELL I DON'T KNOW WHAT YOU WANT FROM ME!
DANIEL
Oh, now you wanna know what I want?
GRECHEN
Yes!
DANIEL
I want to be real!
GRECHEN
Real?
DANIEL
Yes. I don't want to pretend like this. It's why I use my real job and not some young adult fantasy.
GRECHEN
Well if you want real, then let's do that.
LATER
DANIEL enters to GRECHEN on the bed reading on a Kindle.
DANIEL
Excuse me miss, do you have the paperwork for that face?
GRECHEN
I have a headache.
GRECHEN leans over and turns off the IKEA lamp, leaving DANIEL alone in the dark.
DANIEL leaves to go masturbate in the garage.
Related
Resources
---