We're an indie-pop band with folk-rock elements and we've been gaining a lot of traction lately. We've received a lot of positive buzz on various music blogs and have gotten booked on some festivals and as a result we've been doing a lot of press. We didn't realize this until we started doing interviews, but we are all incredibly nervous on camera. If we are being 100% honest with ourselves, we are astoundingly uncharismatic. In fact those are the exact words of several Internet commenters: "Astoundingly uncharismatic."
In most interviews we freeze up and it's just awful and awkward.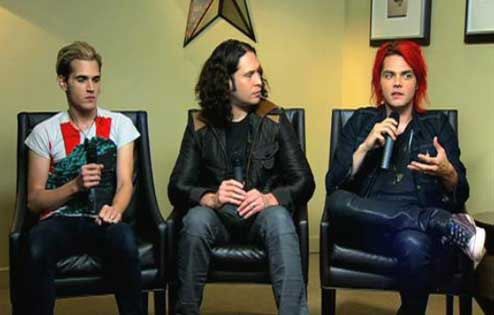 We can't afford another interview like this one, where we talked strictly and curtly about why we chose our hairstyles.
Here are some other comments people have left on some of our video interviews.
"This is like watching a police interview with a guilty murder suspect whose lawyer advised him not to say anything."
"These guys all look like they're in the middle of a vietnam flashback"
"i like their music but serious question are they retarded"
"homos"
"i thought the video was frozen for a minute but it was just the band"
"good band but they have the charm of roadkill"
"the interviewer could have saved her time and interviewed a pile of rocks instead"
"faggot's"
We need a new bandmate who can lead an interview. WE CAN'T DO IT!!
You will be responsible for answering all questions asked in all of our band interviews. You need to be charming!!! A sense of humor and good social skills are DIRE. WE DO NOT HAVE THEM!!
You will need to be prepared with compelling anecdotes about the recording process, or at least be captivatingly vague about the band's activity in a brooding, artsy way. We will take care of the musical side of things. MUSICAL TALENT IS NOT REQUIRED TO JOIN THIS BAND. WE DO NOT WANT YOU FOR YOUR MUSICAL TALENT.
We will find something for you to do in the band. You do not have to play alongside us in studio. We do need you to tour with us, however, so that you look like a real member of the band, but we'll make it easy for you: we have a bunch of tambourines and novelty percussions instruments we can give you and you can just bang around on those. Even if you can just hold an unplugged guitar on stage and kind of fiddle around with it that should be good enough.
Also, to clarify, we don't just need you for video interviews; we get nervous and awkward about print interviews too. A prominent music blogger sent us an email last week with a bunch of interview questions and we completely froze. We got so nervous that we just copied the text from an old spam email and emailed it back to the interviewer so that it would look like we got hacked. He emailed us back a few times and we got so nervous that we all got rid of our computers, which sucks. We miss the Internet.
You'll need to conduct our email interviews too!
We will also put you in charge of running the merch table. We've been doing it ourselves on our current tour, and we can't handle that either. Sometimes when the fans start asking us questions like, "How's the tour going?" or, "How do you like the city?" or,"What's up, guys?" it starts to feel like an interview and we clam up. Lately we've just been setting up the merch table and leaving it unattended and fans can just take merch and leave cash, if they want.
If you are interested in joining our band as our interview question-answerer (and novelty percussionist/fake guitarist/whatever), please send us a video of you answering the following interview questions. These are questions that have been asked of us in recent interviews that really made us freeze up:
"How are you guys?"
"Can you guys all introduce yourselves?"
"Are you guys okay?"
We will choose the most charming, comfortable-on-camera candidate.
Good luck!
Related
Resources
---