Used schoolgirl underwear vending machines.
Do I have your attention?
I thought so.
"Used schoolgirl underwear vending machines" is not just a promising name for an indie-rock band. It's also more than my most recent domain name purchase. Used schoolgirl underwear vending machines happen to be all the rage in Japan right now.

When full-blown pedophilia is a little out of your comfort zone.
If there were any doubts as to whether dropping nuclear bombs on a country has any lasting effects on national psyche, these handsome vending machines answer that question definitively. Not saying there is anything wrong with Japan, I'm just saying I wouldn't let it house sit for me. I don't need to come home and find that Japan has rigged my PlayStation 3 with some duct tape, a shampoo bottle, and my boxer briefs, and turned it into a Dance Dance Revolution fuck machine robot or something.
Although a reprehensible scourge and malignant cancer growing within the Japanese culture, these underwear vending machines happen to be an enormous financial opportunity for the USA. Because if there's one thing Americans excel at, it's doing horrifying, exploitative, and offensive things for very modest sums of money (see: Perez Hilton).
Obviously, filthy underwear is in high demand in Japan, and the United States just happens to be dealing with an unparalleled economic catastrophe with millions of people out of work, sitting at home, reclined in their corduroy-upholstered La-Z-Boy chairs, bedecked in spaghetti-stained t-shirts and dirty underwear. I think it's high time we capitalized on our lethargy and sold our dirty undies to the panty-hungry Japanese market. With our plentiful, high fiber American diets, our underwear will be rich with exotic smells. American underwear would be the iPod of revolting undergarments.
I know a dozen guys who would probably have no qualms about wearing schoolgirl underwear if it meant a paycheck. In fact, most of them would wear schoolgirl underwear if they ran out of clean boxers. Packaging them at the end of the week and sending them in prepaid envelopes like a super creepy Netflix is not that far of a stretch.  
I guess what I'm trying to say is that used schoolgirl underwear vending machines are as American as apple pie. More importantly, taking our dirty underwear is the least they could do. They owe us big for Hello Kitty.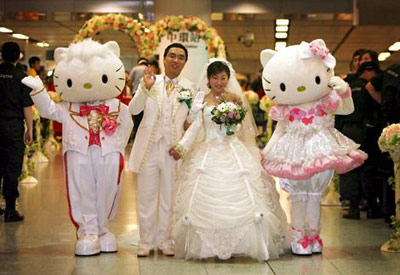 Related
Resources
---