Dear Nicole,
Just wanting to know how to fix myself, I feel broken…like the kind of broken, when you take a knife and shake it in the air, and the handle is wobbly as shit? Yeah broken…doesn't get more broke than this…how does one tighten his metaphorical screws?
-Nippy
Dear Nippy,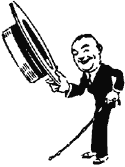 First of all, put down the knife. Now, pick up a baton! Get ready to turn that frown upside down, because in all my days I've never seen a case of the blues that couldn't be cured by a glitzy Vaudeville song-and-dance number! ….Well, a Vaudeville number, or a carefully balanced combination of cognitive-behavioral psychotherapy and selective serotonin re-uptake inhibitors prescribed by a licensed psychiatrist. You know, both are good.
Sincerely,
Nicole
---
Dear Nicole,
I've noticed that your picture, although attractive, is only from the mid torso up. My overactive (and horny) imagination has had to come up with the rest of you itself when I…. nevermind. It's led me to this theory: you have thunder thighs and perhaps even some junk in the trunk.
Am I right???
-David
Dear David,
Well, since it's supposed to be a headshot, seeing half my torso is actually a 19% bonus…. I really don't understand why I keep getting questions like this when there are tens of thousands of naked girls all over the internet, getting nasty with goats and dwarves, and occasionally men. Unfortunately, I'm afraid your dumbass attempt at reverse psychology isn't going to result in more pictures. If you really want to know whether or not I'm a heifer, feel free to ask Court or Amir, who saw me in person when we all met at fat camp.
Sincerely,
Nicole
---
Dear Nicole,
Ever since hearing about Dr. Ruth, I have wondered whether sexperts could ever be seduced, satisfied, surprised, etc. within the boundaries of sex, knowing what you have learned. Is it less fun for you than it is the rest of us because of the mystery?
-Shawn
Dear Shawn,
Oh, I don't actually know anything. Or get any. But I appreciate your misplaced confidence.
Sincerely,
Nicole
Related
Resources
---