As some of you may or may not know, Netflix has had a tumultuous month. First, they decided to hike prices. Then they decided that they would split Netflix into two different websites, a dedicated site for DVD rentals called Qwikster and the existing Netflix site exclusively for streaming video content. If you kept both services, it was to appear on your bank statement as two separate charges from two separate companies.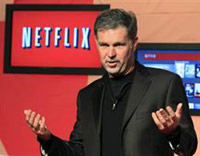 "Whatta you want from me, I'm only half human, half streaming."This overhaul was explained to Netflix customers in a fairly lengthy email from Reed Hastings, Netflix CEO. The email was about four pages long, feverishly apologetic, and heavy-handed. I received my email with a dozen roses in my high school locker and I could have sworn I smelled traces of Abercrombie & Fitch's Fierce. Netflix must have slipped it in there during study hall. OMG, Becky, in second period, is going to be sooo jealous lol.
Then, I received this today:

Dear William,
It is clear that for many of our members two websites would make things more difficult, so we are going to keep Netflix as one place to go for streaming and DVDs.
This means no change: one website, one account, one password…in other words, no Qwikster.
While the July price change was necessary, we are now done with price changes.
We're constantly improving our streaming selection. We've recently added hundreds of movies from Paramount, Sony, Universal, Fox, Warner Bros., Lionsgate, MGM and Miramax. Plus, in the last couple of weeks alone, we've added over 3,500 TV episodes from ABC, NBC, FOX, CBS, USA, E!, Nickelodeon, Disney Channel, ABC Family, Discovery Channel, TLC, SyFy, A&E, History, and PBS.
We value you as a member, and we are committed to making Netflix the best place to get your movies & TV shows.
Respectfully,
There goes Netflix again, changing his mind. I am seriously just going to ask Becky to go to the Homecoming Dance. I'm not going to chance sitting alone in the back of that limo drinking Smirnoff and powdered Kool-Aid out of a Gatorade bottle, totally dateless like some loser.
If that wasn't a shocker, I received this email a few hours later:

Dear William,
It is clear to us that many of our members have become frustrated with our weekly policy changes and we apologize for any inconvenience or confusion caused by recent policy & term adjustments.
That being said, I've been thinking a lot recently and I don't think I want to be an entertainment distribution website anymore. This is so hard to say but I really think I want to go back to school to do something in graphic design or advertising or something. I love to stream Mad Men and I think I have a really great eye for logos and stuff. Remember the "Got Milk?" ad campaign? I came up with that! Well I mean, I asked if we had milk once and everyone laughed because of that commercial, you know? But I hadn't even seen the commercial at that point, so I came up with the idea totally independently!
Anyway, I'm filling out the student loan stuff next week so I'll continue sending DVD rentals and streaming digital content until I get my ducks in a row.
Sincerest Regards,
Netflix
Followed by this a few hours after that:

Yo Bill,
I was just streaming Too Fast Too Furious and I was thinking, if Luda can do it, so can I! So starting ASAP, I will no longer be providing video content or going back to art school to study graphic design. Instead, I will be a street racer, burning rubber with a small foreign car, racing for pinks. (FYI "racing for pinks" is street slang for "racing for pink slips." Pink slips are like your car's registration…or insurance…or some shit. Sorry if I just got too real with you but it's the only way I know how to be.)
I'm on Craigslist right now looking for a car to fix up so I can take this street racing shit by storm. Oh shit, a 1990 Chevy Lumina Minivan for only $750! It says it needs some engine work but I was going to do that shit anyway. I'm gonna hang streamers from the roof rack so when I'm smokin' some Asian, he'll have something nice to look at when he's behind me.
Anyway, once this shit starts poppin' off, I won't be able to provide you with the same high definition capacity you have become accustomed to. For this, I am deeply sorry.
Living Hard & Dying Fast,
P.S. I saw those guys in the movie drinking Corona with some sort of fruit in it. Do you know if that's a lime or an avocado?
Related
Resources
---