Different Day, Same Great PepsiCo Products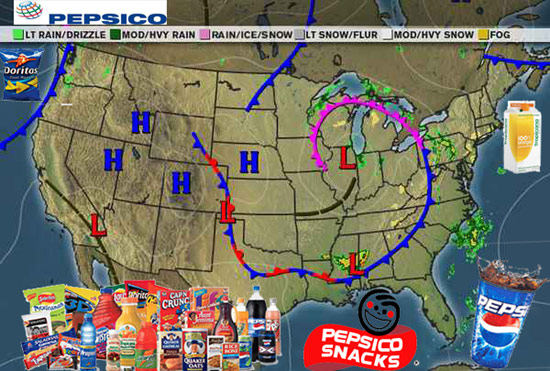 Midwest
Showers and thunderstorms for most areas east of the Mississippi River continue through Tuesday, so why not stay inside, grab a Pepsi® and bag of Doritos® Last Call Jalapeño Popper™ tortilla chips and listen to the Black Eyed Peas on your iPod?
Cooler than average temperatures expected for much of the Great Lakes states, but is it cooler than seeing Shaun White perform a Double McTwist 1260 while slamming a Mountain Dew® Code Red? PepsiCo thinks not.
South
Showers and thunderstorms possible across much of the Southeast again on Tuesday, so crank up the voltage with AMP Energy® Lightning™, which you can drink with Dale Earnhardt Jr. at the AMP Energy® 500 Sprint Cup race this Oct. 5 at Talladega Speedway! Fans can take the special code from the bottom of a can of Amp Energy® drink and enter it online at AmpEnergy.com to participate in the "Ride with Dale Jr." promotion. AWESOME! 
Northeast
Very warm temperatures are expected across the region. Remember to protect your skin with Aquafina® Bottled Water ($0.99), Aquafina® Hydrating Facial Spray ($4), Aquafina® Purifying Daily Cleanser ($5), Aquifina® Under eye Cream ($14), Aquifina® Daytime Replenishment Moisturizer with SPF 15 ($12), Aquifina® Moisture Replenishing and Exfoliating Facial Scrub ($5), Aquifina® Targeted Renewal and Restoration Serum ($12), Aquifina® Daily Balance and Clarity Toner ($5), and Aquifina® Wrinkle Release and Sealer with QuSomes ($14).
West
Winds will relax along the Washington and Oregon coasts while they increase for Montana with gusts up to 60 mph in mountain passes and over ridge tops. Don't let the wind chill get to you, though. Warm up with our Rice-o-Roni or Pasta Roni side dishes; perfect for both wholesome American families and anti-corporate, mountain hermits.
Wednesday should be a much better day with a mix of clouds, sun, and more delicious PepsiCo products.
Related
Resources
---