As most of you should assume from the fact I'm very intelligent…I'm a diehard liberal. So, when I came to find that evil Republican bitch Katherine Harris had a facebook profile, I decided to have a bit of fun with the Republicans.
A girl named Kowalski, particular.
Kowalski, apparently, is a Greyhound girl. Look at that nose, feel the heat from her loins, you know they're both pure bread. Anyways, Kowalski obviously feels that Harris should be in the Senate. I disagree…vehemently.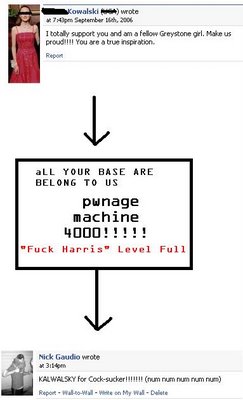 Then, I gave ol' Katharine a pokey poke.
Right between them titties, boy! oHHHHHHHHH
Join upcoming November classes in Satire Writing, Sketch Writing, and Stand-Up Joke Writing.