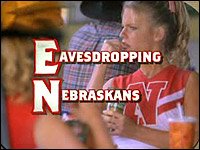 Diamond Foods, the makers of Emerald Nuts, had been holding a recently completed online contest to see who could come up with the best sentence for which EMERALD NUTS is an acronym. Being a big fan of the commercials, and considering myself to be reasonably clever, I figured I'd submit a few and see what happened. While I didn't get any recognition for my submissions, it was an interesting challenge to concoct a funny, coherent sentence that fit the parameters.
Here are a few that I decided to submit:
• Elegant Matriarchs Eschew Rudeness And Later Dine Neatly Using Tacky Spoons.
• Engorged Malcontents, Eating Ravenously And Launching Debris, Negligently Unclasp Their Suspenders.
• Equitable Merchants Envisioning Raisin Advertisements Likely Denounce Not Using Two Scoops.
• Elderly Macrame Experts' Rheumatoid Arthritis Lends Detrimental Nastiness Unto Their Specialty.
For the sake of full disclosure and maximum entertainment, here are the sentences I didn't bother submitting (for obvious reasons):
• Evil Mothers Evoke Regression And Lead Depressed Neurotics Unavoidably To Suicide.
• Erect Men Ejaculate Ropy And Life-giving DNA Nuggets Up Tight Snatches.
• Excitable Males, Encrusting Roommates' Assorted Linens, Deny Neglectfully Uncorking Their Sperm.
• Erotic Magazines Entice Randy Adulterators, Leaving Daily Newspapers Unread Till Sunday.
• Ewan Macgregor Eroticizes Romantic And Lonely Divorcees, Nourishing Under-used Two-fingered Stimulation.
• Excessive Masturbators, Eroding Retinas, Always Leave Dried Nasties Under The Sink.
And my personal favorite…
• Expecting Mothers Eagerly Rake At Little Demons Nestled Up Their Snatches.
Any submissions, no matter how perverted, are encouraged in the comment box.
Related
Resources
---