If you are a girl, and are less than average in the looks department, your options are drastically narrowed. In college, inner beauty clearly has as much use as a book on how to read, at least as far as getting laid goes. So what options are left to those of us who are ugly ducklings with stunted growth and no hope of reaching the ever elusive swan-ville?
You can either:
A) Take the route of showing a percentage of skin inversely proportional to your physical attractiveness (which can of course backfire if that number is the percentage of a very large number) or,
B) Cultivate your personality, wit and charm to assure you some company through the lonely college nights.
Unfortunately, as a lot of picking up occurs in bars and nightclubs, where the deafening music renders sight your only companion, your humorous lines can go unheard. Even more unfortunate for the ugly ones is the fact that a man's blood supply usually can't support both ends of his body, so if you're standing close to your more attractive friend, chances are his oxygen-starved and functionally retarded brain cells won't be able to comprehend the uproariously funny comeback you had been saving up.
Thus my conclusion to become a slut.
Sluts are much smarter than you think. They might not be smart in the conventional sense, like sums, or writing, but as long as they can spell their own name, phone number and "for a good time," they're golden. They also understand men a whole lot better than non-sluts do. For example, they have worked out how to pick up guys using minimal effort: appeal to their penises. As the true control-center of man, the penis's needs and desires should be the main consideration in any attempt to secure services of said man.
It goes something like this:
Girl: I only ever wear thongs; that's when I bother to wear underwear at all.
Penis: Me so horny.
However, when discounting this theory:
Girl: I only ever read Tolstoy; that's when I even bother with male authors.
Penis: Me so bored, when nakey time?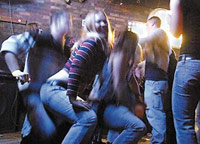 The grinding slut gets the worm.But of course, a slut's main appeal doesn't originate from what comes out of her mouth, but what goes in (how could I not?). No really, it comes from her clothes (or lack thereof). This is one of the quickest ways to spot a slut from a non-slut — and as pre-judging people based on their physical appearance is a time-honored practice of efficiency as well as a source of amusement, it is not likely to end soon.
It's not just a slut's skimpy appearance and bounteous cleavage (real or enforced with numerous padded devices) that sets her apart. Blonde hair (real or dyed, and sometimes with those oh-so attractive dark roots), over-applied makeup, and an excess of jingling jewelry to warn unsuspecting victims are also giveaways. The slut is usually the most confident girl in the group, has sweat (her own and at least five other males mixed together) dripping down her ass from grinding for the last four hours on the dance floor, and will talk over you and bellow out a loud obnoxious laugh, all of which you will endure as payment for her satisfying your carnal desires (and giving your hand a break).
When it comes down to it, sluts are just plain lazy. They have found the shortcut between being alone and going home with some poor shmuck, and are too tired and impatient to wait for a respectful gentleman to come pounding down their door and like them for who they are. Therefore, sluts are also realists, since those respectful gentlemen (if they exist) are already taken by some swan that was only ever really half an ugly duckling, while the true ugly ducklings are stuck paddling in the loser-guy pond.
So, armed with the characteristics of what makes a good slut (there should really only be one: can be encouraged to have sex with minimal effort; however, I have shown there are in fact several, thus the need for a plural) what should be left but to apply said characteristics to myself and put them into practice?
(I have of course left out the whole "doesn't give a shit about her reputation" thing, but sooner or later a woman's sex drive begins to invade her brain cells and things like reputation, morals and religion become disposable entities.)
Thus, on with the plan: lure the unwitting boy with my newly discovered slutty charms, then once he is in my power, drop a can of awesome personality on his ass and watch as amazement and lust translates into a relationship and declarations of undying love.
Well, maybe there are a few creases to iron out. Perhaps I need to work on getting more of the "slutty realist" perspective, and losing the "fairytale bullshit" one I'm currently using to delude myself. Hmm, maybe I'm not so cut out to be a slut. Between the barrage of insults and eye-daggers from non-slut girls, it's really not as easy as it looks. No wonder they need so much sex to cheer them up.
Related
Resources
---