By featured writer Jake Christie

Classroom


You are sitting in your last class of the week, waiting for the professor to dismiss you. The waiting is torture.

>LEAVE CLASSROOM
You can't do that yet.

>LEAVE CLASSROOM
You can't do that yet.

>EXAMINE DESK
Your text and notebook are on the desk. Neither has been opened.

There is also a pencil here.

>MAKE RUBBER PENCIL
Look at that motherfucker bend!

The professor finally says, "Class dismissed."

>LEAVE CLASSROOM

Dorm Room
You are back in your Animal House-poster-shellacked dorm room. Your roommate Doug is here playing video games.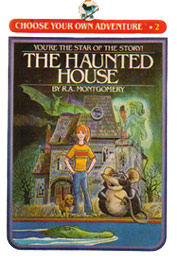 R.A. Montgomery's only non-fiction work, based entirely on his pledge semester at Williams College.
Your cell phone rings.
>ANSWER CELL PHONE
You flip open your sweet flip phone.
"Hey Man, it's Buzz. There's a party at Sigma Ganja Smegma tonight. Are you coming?"
Go to party? (Y/N)
>Y
Sigma Ganja Smegma
You walk into the Sigma Ganj house, a shit-hole place that's off-campus. People are everywhere. The music is loud. It's awesome.
Doug and Buzz head into the crowd as a brother offers you a beer.
>DRINK BEER
You gulp down a beer.
>DRINK BEER
You drink another beer.
>DRINK BEER
You're getting into the swing of things now.
>DRINK BEER
You finish off another beer. You've got a good buzz going on now.
>ENTER DANCE FLOOR
You start to dance. Damn! It feels like you're doing pretty well.
>DO ROBOT
Cute.
You see Rachel, a hot girl from your BIO 101 class.
>DANCE WITH RACHEL
You can't do that yet.
>DANCE WITH RACHEL
You can't do that yet.
>DRINK BEER
You pick up someone's beer and drink the rest of it.
>DRINK BEER
You grab another beer and pound it.
You are drunk.
>DANCE WITH RACHEL
You say, "'Sup, baby?" and begin to pound your penis onto Rachel's miniskirt-clad ass.
Rachel smiles and says, "Hey, you. Want to get me another beer?"
>PICK UP BEER
You can't find any more beers here.
>ENTER KITCHEN
You walk into the kitchen.
>PICK UP BEER
"Dude," says Toby, a Sigma Ganj brother, "the fridge is empty. There's a keg in the basement."
>ENTER BASEMENT
The basement is full of drunk students. They all have red SOLO cups. You know that you are getting close to the source of the beer.
>TAP KEG
You fill up a cup with beer.
>DRINK BEER
You drink the beer.
>TAP KEG
You fill up a cup with beer.
>DRINK BEER
You drink the beer.
>TAP KEG
You fill up a cup with beer.
>TAP KEG
You get another beer for Rachel.
Doug staggers towards you. "They made a gravity bong outside, dude," he says. "You should check it out."
>EXIT HOUSE
Carefully balancing your beers, you walk onto the back lawn. People are gathered around a crude device fashioned from a bucket and a Coke bottle. They all have a dazed look in their eyes.
>HIT GRAVBONG
Are you sure? (Y/N)
>Y
The lawn of the Sigma Ganj house is a strange and different place. The streetlights seem to be glowing in an otherworldly way. They are casting a shadow on the house that looks like a dragon.
>EXAMINE SHADOW
Fuck, dude, it's like something out of Tolkien or some shit. It would be so sweet if it were breathing fire. This weed is fucking awesome.
>ASK ABOUT WEED
"I got it from some guy who lives in a barn next to my parents' house. Isn't it fucking awesome?"
>HIT GRAVBONG
Are you sure? (Y/N)
>Y
Despite the strong warnings and heartfelt concern from the people around you, you take another hit off the gravbong.
You fall on your back in front of the bong and look at the sky. Inexplicably, it starts spinning. You feel yourself flying into outer space. You learn that there really is a man on the moon, and that his name is Kraxlar. He has lived there since the dawn of time, guarding Earth from the evil space-lizards that constantly attack from outside our solar system. He was communicated with the U.S. Government via radio transmissions in the mid-fifties, and warned them not to send a man to the moon, for the space-lizards would find mankind and attack, which is exactly why we faked the moon landings, man! It's so obvious!
You slowly come back to Earth and remember, through a wavy purple haze, that you were supposed to bring Rachel a beer.
>STAND UP
You can't do that yet.
>STAND UP
You can't do that yet.
>CRAWL
You crawl back towards the house, determined, even in this state, to get some poontang. You make it all the way to the front door.
>STAND UP
You haul yourself up on the doorknob.
>ENTER HOUSE
You go back into the Sigma Ganj kitchen. The people here all seem to be glowing. Perhaps they have consumed some of the Magical Moon Rocks that Kraxlar told you about, which he said give him the power of luminescence and flight.
>FOCUS
You shake your head as if to clear it. Rachel. Bio class. Big breasts. Wanted a beer. The beer in your hand. Really big breasts. Eye on the prize.
>ENTER DANCE FLOOR
The music sounds incredible. You want to dance, but you are having an inordinate amount of trouble trying to keep standing upright.
You can't see Rachel anywhere. Buzz is here.
>SAY "WHERE IS RACHEL"
Buzz deciphers your slurred speech and says, "She just went upstairs, dude."
>GO UPSTAIRS
It takes some doing, but you make it up the stairs with almost half your beers unspilled.
Rachel is sitting in the hallway with some brothers and some other girls, doing vodka shots.
>GIVE RACHEL BEER
Rachel is pretty gone. She laughs and says, "No thanks, I already had a beer. Want to do a shot?"
You're not sure that's such a good idea, but you notice that Rachel's miniskirt is looking pretty short and easy to get into.
Do shots? (Y/N)
>Y
You take a vodka shot. The mix with pot and beer makes you a little queasy. Your mouth tastes funny.
>TAKE SHOT
You take another shot a little too quickly. You definitely taste something bad coming up in your mouth now.
>DRINK BEER
You drink your beer.
>DRINK BEER
You drink Rachel's beer.
Rachel says, "How you feeling?"
>KISS RACHEL
You lunge for Rachel and shove your tongue in her mouth like a lizard-man invading the Milky Way. She's either into it or passed out, but she doesn't push you away.
>GO TO SECOND BASE
As you reach for Rachel's overflowing tank-top, you feel something bad kick your stomach. Then your throat.
Rachel pulls away. "Are you okay?" she asks.
"Urp," you say, covering your mouth. You're going to puke!
>PUKE IN TOILET
You can't make it that far.
>PUKE IN GARBAGE CAN
You can't make it that far.
>PUKE OUT WINDOW
You can't make it that far.
>PUKE ON RACHEL
You expel your guts, beer, and vodka shots all over Rachel. She screams.
"Ew, gross!" she yells.
>APOLOGIZE
You stumble halfway through a slurred apology. "Listen, I just want to say, you're beautiful, and I'm so sorry that…"
You stop, feeling yourself get ready to vomit again.
>APOLOGIZE
You make it to "Listen, baby, I'm just saying you have a fine ass—" before you puke again. Rachel's absolutely drenched.
"What the hell is wrong with you?" she yells. "I'm leaving!"
Rachel leaves.
>FOLLOW RACHEL
You try to follow Rachel down the stairs, but they have achieved some strange bendy property. You cling to the railing and slide down the steps, severely bruising your ass. You fall down at the base of the stairs.
>STAND UP
That long ago ceased to be a possibility.
>STAND UP
Not happening.
You watch Rachel leave, hauling her miniskirted, vomit-covered ass out of there. You've run out of options. There's only one thing left for you to do.
>PASS OUT
Related
Resources
---