Oh hello there. You look like someone who does a lot of stuff. Someone "on the go" as they say in the "people who say stuff about other people" business. A busy person, but also a HUNGRY person.
So imagine that you are "on the go"…again, and suddenly, your annoying stomach is yelling at you again. And when I say "yelling" I mean "angrily demanding while simultaneously threatening a full-body boycott." It's that moment when you realize that for some reason even a fast-food restaurant isn't going to work—maybe the drive-thru line is too long, maybe you're barred from McDonald's forever due to a tangle with Ronald, or maybe you want something for now and another thing you can eat later that night.
Well, lemme toss an idea your way: BIG AZ Burger.
That's right, "AZ" as in "short for a word big companies are hesitant to write out on their marketing label," not the state of Arizona. Maybe you haven't heard of it (I hadn't), but there's a BIG AZ burger in just about every convenience store in the country. Don't believe me? Check out the BIGAZ Facebook page. A lot of people are talking about their Big AZ there. And, there's a bunch more info on BIG AZ and their promotions here too: www.advancepierrepromos.com.
As I have come to find out firsthand, directly into my face, BIG AZ Burgers are not only BIG, but pretty freakin good. They may even kick your az. The Jalapeno cheeseburger is my favorite, but there's also a BaconAddict cheeseburger, and of course, a traditional cheeseburger (if you don't like cheese, who are you?). Every BIG AZ burger is loaded with over half a pound of hot, juicy, crave-able meaty intensity.
Consider all the times you need something to satisfy a craving: workday lunches when all your co-workers suck; grabbing dinner on your way home before that pesky mandated community service; working the third shift with a lunch break that happens around 2AM; post-clubbing when every drive-thru in sight is slammed; or one of those post-beachin', post-huntin', post-fishin', post-ridin', post-sports-playin' pangs of hunger when you have to have something fast to fill the late afternoon void.
Exactly how many burgers did they send me to test out their theory of guaranteed mouth-wateringness? 100. 100 MF BURGERS. WTF. (Yes, I've already eaten four in two days.)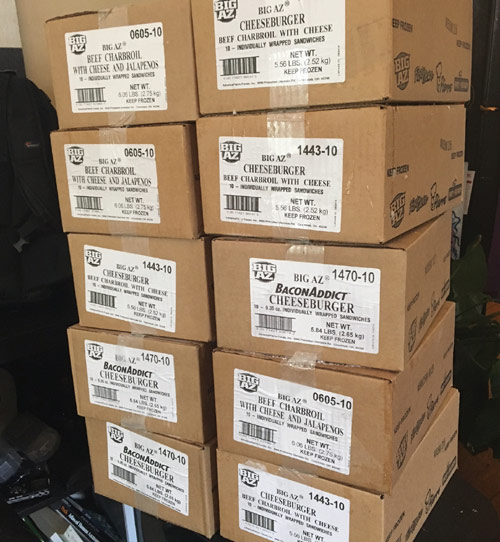 Sounds like a big ol' commercial right? Well, it is… but hey, if you have a burger business and a marketing budget (you probably don't have these) you can actually pay people to eat your stuff and give their opinions (you probably have plenty of these).
BIG AZ burgers and sandwiches have been awarded the convenience store consumer's choice award year-after-year. I didn't know that award existed, but I always feel better knowing something is the best at what it does. And people agree they taste great at a price you're not going to regret, not to mention they're always available to grab and go.
So next time you're looking to satisfy that size-matters, any-time-of-day, taste-craving appetite, swing by the nearest convenience store and tell them you want a BIG AZ burger or chicken sandwich.
And feel free to have fun with the name.
This is a sponsored article; while the views expressed here were genuinely mine, consideration was paid to me by BIGAZ Burgers to review this product.
---
More Like This
Comedy Courses
---
---