We briefly discussed the seemingly invincible nature of the cat—reducing mere mortals to living amongst a fauna of fear, a house of hopelessness, a dungeon of discontent. However, since writing that post, I stumbled upon a manuscript that eventually became my sole source of optimism in this cold, litterboxed world.
| | |
| --- | --- |
| The Felis catus Crime Syndicate | Memphis 196 B.C. |
Although I once believed in the impregnability of my foe's defenses, I became cognizant of a few strategies for conquering humanity's greatest nemesis. Pussies are cute, often hairy, and have a seemingly telepathic control over men from which there is no escape. If I've learned anything from Dr. Van Helsing's battle with the ancient demon, Marcia Cross, it's that education is always the first step in overcoming your enemy. Well that… and one way or the other you have to mow through a couple old hags before you nail the hot Latina.
A Brief History of Cats
Genomic studies conclude that all common housecats are descendants from possibly no more than five wild cats from the Middle East about 10,000 years ago. From this information, we can gather a few things:

I'll do anything for 72 Fancy Feasts.a. All cats are Muslim.
With this in mind, we know that we have a distinct advantage in finding and disposing of felines at several times throughout the day, as well as when they are at their weakest during Ramadan. I first suspected cats during the hysteria of 9/11, but being the rational American that I am, I instead laid the blame on the partially aborted, gay Mexican Muslim immigrants raised by unwed teenage mothers. Oh, if I would have been privy to this information 11 years ago! I can't think that way, hindsight is 20/20 and without knowing that their version of hell is a Sadie Hawkins dance, there's no way I could have made the connection.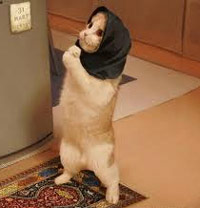 Praise Nala!
b. Cats are older than the Earth.
According to my highly reputable source Michelle Bachmann, many Nobel Prize laureates support young-Earth Creationism, or the belief that the Earth is around 6,000 years old and was created by a series of chaotic, violent events arising from massive….oh, sorry, I mean Jesus. This would make housecats 4,000 years the Earth's senior, or half the age difference of Demi Moore and Ashton Kutcher. The bone structure of cats no doubt makes them immune to age-related ailments, such as arthritis, but being products of a much older generation makes them susceptible to being distracted by loud music, dancing, and midgets.

Kitty Kryptonite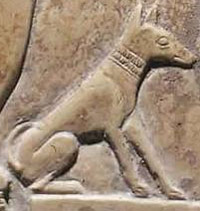 Imhotep's pet dog, Barksalothen.
c. Cats are inferior to dogs.
With the intelligence that cats are 10,000 years old, we can then deduce that dogs, all descending from the Gray Wolf in East Asia 16,000 years ago, have developed a vastly superior culture and are on a different level intellectually. This is clearly demonstrated in a dog's propensity to spend hours in meditative self-fellatio, advanced architecture (houses instead of litter boxes), and the inclusion of their own shit in their diet to promote the replenishment of vitamins and minerals that end up in fecal matter.
Preventing Essential Taurine Consumption
After felines were sentenced to mortality for climbing God's apple tree, they were damned to Earth to finish their lives toiling in sandboxes and chasing lasers. However, to prevent cats from once again re-claiming their predestination as gods among men, God assured that cats would have to consume taurine in their diet to conserve their eyesight. Taurine is an organic acid, commonly mistaken as an amino acid, that a cat's body cannot produce independently. Without supplemental taurine, a cat has a variety of infirmities. The most interesting and valuable to us humans is their loss of vision.
To prevent the consumption of taurine by cats, we must dispose of all cat food that no doubt includes taurine. Also, fish, high in taurine, must be kept away from cats, which could practically be accomplished by posting bears at every major body of water. Bears are caniforms, or doglike carnivorans, sharing a common ancestor with modern dogs. Combining this knowledge with that of the superior nature of dogs, we can assume that bears would be most effective in a cross-species duel.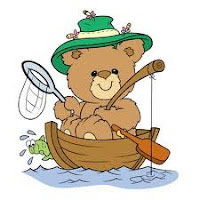 To thwart any attempt by cats to purchase taurine at GNC, we need only inform GNC workers of the beneficial affect high doses of taurine has shown on testosterone production in animal studies.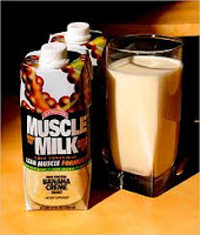 Using Balls of String as Tools of Manipulation
"I ain't pussy-whipped, I whips the pussy."
Most likely because the similarity of string and mouse tails, cats have an inherent drive to chase string. This is completely compulsory and can only be controlled through intensive operant conditioning. Cats will chase around a floppy piece of twine like my mom after a few martinis and this could potentially be our most significant node of resistance. Cats are voracious, rapacious, dreadful creatures, but the unavoidable hypnosis they undergo can temporarily cause their regression into a benign state of kittenhood. It is imperative that we use it to our advantage in luring pussies into our graces; we can then complete our mission before they change their minds.
The Plan of Action
With the intelligence we've gathered, I have developed a highly sophisticated plan to rid the world of our feline foes forever (alliteration motherfucker!).
During Ramadan, to ensure success, we will both post bears at every major body of water and make certain that every GNC is double-dosing in between 1-rep bench press maxes and prolonged mirror eye contact.
After step 1, the cats will be blinded. Even without visual capabilities, cats undoubtedly have some sort of extrasensory perception. To enact the next step of our plan, we'll need balls of string, some more bears, a bottle of taurine, a chrome-plated dildo, and a tree.
After securing all of the said items, we will lure the cats into the woods using balls of string. Upon their entrance into the forest, we'll place an innocent-looking bottle of taurine in front of the tree. Behind the tree the bears will be hiding to attack the unsuspecting cat. Oh, and the chrome-plated dildo is just… like, for protection or something.
So we have an outline of our strategy. I really don't anticipate any problems. To be honest I'm just happy Nancy Grace's huge, bushy vagina let us borrow some of her cubs for the evening.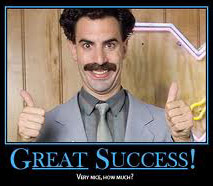 **Update**
HOLY SHIT! EVERYTHING WENT TERRIBLY WRONG! WE GOT THE CATS INTO THE FUCKING WOODS, BUT THE FUCKING BEARS DIDN'T DO A DAMNED THING! THEN, THE BEARS JUST ROLLED OVER AND THE CATS FUCKED THE BEARS. THEY JUST TOOK IT LIKE THE CATS WERE GRANTED PRIMA NOCTA! I DIDN'T EVEN KNOW THIS SHIT WAS POSSIBLE! WHAT THE FUCK, CHUCK DARWIN?! SPECIES AREN'T SUPPOSED TO DO THAT! BEARS AREN'T SUPPOSED TO DRINK SEX ON THE BEACH! CATS AREN'T SUPPOSED TO PLAY 3-CHORD LOVE SONGS ON THE GUITAR! NOW WE HAVE FUCKING CATS FUCKING BEARS!

"My style is impetuous, my defense is impregnable, I will father your children!"
WE HAVE FUCKING BEARCATS! FUCK!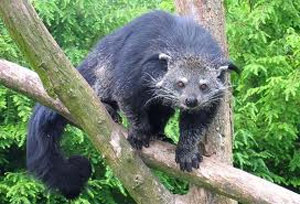 Cat-dog don't give a shit.
Related
Resources
---