As shocking as this may sound, I am once again a single woman. I did, however, hit a new personal best at the longest amount of time I've spent in a relationship: five months. Maybe I'm just a wild horse that can't be tamed. Or maybe I'm just constantly longing to be, in the illustrious words of Lynyrd Skynyrd, as free as a bird. Or maybe I just really enjoy my personal time too much and I'm too selfish to be in any sort of relationship. It's probably the last one, but the first two sound more poetic, so I'm going to go with those.
One day I'm going to marry Taylor Lautner. So really, every man I date in between then is just sort of practice anyway.It was actually the easiest break-up I've ever experienced; we both realized that living in two different cities, so far apart, made it too hard to maintain a meaningful relationship. So while I am sad that it is over, I'm actually looking forward to my newfound freedom. I can now spend my nights unabashedly reading Twilight fan fiction, eating Fritos out of the bag, and painting my toenails an obnoxious shade of pink. Well, not that I didn't do that before, but at least now there's not an expectation that I have to put out afterward. I can also now freely masturbate to images of Christian Bale instead of my boyfriend. Again, not that I didn't do that before, but at least now I don't have to feel guilty about it.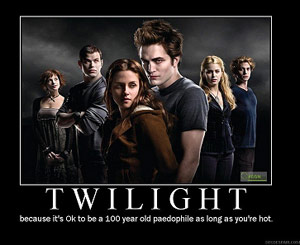 I've also realized that with all the energy I was putting into the relationship, I can now use that same energy to take up new hobbies. You know, to fill the bitter, empty void in my heart that now exists. I've really gotten into scrap booking and needlepoint. And (fingers crossed!) I applied to become a Big Sister in the Big Brothers/Big Sisters program. In addition to my extensive resume, I included a few choice copies of some of my columns. I'm fairly confident that I'll get the job, you know, if the state is allowing me to be within one hundred feet of a schoolyard by then.
In light of my break-up, my wonderful friends took me out for some drinks to cheer me up. Except they made me pick the bar. And drive. And buy my own drinks. And then one of my friends allegedly forgot her wallet, so I had to buy all of her drinks as well. Come to think of it, my friends are assholes. And Kara, you owe me $30. I know you're reading this, you bitch. Pay up.
I can't get too down over it, however, as I know the end was inevitable seeing as I'm going to one day marry Taylor Lautner. I mean, yeah, he doesn't know it yet, but I'm positive it's going to happen. You know, once he starts returning my phone calls. And answering my letters. And drops the restraining order. So really, every man I date in between then is just sort of practice anyway.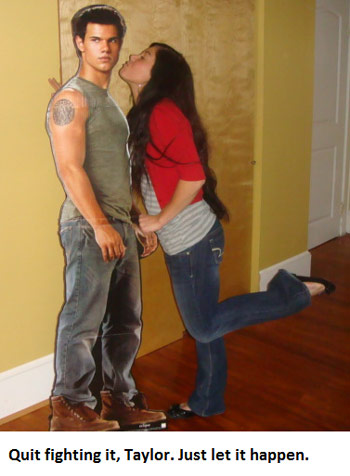 Being single again also means that sex is hit or miss. In my case, most likely miss, because when I'm not dating someone, I become celibate. Not because I don't enjoy sex, but because I don't want an STD from banging some random dude in the back of a Jeep Grand Cherokee. Seriously, it turns into Fort Knox down there. I can barely get in myself, let alone some guy I meet at a bar.
Fortunately for you guys, my pain is your gain, as I'm sure my life will now become much more pathetic and therefore interesting for you to read. Stay tuned!
---
---
---