Sometimes you can't help it. All the beer, bongs, bikinis, and hard college bodies splashed all over a movie cover steals your attention. You know better, but then the teaser titillates your inner caveman and now you're reeled in just long enough to see that there's a trailer. And the trailer has enough sex appeal and unapologetic debauchery that you wonder: WILL ANYONE REALLY JUDGE ME FOR WATCHING THIS?
And that's how it happens. Your inner bro is loose. Once that uninhibited college feeling washes over your feeble little mind, there's no turning back.
Here, let's give it a try:
1. The Cover Bait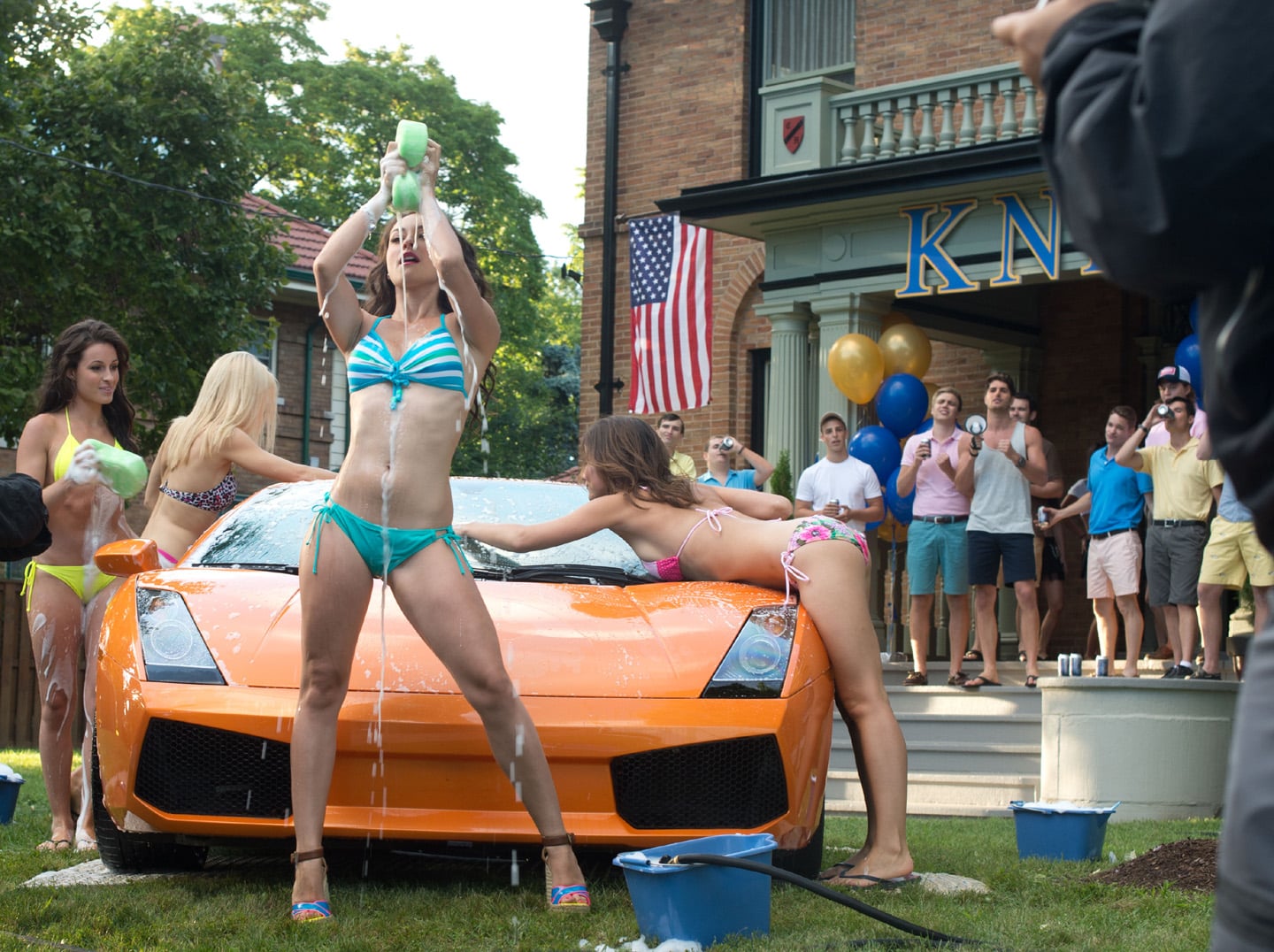 Ok, your attention is piqued. Hot chicks, in multiples, getting wet, bending over, and a…. Lambroghini? Sure, why not.
2. The Inner Bro Teaser
It begins with a stoked Charlie Martin (Justin Deeley) as he is initiated as the newest member of Alpha Chi Gamma. The fun is quickly terminated when the Kappas, their frat rival, secretly sabotage their celebratory fireworks and burn the Alpha house to the ground. Dean Kravitz (Tom Green) disciplines them by revoking their chapter, and just like that, Charlie's dream of following in his late father's footsteps, one of Alpha's most legendary members, goes up in smoke. Three years later, Charlie discovers a loophole in the college's Greek Life guidelines, so the Dean agrees to reinstate the Alphas under one condition: get 15 members by the end of rush week. One problem: rush week starts in 24 hours.
Hot damn, Tom Green?! Jesus, wasn't he a comedy god just like, what was it, 2, 3, 5 years ago? No matter, this could be good. Plus, secret fraternity rivalry? Isn't that how hot chicks end up getting naked, and dudes end up rubbing shoulders with the Illuminati? Yeah, probably.
I mean, this could be the current generation's Animal House, right?
3. Hook, Line and Trailer
Oh my god, did you see the number of babes in fratland running around half-naked? Do you understand the gravity of getting this goddamn frat back together now?? And hey, looks like Tom Green still has it. Your inner bro is banging at your chest from the inside, begging you to do the same on the outside. Will you give in to temptation?
Go ahead, because Total Frat Movie is real.
After breaking in to the top 10 most-visited websites for college students (just behind Google, ESPN and Nintendo), TotalFratMove.com has taken the craziness from small screens to the big screen.
Total Frat Movie was released in theaters and on-demand nation-wide on September 23, 2016.
You can purchase the movie on iTunes here, or on Amazon here. After all, that's the safest way to indulge your inner bro: in the privacy of your inner home.
This is a sponsored article; while the views expressed here were genuinely mine, consideration was paid to me by Gravitas Ventures to review this product.
---
More Like This
Resources
---
---