Growing up, my family—like most other families—celebrated the holiday season in the great American traditional way: by spending loads of money on useless gifts, overeating, and using alcohol as a crutch to avoid remembering any and all familial interactions. Christmas was always celebrated purely for the commercial aspect. In fact, up until I was 15, the only thing I knew about Jesus was that he was a Carpenter. And, you know, a lot of people would say it was Karen, but I think, arguably, he was the better singer of the three. Rainy Days and Mondays is still one of my favorite songs.
As I've grown up, I've developed my own set of traditions that I like to honor every year. These traditions help get me into the holiday spirit and really get me excited about the entire month of December, overall. I wanted to share these with you now, in the hopes that you too will be able to include them in your merry festivities.
Snowballs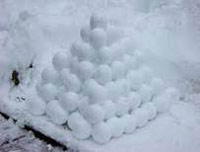 One of my favorite of these traditions is a good snowball fight. I like to go to the local elementary school, right around recess time, and pelt small children with them. I've found that if you roll one up with a few chunks of ice in it, you get better distance. I always aim for the ears; this seems to produce the most tears.
Christmas Movies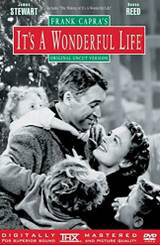 Watching a good holiday movie while putting up the tree always fills me with a sense of warmth. Actually, it could be that third cup of eggnog, but I like to think it's the movies. My favorite Christmas film is the timeless classic, It's a Wonderful Life. James Stewart was undeniably one of the best actors of the 20th century. He was also super hot. After my sixth cup of eggnog, I like to shut the blinds and create my own little wonderful life. With James Stewart and my left hand. You know, every time I orgasm, an angel gets its wings.
Caroling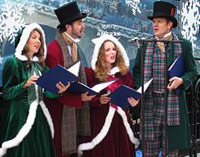 I can't sing, but with Christmas caroling, you really don't need to have any type of vocal talent. Before heading out into the bitter winter air, I like to first put on my beer blanket. This makes it a lot easier to walk around outside for hours and hours. It also makes it easier to tune out the booing and threats of calls to local law enforcement—you know, after you sing "Carol of the Bells," followed by an attempt to write "hallelujah" in the snow with your own urine.
Cookies
The holidays are a time well-known for causing people to pack on the pounds. With all of the treats and goodies, people seem to eat a lot more over this one-month period than any other time during the year. I don't really get this, as I enjoy baking cookies and sweets all year round. Granted, usually the cookies are infused with an illegal substance of sorts. As are the cakes. And the brownies. And the pies. (Ask me how to make my famous pumpkin pot pie. It'll be a hit for years to come at any and all family functions.) Therefore around this time of the season, there really is no change in my cookie making production. But because I put red and green sprinkles on them, I call them Christmas cookies.
Santa Claus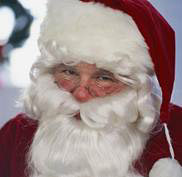 What would this time of year be without a visit to Santa's lap. I know what most of you are thinking: "Aren't you a little old to be sitting on Santa's lap?" Well, screw you. Christmas, for me, is not complete without a little chat with St. Nick himself. Nothing excites me more than when he bounces me up and down on his knee. No really. Nothing excites me more. When he asks, "And what do you want for Christmas this year, little girl?" I find myself replying, "Jiggle a little to the left. Okay, now to the right. Now back to the left. Little faster. Faster…" Usually before I have a chance to ask him if I'm on his naughty list, mall security has already arrived to escort me out of the building.
The Baby Jesus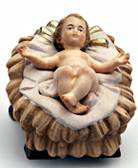 Once I realized that Jesus was not, in fact, part of a popular 1970's singing brother/sister musical group, and that he did have a bit more significance in the whole Christmas movement, I incorporated him into my traditions. I like to set aside a bit of time every day to think about Jesus and what he means to me. I like to picture my Jesus as like, a receptionist at the desk of Heaven. He's got a button-down Polo on, with a nametag that says J.C., because it makes him more relatable. And he's there to make my Christmas wishes come true—like making the McRib available year-round, not just in the winter months.
Christmas Cards
To help my friends and family get into the holiday spirit as well, I enjoy sending out cards. These are little reminders of what they all bring to my life. They're also a chance for relatives to catch up on what's been going on in my life the past 12 months. Take, for instance, this year's card:
I just wanted my loved ones to know that I am really excited about the life-sized cardboard cutout of Twilight's Taylor Lautner that I recently purchased. This card doesn't seem pathetic or desperate at all.
Christmas Tree
I've noticed that everyone has their own variations on the Christmas tree; whether it's white or colored lights, an angel atop or a star, a real or a fake tree. I have a fake tree, personally. The one year I got a real one, I was arrested. Apparently it's illegal to go into your neighbor's yard and cut down a tree. I still don't see what the big deal was. I mean, my other neighbor had no problem with me borrowing his hatchet to cut down said tree. Then again, maybe he hasn't noticed it's gone yet.
Mistletoe
My final tradition is to carry around mistletoe for all 24 days leading up to this most holiest of holidays. Not only does it give me a festive vibe, it also gives me a legitimate excuse to make out with all the dudes I've always wanted to make out with. That same mistletoe has also been held over a couple girls in its day, mostly during my more experimental years in college.
So there you have it, the traditions I hold nearest and dearest to my heart. These truly epitomize the ingredients of a successful holiday season and I can only one day hope to pass these same traditions on to my own children. Hopefully before my eggs shrivel up and I become infertile. And die an old, lonely spinster. With a house full of cats. Now I've gone and depressed myself. Time to break out the nog and my well-worn DVD copy of It's a Wonderful Life.
---
---
---