CANTON, OH – The historical committee to find new Hall Of Fame players elected Heisman Trophy-winning University of Florida quarterback Tim Tebow into the sacred building of football stars. Even though Tebow hasn't taken a snap with a National Football League team as a professional player, the committee felt they had "a pretty good hunch" about Tebow.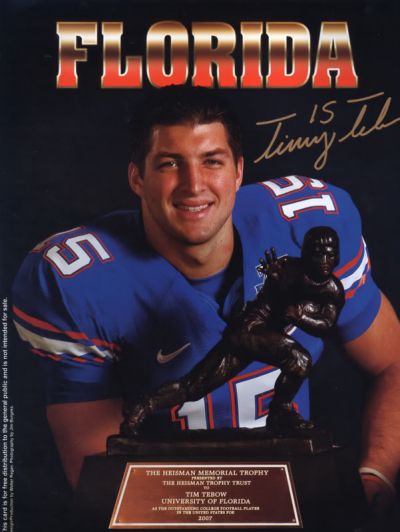 "Look at him! He's young and charismatic. The fans all over the country and the world love Tim Tebow. He's bridged many gaps as a football player. He's made the SEC teams—especially the Gators—the teams to beat. And we assume the Muslims like him too," says Committee chairman Thorbjoern Jagland—who isn't a football fan or a United States citizen, but a Norwegian with impressive credentials.
The announcement shocked the country and world this Friday because Tebow has not been drafted to an NFL team yet. Some felt this announcement came too early, but Jagland disputed this accusation.
"He's proved himself as a great college player, and we know that always translates into excellence as a pro athlete. Plus, what's not to like? He's a handsome and well spoken Florida Gator, and everybody in the world loves the Gators."
But not everybody was a fan of the decision.
"I'm not saying I don't like the guy, he's certainly got a lot going for him," said Troy Aikman, a 2006 Hall of Fame inductee. "He's done a lot for football, but hasn't done anything for professional football. I mean, hell, I won three Super Bowls and still barely got in. I'm not saying he doesn't deserve the honor, but whose spot is he taking? Will Warren Sapp not receive the honor because of this kid that's popular right now?"
In response to the discord, Jagland stated, "These dissidents are probably just bitter their football teams aren't as good. It's such a common American thing to hate the guy who wins when he's not on your team. Frankly, I think it's un-American to even consider questioning this decision. Is it early on? Sure, maybe. But we don't want to be behind the curve when Tebow turns out to fulfill his destiny as the greatest quarterback in history—which I and most of the European Union and about fifty percent of Americans feel is true. The other half of Americans who disagree with our decision on Tebow The Great and Infallible are just uneducated closet KKK members."
(Anti-Tebow People)
Tebow's reaction to the announcement seemed very humble. "I do not feel that I deserve to be in the company of so many transformative figures that have been honored by this prize," Tebow said. "I will accept this award as a call to action, a call for all nations to confront the challenges of the 21st century."
When read Tebow's prepared statement, Jagland jumped up and said, "Take that you stupid fucking rednecks! He accepted it! That means he's the fucking greatest quarterback in history and you'll just have to learn to live with it. Who cares what he has and hasn't done? The elite and educated will always decide what's best for you disgusting fat American racist slobs. Or you can always just quit watching football."
The NFL's decision marks yet another award given to an untested person or creation.
"The A-Team" movie based on the popular 1980s television series has already earned an Oscar for 2010's Best Picture, even though production on the film hasn't begun yet.
"I can't believe people are questioning the validity of this movie. It has UFC superstar Quinton 'Rampage' Jackson as B.A. Baracus, Mr. T's old role. Plus there's the bitching black van. How cool is that? These racist hicks just wouldn't know greatness in art if it powerbombed them up the ass," said Aagot Valle, spokeswoman for the Academy Awards.
In news about the news, Janet Cooke, a young Vassar print journalism student, won the Pulitzer Prize for thinking about writing a story about Jimmy an 8-year-old crack addict living in Washington D.C.
"It's crucial to push these fantastic ideas around the red tape and nominate people for awards before things like facts, statistics or actual incidents get in the way," said Bob Woodward, the editor who nominated Cooke's idea for a story for journalism's highest prize.
Finally, the United States president Barack Obama won the Nobel Peace Prize, even though he'd only been in office eleven days when an unnamed (and definitely not crooked) individual nominated him.
Related
Resources
---