Yello, Yuletiders!!
You might find references to some of your jolly scrobe's own personal favourite Seasonal Slaughterfests in the following merry little traditional carol that I just this moment made up to wish you all a Happy Holiday season…
'Twas the night before Christmas, and in his house in R'lyeh,
Cthulhu's arising was well underway;
CTHULHU (2008):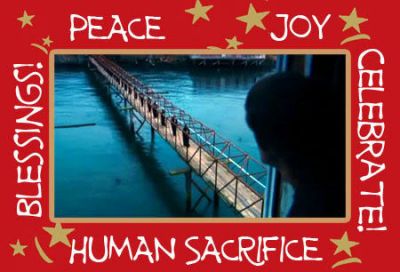 The sorority girls were hung by the chimney with care,
In hopes that dead Agnes would finally be there;
BLACK CHRISTMAS (1974):
The children were nestled all snug in their beds,
While Santa plunged icicles right clean through their heads;
SANTA'S SLAY (2005):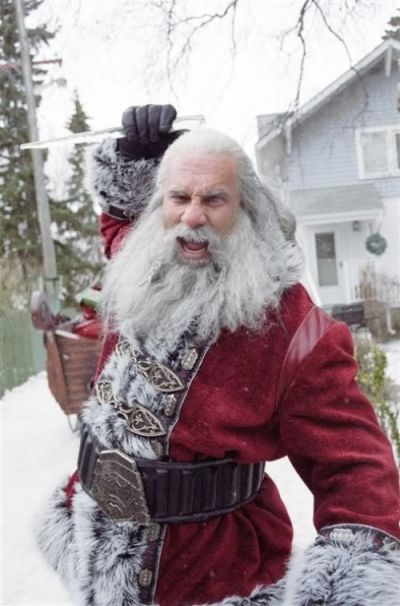 When out on the lawn there arose such a clatter,
I sprang from the bed to see what was the matter.
Away to the window I flew like a flash,
And saw Chucky the doll reduce the Fat Guy to mash;
SEED OF CHUCKY (2004):
The moon on the breast of the new-fallen snow
Gave the lustre of mid-day to objects below,
Like the huge fucking knife in the paw of Saint Nick,
which shone like the heavens as he gutted that chick;
 AND TO ALL A GOOD NIGHT (1980):
And then, in a twinkling, I heard on the roof
The prancing and pawing of each little hoof.
As I drew in my hand and began to relax,
Down the chimney St. Nicholas came with an axe;

SILENT NIGHT, DEADLY NIGHT (1984):
 He was covered in blood, from his head to his foot,
And his clothes were all tarnished with bile, lymph and soot;
A bundle of wire he had flung round her neck,
It's a shame TALES FROM THE CRYPT became unwatchable dreck;
TALES FROM THE CRYPT: AND ALL THROUGH THE HOUSE (1989):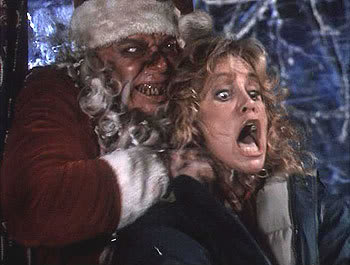 He was chubby and plump, a right jolly old elf,
but he fed after Midnight, I saw it myself
A wee splash of water and a twist of his head,
and Gizmo was hundreds of gremlins instead;
GREMLINS (1985):
And when, in our madness, we took to the snows,
the craziest of us soon all went and froze:
 Cronenberg's RABID (1977):
 He sprang to his sleigh, to his team gave a whistle,
And though Bruce Willis' hair is like the down of a thistle.
I heard him exclaim, ere he drove out of sight,
" Yipee-kay-yay, motherfuckers, and to all a Good Night!"
DIEHARD (1988):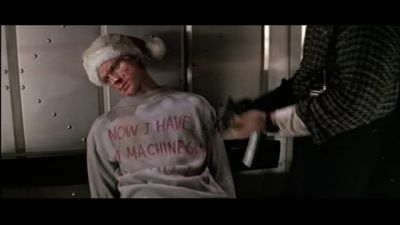 Related
Resources
---