Name
Alana Thompson
Position Sought
White House intern
Current Residence
Atlanta metro area
Age
11 going on 18
Education
5th grade graduate, Mt. Carmel Elementary School
Net Worth
$800,000
Previous Work Experience
Child beauty pageant contestant (retired)
Reality TV star: Toddlers and Tiaras, Here Comes Honey Boo Boo
Author: How to Honey Boo Boo: The Complete Guide on Redneckognizing the Honey Boo Boo in You
Awards and Distinctions
Georgia Sparkle and Shine People's Choice prize, 2012
Miss Trump Hotel New York, 2013
Children's watermelon eating contest blue ribbon, Panama City, FL, 2014
Special Skills
Social networking, freestyle baton twirling, miniature pig care, bacon sculpture
Languages
Southern American English, Emoji
Interests
Fashion, celebrities, country cuisine, politics
PLEASE TELL US IN 500 WORDS OR LESS WHAT MAKES YOU UNIQUELY QUALIFIED FOR THIS POSITION.
Hey Mr. President! It's Honey Boo Boo child — remember me? You crowned me Miss Trump Hotel New York back in 2013 (photo attached)? Well, I've grown up a lot since then, and Mama says I'll be ready for my first summer job this year!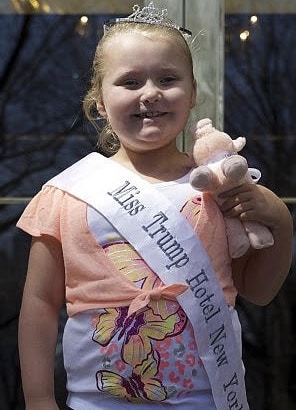 Why would Honey Boo Boo make the best White House intern since Monica Lewinsky?
First, because I'm a winner! I have a bedroom full of trophies to prove it, and if you don't believe me, you can come over and see for yourself. Don't forget to bring a camera crew ????
Like you, Mr. President, I'll do whatever it takes to win. Have you seen the footage of my landslide victory at the watermelon eating contest? Those other losers never had a chance! When I was on the pageant circuit, I used to slam down a gallon of Go-Go juice moments before I hit the stage, and I'd be happy to mix you up a batch any time you need a pick-me-up. And at the end of the day, when it's time to relax from being President, just lay back and let me rub all your tense places–my uncle says I'm real good at it!
Second, my social networking skills are awesome. I have 135K Twitter followers and over two million followers on Facebook!  I know that doesn't make me as popular as you, Mr. President, but sheesh, I'm only eleven. I stay current on all breaking news and could give you daily briefings on the Kardashians, Brad and Angelina's custody battle, and other important World events.
Third, people love me, they really do! My irresistible Southern charm would be an asset to any West Wing, and imagine how adorable I will look on your arm, greeting guests at State dinners, when your daughter can't attend and your wife is stuck in Manhattan helping Barron with his homework.
Fourth, like yourself, if not your Vice President, I am LGBTQ-friendly. Long before it was fashionable to voice such opinions in my community, I was quoted as saying, "Ain't nothing wrong with being a little gay. Everyone's a little gay."
Fifth, I can cook! There's nothing like a heaping bowl of sketti (my classic family recipe of spaghetti, margarine and ketchup) to warm your belly after a long day of making the best international trade deals. No need to order out for pizza when I'm around!
Sixth, I could show you how to build a redneck hot tub on the White House lawn.
Seventh, I have a fail safe plan for getting rid of ISIS, which I will share with you the day after I am hired.
Mr. President, if you give me this chance, I promise to stay away from the chicken nuggets, 'cause I know you don't like your women too chunky.  I have my own wealth, so I won't need the internship stipend–I don't even know how much it is! You can use that money to pay your Trump Tower Secret Service detail; maybe that will stop Mayor de Blasio from whining about how much you're costing the city.
Thank you for your consideration, Mr. President. I hope I'll be seein' y'all in the Oval Office real soon!
Yours sincerely,
Alana "A dollar makes me holla!" Thompson
Related
Resources
---