Dear Sal Smith,
I'm contacting you regarding the position of Costumer Service Rep because my mom is tired of seeing me play video games in my underwear and refuses to turn the electricity back on until I've written at least five cover letters. It seems to me she could just close my bedroom door and not have to see me at all—problem solved—but, whatever.
I'd say I'm pretty experienced; just ask my prom date, Sarah Sanderson haha. But seriously, I spent the last six summers as a garçon at IHOP. That means waiter. I had to take orders, write them down, deliver them to the cooks, and then find a delicate way to re-take the orders when I realized I forgot to write them down the first time. That's ten months of developing deference, dictation, diligence, and decorum (thank you, thesaurus.com), or what I'm now going to call the big D's—which, again, brings me back to Sarah Sanderson.
As far as taking initiative goes, believe me, I've taken it. During my tenure as an undergraduate, I was the one to insist we call campus security when Jay Berkowitz got alcohol poisoning. The police cannot verify this, as we abandoned him in the quad before they arrived, but it's because of me and the good people at Springfield Presbyterian Hospital that he's alive today.
I see you're also interested in diversity. Did you know I was the only kid on my floor whose parents had a combined income of over $200,000? And my mom doesn't even work, which is why she has so much free time to stand in the darkened hallway and glare at me all creepy-like.
For your consideration, I've attached my resume, which is just another copy of this cover letter but in Herculanum font, so it looks Greek and crap. It's worth checking out. I've also included a screenshot of my Farmville crops, to evidence my perseverance and sound judgment. And since the farm theme is Winter Wonderland and, as we all know, the arctic isn't the most hospitable environment for cultivating plants, it's clear that I'm not afraid of taking risks.
So, to sum up: I was a host, server, and page for one of America's most renowned and beloved breakfast culinary chains, I'm damn good at Farmville, and Sarah Sanderson gave me the best night of my life.
Peace out,
Tommy
P.S. Are you related to Mike Smith, the Falcons coach? If so, any chance he needs a Costumer Service Rep?
---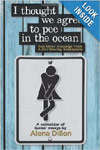 Buy Alena Dillon's new book of humor essays, "I Thought We All Agreed to Pee in the Ocean" on Amazon now! It's a super funny, smart read about life's absurdities from the perspective of an every-woman.
---
Follow PIC on Twitter, Facebook, Instagram, or good ol' fashioned email.
---
Get coaching or feedback on your comedy writing from our editors.