I

n 1920, a terrible thing happened in America: the manufacture, transportation, import, export, and sale of alcoholic beverages became illegal nationwide. During this time, underground speakeasies opened, organized crime flourished, and people generally kept drinking anyway (I like to think nature always finds a way). Eventually, like a waft of Everclear to the nose, society came to its senses and repealed prohibition in December of 1933.

Not coincidentally, in December of 2000, another momentous occasion acknowledging the carefree life of drinking, debauchery, and good times (also known as "college") occurred: the website PointsInCase.com was born.

Five years later, the tradition of documenting every minute aspect of college life in humorous form, free of campus censorship and constitutional amendments, continues, thanks to all of our talented writers and you, the loyal reader carved out of procrastination, literary prowess, and endless hangovers.

So, it is with great pleasure that I can finally announce the official PIC 5th Anniversary Prohibition Party (RSVP below), which will be held at PIC HQ (across the street from Underground Atlanta) in sunny (and unseasonably warm) downtown Atlanta, GA, USA, where we will PARTY LIKE IT'S 1929! This Roaring Twenties extravaganza will begin with unofficial activities the night of Friday, Dec 16th, continue with the official party on Saturday, and conclude with unofficial hungover brunch on Sunday, Dec 18th. Fortunately, 2005 advances in transportation will allow you to arrive by plane and travel to the back door by subway, OR road trip to the parking lot outside the front door, your call. Hotels nearby are aplenty.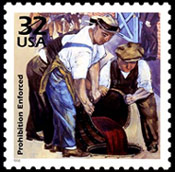 What can you expect at the official party on Saturday? Definitely not the Great Depression. Think speakeasies: drinking roulette, highballs, card games, flapper dresses, cigarette holders, Fedora hats, pin-stripe suits, beer pong, jazz music before midnight, and of course, an abundance of the 1920's canned classic, Milwaukee's Best.
Who's going to be there? I'm glad you asked, because what would a PIC party be without your favorite writers? That's right, a SHAM. So, it is my even GREATER pleasure to announce the attendance of 9 PIC columnists and bloggers! Not only will we all BE there, but we have each put a series of party promises in writing. Anyone found backing out of one of their promises will be publicly caned and/or forced to masturbate facing the wall. Please, PLEASE, make us keep these promises…
I, Justin Rebello, promise not to drink and drive, to be respectful and courteous to my date, to respect myself and others, to dance in a Christian way, to live life by the Word, my God, Jesus Christ. Wait, that was my prom promise…shit, can I start over?
I, Simonne Francyn Cullen, promise after three gin and tonics to open a tab at a bar at some point and buy everyone between five and eight rounds of shot. Shortly after taking said shots, I will begin to speak in a British accent and tell everyone that I am from Sussex England. Should anyone scream out that I'm just faking the accent while I'm speaking to an attractive male, I will stab you over and over with my high heel shoe within an inch of your life, and then start riverdancing on your limp body. And then buy everyone Irish Car Bombs. That much I can promise you. Also, if somebody could please take responsibility for my cell phone in the beginning of night, thus preventing me from drunk dialing (but not river dancing), that would be super.
I, Court Sullivan,, promise to use my best Forrest Gump accent whenever possible, especially if anyone has recently received prosthetic legs, in which case you will be treated to the rousing call of "Lieutenant Dan, you got new legs, NEW LEGS!!!" As a history major, I promise to enlighten anyone on the era of prohibition and its negative effects on society. Furthermore, I promise, on the grave of my first dead dog, that you will have a ball at the party.
I, Mike Faerber,, promise to make awkward passes at women. I will try to convert other writers' fans into my own, and charge a dollar for beard pettings, $5 for beard make-outs, and for free if you let me tickle you to the floor with it. I will get drunk off the condensation of your beer can, dance funny, and proceed into a deep dark funk of moody self-loathing when everyone listens to Nate's stories instead of my tongue-in-cheek lamentations of loserhood.
I, E. Mike Tuckerson,, promise to be grammatically correct before, during, and after my third Jägerbomb, unless I'm not. Though I may arrive without speech impediments, I promise to end the evening with racial slurs. I promise to respect women or the environment, but never both. I promise that I won't embarrass you in front of your parents. I promise I can change. Baby, I can change. Love me. Hold me. Get away from me. Okay stay, but don't touch me…
I, Nathan DeGraaf,, promise to throw up only in toilets, showers, sinks and any other drain-yielding holes and not on my editor or fellow writers. I promise to refer to Court Sullivan as "Sully" in my thickest, worst Boston accent. I promise to start a fight with Justin Rebello that ends with the words, "Why don't you go out in the street and play hide and go fuck yourself?" I promise to stay sober enough to fuck, but not sober enough to drive. I promise to sleep with any female reader of mine that wants to, so long as she is attractive and knows what the word tenacious means. And finally I promise that I'll be the first one up on Sunday morning, and that I will eat eggs before heading back to Tampa. I like to make promises I can keep.
I, Chad Chamley,, promise to try and keep my pants on until at least 2am to the best of my capabilities. I will claim to be the best flippy cup/beer pong player in the room and promptly lose (unless you suck), and upon request I'll show you where my tattoo would be if I didn't faint at the sight of a needle.
I, Ali Wisch,, promise to show up to the party late. On arrival I will walk in with a lit cigarette and an open beer, which I will procede to spill as I trip over the door frame. I will then ask any takers to go shot for shot until I black out. Presumably, once blacked out, I will steal everyone else's half finished drinks…and finish them.
I, Dan Opp,, promise that my liver and stomach will tolerate more alcohol than my brain. I promise to keep my fingers out of places they don't belong. I promise to forget most of what I did that night. Lastly, I promise I'll actually make it to the next party, wherever and whenever it may be (thanks finals).
I, Nick Gaudio, promise to drink as much as I physically can. I promise I will not be Justin Rebello's much-needed wingman, even if he pays me. I promise to seduce Ali or one of her friends, not because I want to, but because it's good writing material. I promise to smoke two packs of cigarettes a night, and to give my change to the first beggar I see who does the Charleston Shuffle for me and the PIC staff. I VOW to recite at least one dirty poem, so everybody in the house/bar can hear me say the word "fuck" or the phrase "liberated myself on her face." Basically, what I'm saying is…I promise to be me, all me, and no unwanted filter.
I have no doubt this will be an exciting weekend, and a one-of-a-kind party you won't want to miss. We all hope to meet each and every one of you who has been a part of the PIC community up to now, and you might even want to meet each other too (please wear deodorant). Road trip with your friends, sit laps on the plane, pile into a hotel room, sleep under the overpass, whatever it takes…or we'll lobby for the renewal of prohibition.
Seeya soon : )
Court