The National Sports League Promoting Safe Sex and Contraception
By David Schneider / Jan 26, 2010 / / Submit an article
In the wake of the USC Trojans' first absence from the Rose Bowl in five years, and during a continuous need for better sex education and an even more continuous need for more sports on TV, the time has come for a professional sports league that not only has big games on weeknights, but a league that also sends a positive message throughout the rest of the week while other sports may otherwise be clogging the airwaves.
The desire for great athletics in conjunction with safe sex awareness is inspired unequivocally by the USC Football Program. Not only are they so damn good year in and year out, but they continually promote the use of contraceptives through their school mascot, the Trojan Condom. While they may currently be standing alone and proud as the brave trailblazers in a league of their own, we aim to change that. We invite you to join us in these exciting early stages of the development of the National Sports League Promoting Safe Sex and Contraceptives (NSLPSSC).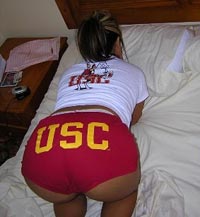 Keep your shorts on, the ultimate defense against unwanted pregnancy is cotton.Our goal is to raise awareness for safe sex, kick-ass plays, abstinence, awesome defense, contraceptives, and the fact that there never has been nor ever will be an "I" in "TEAM." Below you'll find a comprehensive list of a few franchise markets and team names we've come up with to get the ball rolling. These teams vary from small, national markets, to large global ones. Each franchise will send a message of hope through the actual team name just like the Trojans do. The names pack a positive punch by promoting abstinence, different methods of safe sex, varying contraceptives, and just plain good reasons to not have sex.
USC TROJANS
What's left to say. 108 total titles, a 98% effective team mascot, and the flagship of our league.
PITTSBURGH PULL-OUTS
While this method is very popular, most know-it-all doctors will advise against it. But that shouldn't hinder ticket sales in a market with as strong of a sports history as this one.
FRENCH LICK LIMP DICKS
With no facility and an unlikely chance of an endorsement by Larry Bird, we don't expect this franchise to get on its feet.
BATON ROUGE BAD TATTOOS
While this franchise boasts a major turn-off, it won't stop everyone.
FREMONT ARGUMENT
Extremely effective method. Can't swap STDs if she makes you sleep on the couch.
PROVIDENCE ABSTINENCE
Big commitment for a small state. Should have no problems filling seats though as there are no other sports played there that we know of.
VAN NUYS TOO DRYS
Large market. Bothersome team name. Pretty sure there are some lubricant manufacturers close by though.
PANAMA ANAL
This -ranchise will be a -rusader in the -attle against -een -regnancy. -OTTA -OVE -HE ANAL!!
MINNEAPOLIS I CAN'T DO THIS
Solid sports market and a pretty effective mascot. We like their chances.
SLC STD
No one we know has ever been to Utah. This team name advises that we continue to stay far away from it.
TAMPA BAY HASN'T SHAVED
Good-sized market. So there should be plenty of clueless female fans this will send a message to.
GARY NOT TIL I'M MARRIED
Does anyone still say this? Furthermore, can anyone in Gary afford the price of a ticket?
JACKSONVILLE MORNING-AFTER PILL
Although a little confusing when morning sex is involved, we hear this is pretty effective.
MISSISSIPPI UGLY FEET
One of the few franchises to stray from the league's rhyming scheme, but that's okay . . . because turn-offs are always effective in preventing pregnancy and the spread of STDs.
FLUSHING CONDOMS
The New York market is great for any franchise.
WICHITA WHISKEY DICKS
Normally we'd say alcohol can lead to poor decision-making and ultimately more of the things we're trying to prevent, but in this case, the drunker the better.
PHOENIX SAGGY TITS
Here come the Dreaded Droopies! Maybe the ladies can throw their bras on the field after a win, who knows?
VIETNAM CRAZY MOM
While this rarely prevents sex, it's certainly a good reason to avoid the situation. Team travel costs are likely to be an issue though.
OKLAHOMA CITY YOU LOOK KINDA SHITTY
Why would anyone wanna get down with someone that looks kinda shitty?
NEW ORLEANS I GOTTA WORK IN THE MORNING
Who doesn't? But hey, whatever works.
NEW JERSEY I'M FROM JERSEY
While this may be a turn-off to the rest of the world, it's actually not for the people who live in New Jersey. So getting the point across to the hometown fans could be a more enduring task than we're willing to take on right now.
NEWFOUNDLAND LET'S WAIT 'TIL MY BIRTHDAY
Let's.
ZANZIBAR PUKED AT THE BAR
Clearly a turn-off. And we love the international teams. But this coastal Tanzanian town barely sustains itself by the meager tourism dollars it can muster just from having kind of a cool name. As long as the athletes are okay with being paid in fish and promises, we might be able to get something up and running over there.
CHARLESTON SPORTSCENTER'S ON
Sorry ladies, they save the top ten until the end of the show and we're gonna be tired by then.
GREEN BAY GAY
Man haters are extremely effective against the spread of STDs and extremely, extremely effective against pregnancy. Plus, it will be a nice compliment to the Fudge-Packers.
HELSINKI TOO STINKY / NEW DELHI TOO SMELLY
We don't see a reason to need both of these teams. But one of them should enjoy success with international attention and an age-old turn-off.
MONTAUK LET'S JUST TALK
Talk about what? About how Montauk, NY is closer to Greenland than it is to the city?
ALABAMA UNEMPLOYED
Hopefully just knowing you'll have to flip the entire bill for the morning-after pill would be enough of a deterrent.
BEL AIR DRUNK HAIR
What a mysterious phenomenon drunk hair is. Seriously.
BANGOR COAT HANGERS
Professional sports has come to Maine. In the form of the most offensive team name ever created.
COLLEGE STATION PRE-EJACULATION
They're celebrating early in North Texas.
BOSTON HOW COULD I?!
This team should flourish in a strong Boston market. . . . Mmm... Boston Market.
OLYMPIA LIMPIES
Can't put a sardine in a coin slot.
HELENA HANDJOBS
An excellent alternative to sex. And Montana has plenty of room to build a facility... for the team.
VIRGINIA VIRGINITY PLEDGES
People stick to these about as good as Scotch-taping a bowling ball to the wall. If you can't get laid, just fuckin' admit it already.
GREAT PLAINS LAME GAME OF OMAHA
Having shitty game is a difficult thing to cope with, and a hilarious thing to watch, but it's as effective as anything else here.
SOUTH CAROLINA SMELLY VAGINA
The only thing that spawned from this was the NEW ORLEANS I GOTTA WORK IN THE MORNING.
MADRID PERIOD
Very effective against pregnancy. Spanish flair. Should be a success if only we can figure out what the team color will be.
CONNECTICUT IT WON'T FIT
Yes it will.
ROCKFORD BIG BUSH
A small market and a big turn-off. If you're not in France or the 1970's then wake up.
PARK CITY FART CITY
An excellent reason to not have sex. So go to that new Indian Restaurant, get some late-night Taco Bell, and enjoy a child-free, disease-free, odor-filled relationship.
DOVER SHE WANTS TO SLEEP OVER
Delaware shares a border with Maryland, but that doesn't mean you should have to share your fucking blanket.
C'mon, one more:
---