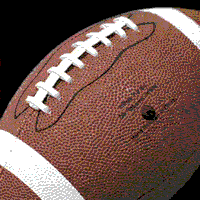 This week, in the interest of learning how many steak dinners I can purchase for my bookie's baby momma (should that be hyphenated? When the hell is P Diddy gonna come out with an Ebonics dictionary? If Kanye west got in on the project, they could do it in a week. Seriously guys, help out a paleface. I'm masturbating with gloves on here. Throw me a bone), I am making three picks at $50 apiece. Home teams in capital letters.
GIANTS (-2.5) over Broncos
Okay, this is why I love America. Though it is true that the Giants barely covered against the (surprisingly) well-coached Cowboys and that the Broncos rolled over the Patriots (roughly 5,281 feet above sea level), I am still of the opinion that the Manning-led Giants are not getting enough respect. At home against Shanahan's stupidity, the Giants should at least give the obligatory 3 points. I'm taking the favorite.
Steelers (+1) over BENGALS
As someone who's having a hard time adapting to this whole successful Bengals team, I have to say that this spread is the crock of all crocks. I mean, look, I'm willing to admit that Carson Palmer is good. I'm willing to admit that the Bengals have a legitimate shot at going to the Super Bowl. I think Bill Cowher is a moron. All signs point to a Bengals victory, which would lead me to pick the Bengals easily if Vegas had decided to favor them by 3 points, or even 7 points, but instead they gave them one stinking point. You see, even Vegas has no faith in the Bengals (and they're at home). This cannot be a slam dunk, so it follows then that I take the underdog. So that's what I'm doing.
BROWNS (-2.5) over Lions
Originally, I wasn't gonna take this one. It really doesn't make much sense to me. I could see the Lions really stunning the Browns here. The Lions strike me as one frustrated, pissed off team, ready to explode at any moment. I was not walking, I was running away from this pick, and then Tony, my gambling partner, told me that if I made this pick and lost, he would buy me a 12 pack of Yuengling. Aw, hell.
Total Record 6 – 5
Total Earnings: $47
---
More Like This
Comedy Courses
---
---