>>> The News: JAY KAY! Special Report
By staff writer Amir Blumenfeld, featuring Court (the deer)
December 17, 2003
The real news (for boring people)
The breakdown (for college people)
Deer Runs Through D.C. Subway Station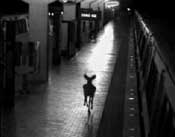 WASHINGTON – This wasn't the typical subway fare jumper. A videotape released Monday by Metrorail, Washington's mass transit system, shows a deer running through a train station as startled passengers watch.
Amir: Because usually typical subway fare jumpers don't taste like deer meat.
Court (the deer): Excuse me Amir, if I may butt in, I'd like to add that my deer friend Forrest once defeated a hunter during close range physical combat and he tasted very similar. At least that's what the folks at Danskin Activewear tell me.
Also, I might add that this law-abiding deer attempted to pay his fare, but the cashier ran away.
"We've named him Rudolph the Blue Line Reindeer," Metro spokeswoman Lisa Farbstein said.
Amir: Lisa added, "You like that? I thought of that just now. Because…*muffled laughter*…it's like the RED NOSED reindeer! And….I…I lead an empty life."
Court (the deer): You think SHE leads an empty life, Amir? Try being called a reindeer all the time! All this holiday hubub continues to blur the line between deer and reindeer. Frankly, reindeer are domesticated, sell-out caribou bound to a vegan diet and fake Santa showings, and I'm glad not to be a part of their species.
The video shows the deer walking around the mezzanine at the Addison Road-Seat Pleasant station in Maryland, running down an escalator, then darting down the platform past a waiting train. The animal then jumped onto the tracks, avoiding the electrified third rail, and headed off into the woods surrounding the aboveground station, Farbstein said.
Amir: What the video DOESN'T show is just HOW he avoids the electrical fence. Early theories postulate a somersault over the wiring, though others claim that's probably unlikely, because when it comes down to it, he's JUST A DEER!
Court (the deer): With all due respect, Amir, I fear you underestimate the athleticism of the common deer, let alone professional sportsdeers. As I described in my previous column, road-hopping has long been a highly revered pastime of ours. This brave deer may prove to be an anonymous trend-setter for new age transportation-hopping.
Deer often wander onto Metro's aboveground tracks, and most avoid danger, Farbstein said, but a deer inside a station is rare.
Amir: "And while I like my deer rare, I prefer them…medium well," Farbstein continued as the blood of the cursed trickled down her chin and onto the tracks.
Court (the deer): Oh, now you're just exaggerating Amir.
….Right?
Amir: Exaggerating what?
Court (the deer): Okay, this column is definitely now rated MA by the DFCC!
Metro spokesman Steven Taubenkibel said officials were unsure of the exact date of the incident. Security cameras caught the romp, and police came across it during a routine review of video footage.
Amir: Police speculate it occurred on Monday, December 16th, due to an anonymous tip from Deer.blogspot.com that said "Monday, I'm going to make it happen, I'm going to do that subway thing. Yup, Monday."
Court (the deer): That's so funny, because thanks to Yahoo.com, deer officials were also able to review the play and determine that the ruling stands on the field stands! Deer god, WHAT A PLAY!!
Follow Points in Case on Twitter.

Join The Second City writing classes on satire, sketch, and TV - 10% off with code PIC.

Check out events at The Satire and Humor Festival in NYC March 22-24.