It was a harrowing summer of '09 for all of us. Celebrities were dropping like flies. First Michael Jackson died unexpectedly and a nation mourned. We, as a people, cried. We laughed. We forgot about all the little boy penises he touched. His music was played night and day. I couldn't leave my apartment without hearing Thriller and Bad and Remember the Time and Don't Stop Till You Get Enough, all before I got to the subway station two blocks away. Well, I did get enough but it didn't stop. It went on like that for weeks. Damn you, Jackson! Your final crime was the worst. You molested my soul.
Then, three weeks later, we found out that Farrah Fawcett died on the same day. Oops. Should we have been mourning her too? Just in case, a nation of 45-year-old men took off their white gloves, pulled out that old poster of Farrah in her bathing suit and rubbed one out with tears in their eyes while It's So Hard to Say Goodbye played in their heads.
Close friends say Jaleel White was getting increasingly distraught and losing sleep over Urkel's catchphrase.Then Ed McMahon died and the nation… well we didn't really care that much. He was 86 years old. It was his time. But we did get a little misty-eyed when that Cash4Gold commercial came on.
These things come in threes, right? We allowed ourselves to be lulled into a false sense of security. Then, BAM! Billy Mays drops dead. He was cremated and interred in a tub of OxiClean sealed tight with Mighty Putty. And we as a nation, for some reason, were more upset about this than McMahon and Fawcett combined.
Then, after two months of celebrities making it through the night, the icy cold finger of death grabbed a firm hold of Patrick Swayze's pancreas. So we all broke out our DVDs of Dirty Dancing and held our girlfriends while they cried during the final dance scene.
Well I, for one, have had enough! I refuse to be blind-sided by another unexpected celebrity death. So to prepare myself, I've written obituaries for a few of the celebrities that might be next on the Grim Reaper's list.
Zach Braff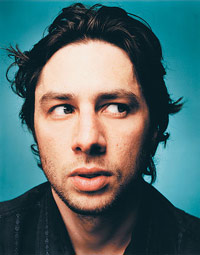 Zachary Israel Braff, 1975-2010Actor Zach Braff was pronounced dead yesterday morning at Mt. Sinai hospital in Los Angeles. The cause of death was ruled accidental burning. He was at home cooking when his PUR Water Filtration commercial came on the television. Apparently, hearing his own voice on television made his already large ego swell even more. The weight of his gigantic head along with that of his huge, protruding lips apparently became too much for his neck support. He fell face first into the stove and didn't have the strength to pull himself out of the burner.
Braff is best known for his nine seasons as the character John "JD" Dorian on the television show Scrubs. The show debuted in 2001 on NBC and enjoyed four seasons of audience and critical acclaim, then spent the next five years beating the proverbial dead horse. The show, anchored by Braff's "acting," defied the odds by staying on television long after it ceased to be relevant or entertaining.
Braff's body will have a showing open to the public next Tuesday at the Benden Bros. Mortuary. It is expected to be heavily attended in the morning by family, friends, and fans. Then it will continue through the afternoon even though most people will have lost interest. And just when it seems to be ending it will be moved to another room in the mortuary and continue, unattended, for another three days.
Jaleel White

Jaleel Ahmad White, 1976-2010Actor Jaleel White, better known at Steve Urkel from the popular 90's sitcom Family Matters, was laid to rest today. His widely publicized killing spree has quickly become Hollywood legend. Last week no one knew what motivated the actor's mental breakdown, but details have slowly come to light. It was well known that White came to resent the recognition he received as Steve Urkel, even going so far as to say in an interview after the show ended, "If you ever see me do that character again, take me out and put a bullet in my head and put me out of my misery."
It appears that he had recently been plagued with prank calls where someone would utter Urkel's catchphrase, "Did I do that?" and hang up. Close friends say White was getting increasingly distraught and losing sleep, as the calls where coming at all hours of the night. When he received a pair of rainbow suspenders in the mail, his girlfriend, Marion Slate, said he went into his room and cried for two days.
While walking with Slate in a park, White was accosted by a teenage boy who asked for his autograph. Delighted, White took the young man's paper and pen and began to sign his name. The young man apparently asked him to sign it "Steve Urkel" and that was the last straw for White.
In a police interview, Marion Slate said, "His eyes opened wide and went blank and he just wasn't there anymore. Then he pulled out the gun. I didn't even know he owned a gun."
White shot the teenage autograph seeker in the chest, stood over his body and said, "It looks like you've fallen and you can't get up." He then proceeded to walk through the streets shooting people at random while repeating catch phrases from the show over each wounded person. Eyewitnesses heard him say, "Did I do that?" over a jogger, "Got any cheeeeeeese?" over the body of a cab driver, and "Oh reeeeaallly," over a nerdy high school boy. When a concerned citizen tried to stop him, White shot him in the head and whispered, "Shhh! Not while I'm killing." He then turned the gun on himself, shouted "LAURA!" and fired.
A memorial service will be held next week. Actors Kellie Shanygne Williams (Laura Winslow), Darius McCrary (Eddie Winslow), and Reginald VelJohnson (Carl Winslow) have stated that out of respect for the circumstances of his breakdown they will not attend.
The Mythbusters

Adam Whitney Savage, 1967-2010
James Franklin Hyneman, 1956-2010The bodies of Jamie Hyneman and Adam Savage, stars of the popular Discovery Channel show Mythbusters, were discovered last night at M5 Industries, Hyneman's special effects workshop. Details are sketchy as to the cause of death. Investigators found the two men's bodies in quite a puzzling state. Heyneman's upper torso was covered in third degree burns. Investigators said it would appear that he was accidentally caught in the path of an explosion due to an experiment gone wrong except for the fact that his legs appear to have been frozen solid by liquid nitrogen.
Savage was found across the room behind a blast shield which protected him from the explosion that killed Heyneman. He appears to have died of asphyxiation from a yet unidentified gas that must have filled the room. Detectives are especially baffled by the state in which his body was found. He was naked, smiling, and holding tightly to "Buster" the human analog dummy he and Savage often used to test especially dangerous experiments.
Foul play has not been ruled out. Reports say that Grant Imohara, a robotics expert on the secondary Mythbusters team, has been held for questioning for the past two days. No word yet on whether any charges have been filed.
Flava Flav

William Jonathan Drayton Jr., 1956-2010Musical pioneer and inexplicable television personality Flava Flav, born William Jonathan Drayton Jr., died last week of an infection of Hepatitis B and liver failure. I think we all saw that coming.
I certainly hope that when these four celebrity deaths inevitably come to pass, the shock will be somewhat lessened for us, the fans, because we predicted them and had the chance to cope with the loss beforehand. However, there are sure to be many other stars out there that are coming up soon on Satan's hit list. Please take the time to think of them beforehand and prepare yourself, because if Dave Matthews pops a guitar string and accidentally severs his jugular and I have to hear his music on the street every day from people mourning the his death, I swear to God I will kill every person within a 30-foot radius of me and my Louisville Slugger.
---
Related
Resources
---