It's another dewy Saturday morning at another minor league ballpark. The sun sits low behind the rows of stands flanking the first base dugout. The only people in those stands are also the only people that can get in there so early—before batting practice, before the sounds of leather gloves popping and ash bats crackling. These people are minor league scouts. Nobody is closer to the distillation of the purity of our pastime than the scout. He's sees players in the raw, projects where their talent will take them, and makes them stars before they shine.
And of those men that record home-to-first times, look for live arms, and listen for pop in the bat, there is one that stands out (although sitting in the shadows cast on the grandstand). His name is Craig Ryburn and he's been doing it for nearly the entire live-ball era. Having applied the eyeball test to almost every prospect, having reduced the romantic game of baseball to a subjective science.
His subjective evaluation is boiled down to a scouting report which he underwrites with his signature.
Craig Ryburn's minor league baseball scouting reports typically look like this:
Soft hands. Electric arm. Possibly a neo-Nazi… but great body. Great body.
A template of four short and ascending colorful sentences, the third being off the wall, and the fourth explaining that the third doesn't result in a total loss. Instead of saying "he's got the tools" in summation, he re-iterates the fact that a good-looking prospect has a "great body."
Good burst. Quick bat. Most likely uncircumcised… but great body. Great body.
His scouting reports are quick and direct. Their best quality is that they're incredibly easy to remember, and this makes delivering information up through the organization both easy and efficient. Everyone from the minors to the bigs knows Craig, and many are grateful that he knows them.
Fantastic range. Jeter-like leadership. Hits multiple women… but great body. Great body.
If you have a character flaw, Craig Ryburn is gonna find it. This is what has kept him in the trade for 34 years. He knows how to put everything on the smallest of tables.
And sometimes when there really isn't a daunting character flaw present, the great Craig Ryburn finds something else to add.
Good nose for the ball. Excellent bat speed. Looks like Jose Mesa… but great body. Great body.
He's discovered many greats: Otis Nixon, Orel Hershiser, Jeff Blauser, Doug Drabek, Tim Wakefield, even Billy Ripken, Jr. His track record is truly remarkable. Finding diamonds in the rough more often than an Ivory Coast blood servant.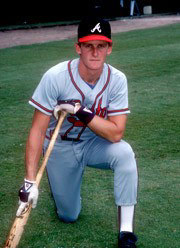 Jeff "Looks Great in a Blaus" er
He's monitored talent all over this country and within a few island nations. He prefers the warm weather, wearing a tank top and displaying his abnormally wide nipple breadth as he jots down notes about potential big leaguers.
Excellent 60-yard time. Looks natural out on the field. Sucks ass at Mario Kart… but great body. Great body.
Every circle in the scouting profession has been bubbled in by Craig Ryburn. He's an ever present enigma to others in the field. Concise, yet interesting. To the point, but thorough. The style of Craig Ryburn is unique, but the upside of his projecting is untouched and continues to be impeccable. He's the greatest influence on Major League Baseball you've never heard of.
Good plate coverage. Sees the ball well out of the pitcher's hand. Can correctly identify only four state capitals… but great body. Great body. Superb body.
Related
Resources
---