My name is Brent Vanguard and I'm about to reveal to you the Secret of Cosmic Voodoo. When I first discovered the Secret of Cosmic Voodoo, it changed my life forever. I can't even imagine living without it now that I know about it. When you read my book, you'll discover it too. But what is Cosmic Voodoo? It's magic! And where does magic come from? Space! And what controls space? Science! And what's more powerful than science? Voodoo! Cosmic Voodoo!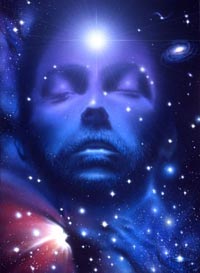 Harness the derivative power of space! When I started writing this book I had one goal: to have more success stories than anyone else on the planet. That goal has been achieved. And you can achieve your goals, too. Would you like to have whiter teeth and fresher breath? Of course you would! Ever wish you were taller? Make it happen! Change the color of your eyes! Learn to fly! Haven't you always wanted the power to travel through time? Or control the weather? Or become really good at crossword puzzles? Now you can, and this book will show you how!
Are you in pain? The answer is Cosmic Voodoo! Cosmic Voodoo heals all. It has the power to wipe everything away—sickness, infection, disease, anxiety—gone without a trace! Stop fighting depression and start destroying it! You can be happy all the time, every day, forever! With Cosmic Voodoo there's no reason to ever feel bad again! Cosmic Voodoo is anti-septic for your mind. It kills mind pollution. Mind pollution is the leading cause of sadness, and sadness is the leading cause of suicide. Suicide is fatal. Mind pollution kills. But you don't have to die anymore, now that you've got Cosmic Voodoo on your side.
Since I discovered the Secret of Cosmic Voodoo, life's been nothing but green lights. Traffic lights respect me. More than that, they fear me.Cosmic Voodoo will make all your dreams come true. I'm living proof. But things weren't always so great for me (and believe me, things are great). Ten years ago it was a whole different story. I was unhappy with myself back then. Actually, that's putting it mildly. The truth is, I was a completely miserable wreck. I hated myself and I wanted to die. I was a totally different person—fat and ugly, poor and alone. If you saw me on the street you would have spit on me. I know I would have. So what happened? How did I turn my whole life around? How did I go from being a filthy penniless wretch to an ultra-famous super-billionaire? What's my secret? You guessed it…Cosmic Voodoo!
Now a long, long time ago I used to have a job in a factory. A factory, of all places! Me! Brent Vanguard, international film star and noted yacht enthusiast! And I was making minimum wage! Can you imagine it? It was awful! One day at work there was a terrible accident. Fate was sending me a wake-up call, and it hurt like hell! I lost both of my arms in a piece of machinery which was nicknamed—oddly enough—the arm-slicer (for reasons that are now painfully apparent to me). It was terrible! I had no arms! Can you imagine it? Me! Brent Vanguard, playboy secret agent and body-builder/model/professional wrestler! The doctors said I would never walk again. Well you know what I told those doctors? I said I WILL WALK AGAIN. MY LEGS ARE FINE. And I did. And they were. The doctors were shocked! It was a miracle! That's when I first realized something. I have power. Raw, unlimited power.
After that moment, everything just started falling into place. I was losing weight and feeling great. And that ugly face of mine? No more. Thanks to a mix-up in the medical charts I scored a dynamite facelift. Now I look just like a young Alec Baldwin. I made myself thin and handsome through the sheer force of my will. It was amazing!

Human hands are only holding you back! But that was only the beginning. I still needed arms. But not just any old prosthetic limbs would do! No sir! Not for Brent Vanguard, super-sexy lady-killer and the first porno star on the moon! I wanted the good stuff! The top secret technology straight from Japan, precision tuned and combat ready, with all the special upgrades and attachments! It had to be the absolute best, because that's what I deserve.
The doctors told me they couldn't do it—said it was unethical. Well you know what I did? I fired those doctors. Every last one of them. I told them, "Get out of here! Go live in the streets and beg for change!" And you know what? They did, because no one can argue with a confident man when he's angry. Especially when that angry confident man looks like Alec Baldwin. So I found a beautiful young nurse and told her to find me a doctor with no morals who would perform the operation. She immediately fell in love with me and did everything that I commanded, because I am devastatingly handsome and women do my bidding.
So now I've got robotic arms, a nuclear space station, and a sweet-ass '67 GTO that I found in the local auto-trader. Ever since I discovered the Secret of Cosmic Voodoo, life's been nothing but green lights. Traffic lights respect me. More than that, they fear me. And parking? I always get the best parking spots. And it's all possible because of the power of Cosmic Voodoo.
I can control the stars. When I'm with a woman, I can make a constellation that spells out her name. I make birds sing and flowers bloom. All things are possible with Cosmic Voodoo. Peace. Love. Harmony. Respect. Confidence. Telepathy. Wealth. Fame. Success. Power. Revenge. Chaos. Rainbows. Destruction. Lasers. But don't take my word for it… just listen to these testimonials:
"In my line of work, I'm constantly surrounded by danger. You gotta have an edge, and for me that edge is Cosmic Voodoo. When someone approaches me, he's there for one reason—to kill me. So I give him a quick blast of Cosmic Voodoo to cloud his mind. All it takes is a look and a thought. I can boil your eyes with my thoughts. And I'll warn you first. I'll send you a psychic message that says THIS IS ME BOILING YOUR EYEBALLS. YOU WANT THAT, TOUGH GUY? They get the picture loud and clear. They always back down. Always."
-Freddie Finklestein, Retail Clerk
"I use Cosmic Voodoo to get free cable! It really works! I can even unscramble pay-per-view! Thanks, Cosmic Voodoo!"
-Buck Gibbons, VCR Technician
"I hunt vampires. No one else can see them but me, because I know the Secret of Cosmic Voodoo. It opens my third eye and shows me the bloodlines of the universe. I can see the demons. I can detect their auras from miles away. I am the last of my kind. It is my destiny to make the world pure again. I will slay them all. The seven-headed dragon commands me. I do not fear the unicorn."
-Wesley Gellar, Serial Killer
"I will fuck you up. Can't nobody fuck with me. I got that Cosmic Voodoo shit. You don't even know. I'll beat a bitch's ass for real. You think I'm playin'? You don't want this. I will fuck you up for serious, bitch. Step the fuck back."
-Rhonda Jenkins, Hair Stylist
"Bottom line? Cosmic Voodoo gets you laid. I recommend it to everyone."
-Colt Python, Adult Film Star
"Every living thing I point to dies. Not right away, but eventually. That's power, my friend. That's the power of Cosmic Voodoo."
-Ted Billingsly, Census Clerk and Atrophy Wizard
Still not convinced? Just try it out for yourself! Satisfaction guaranteed! Here's the Secret of Cosmic Voodoo in seven easy steps: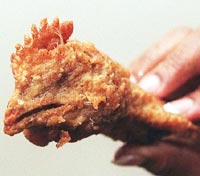 STEP 1: VISUALIZE A CHICKEN
STEP 2: CUT OFF THE CHICKEN'S HEAD IN YOUR MIND
STEP 3: DRINK THE BLOOD OF THE CHICKEN WITH THE MOUTH OF YOUR SOUL
STEP 4: FORM AN ENCHANTED PSYCHIC WALL TO BIND THE DEMONS OF THE MIND
STEP 5: SPEAK THE ANCIENT MAGIC WORDS TO AWAKEN GORLAHM, DARK LORD GENIE OF THE PINEAL GLAND
STEP 6: OFFER YOUR SOUL TO THE TWELVE DEVILS OF THE ASTRONOMICON
STEP 7: START LIVING YOUR DREAMS
It's that simple! Start tapping into the unlimited power and madness of Cosmic Voodoo today!
---
Related
Resources
---