There are many creative ways out there to have a little fun messing with your friends on Facebook. Below are five I think would be great, and the screenshots to prove just how much fun I've already had with them. Remember, a true Facebook friend is a friend NO MATTER WHAT!
1. Put your friends' stuff up for sale in the "Marketplace."
Freakin sweet-ass ride. 2010 Jeep Wrangler with Hemi, twin supercharged and quad turbo. Recently replaced the Flux Capacitor with a newer one by Doc's Customs.
2. Invite all your friends to a drive-thru lunch event.
It has the Mopar afterburner upgrades and the doors extend outwards to stabilize the vehicle during flight. It gets roughly 43 mpg city (fuck you, Prius!). Yo yo yo, it's almost that time again, LUNCH TIME! Woo Hoo.
3. Comment on a post from years in the past.
4. Become a "public" Facebook stalker.
Come on out and show your support to that red-headed bitch Wendy! I can fit 4 in my truck, unfortunately passengers cannot ride in the bed within city limits so we might need to car pool.
5. Take your stalking to the next level.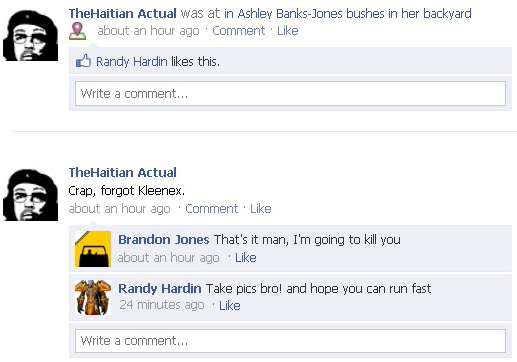 Continue to Five Ways to Mess with Your Friends on Facebook, Part II »
Related
Resources
---